A Friendly Fighter Which Doesn't Demand a Lot
Tekken 7 is, believe it or not, the 7th installation of main-series Tekken Games, although there were some spin-offs in between such as Tekken Tag Tournament 2.
The game features a Story Mode, multiple Online modes, Arcade mode, Treasure Battle mode and your standard offline versus and practice modes. 
The Story mode takes you through a short story told via cutscenes based, as usual, around the Heihachi/Kazuya rivalry and even features special guest "Akuma" from the Street Fighter Series.
The Online modes include standard versus "Player Match" fights, a fun Tournament mode complete with lobby and text chat so you can tilt other players with the customary "GG EZ" taunts. Lastly, there is also a ranked mode in which you aim to level up your favourite character to surpass those you come up against and rise up through the ranks – very competitive stuff although I always found Ranked Matches to be a lot easier than Tournament or Player Matches suggesting that maybe the pro Tekken players have moved on to greener pastures or that I just got lucky in Ranked.
In Arcade mode your goal is to complete seven fights back-to-back, leading to a mid-boss battle against Heihachi and then a final boss battle against devil form Kasumi. Kasumi is particularly annoying to fight as she can teleport out of most combos. If you reach the final boss fight without using a continue or losing a single round you'll be pitted against Akuma instead, who I personally find to be easier to fight.
Treasure Battle mode is quite interesting. Progression in Tekken 7 doesn't mean unlocking characters as you might expect from other fighting games as all characters are unlocked at the start. I hate when fighting games are like this as part of the fun of progressing is unlocking characters until you finally get the final boss as a playable character and then your friends tell you you can't use them because they're OP.
Instead, upon completing a fight you receive money which you can then spend in the Customisation menu for various clothing items and accessories which can be used to change the appearance of a fighter. Treasure Battle awards you a lot of money as well as a treasure chest at the end of each fight. These treasure chests will include unlockable customisation items the rarity of which depends on the rarity of your treasure chest, wooden (most common), red, silver, gold and rainbow(least common).
Finally, Versus and Practice modes are the same as ever. Versus mode allows you to fight one-on-one against a friend, couch co-op style whereas practice mode let's you try out characters and practice combos.
The Mishima Saga
For some fighting game lovers, Story mode isn't all that important. To be fair, it's never really much more than just a few fights which are interspersed with cutscenes, but I've always really enjoyed a good Story Mode in a fighting game and will even go as far as not buying a fighting game I was looking forward to if it doesn't include a Story mode. Luckily, Tekken 7 does.
"The Mishima Saga" really is just a few fights with Cutscenes in-between. Following on from the story events of Tekken 6 (which I have not played) there are two types of cutscene. Some are narrated still-image comic-book style cutscenes in which not a whole lot happens but a Reporter telling you about his life and why he cares about the war going on between Heihachi and Kazuya's companies. Honestly I started skipping these sections as I really had no reason to care about this reporter. He played an extremely minor role in the story overall and I guess he was there just to be the guy that was telling the story… You know, like reporters do.
The other type of cutscene is, of course, animated 3D. These cutscenes are much more interesting with some really good choreographed fight scenes. Unfortunately, the models are no higher quality than the in-game models which are much lower quality than you'd expect from a fighting game only 2 years old. Typically fighting games go out of their way to have super-detailed models and textures since there isn't a lot to load on-screen at once, but that's strangely not the case with Tekken 7 and the cutscenes like to give close-ups on polygonal faces and poorly-textured clumpy hair.
Strangely one or two cutscenes have higher res models, especially in the cutscene where Akuma and Heihachi go head-to-head. To be fair, this is the best cutscene in the whole game, but it begs the question of why Bandai Namco were so intermittently stingy with the budget.
In the end, the story isn't even really that exciting and I came away feeling like not a whole lot happened in the entire 14 chapters of the Mishima Saga. 
Completing the main story mode unlocks two things; A special 15th and final chapter to the main story and several character-specific chapters which I hoped would shed more light on the story's events and hopefully be more interesting since they feature characters like Yoshimitsu, Law, Kuma, Nina and more.
The Special chapter was quite a difficult fight, not giving anything away. I definitely struggled a little with it and had to retry a couple of times. The character-specific chapters, however, were very disappointing. Each chapter consisted of a short text-based introduction, a fight, and then a final cutscene. Almost all of these had a silly premise and barely had a thing to do with the main story. Others were mostly "This character needs money, so they're fighting in this tournament", so not at all very interesting.
One incredibly strange thing I will note is that the developers decided to have all characters speak their native tongue in cutscenes, which I suppose I understand but it's just so bizarre seeing Nina talking to 20 Japanese dudes fully in English and having them all understand her. Or Heihachi (Japanese) meeting Claudio (Italian) for the first time and them both completely understand what the other is saying.
Tekken 7 Character Customisation
Character customisation is the only real progression in the game. The more you play, the more items you unlock, with some being character-specific like a steampunk outfit for Lucky Chloe, or rainbow hair for Akuma. Others are "Shared" and are things like a standard t-shirt with a low-quality design on the front, or very 90s boot-cut jeans. 
The shared items are by far the worst and the lowest quality. The strangest thing about the shared clothing items is they all seem too big, nothing is well-fitted on the characters and putting a pair of jeans on a character makes it look like they're wearing 3 pairs of jeans, each over the top of the other. 
More shared customisation items include very silly things like Koi Carp windsock flags which you can embed in your character's skull, or a water pistol which your character can wear on their back, so all in all you're really just going for those character-specific items as they will actually look good.
You can also manually change the colour of some items, even being able to custom-pick colours rather than sticking to the few available swatches. I'd hoped to use this to make Nina look like the Bride in Kill Bill. However, while there was a tracksuit jacket available there were no tracksuit pants. Strange when Nina's secondary wedding dress outfit is a clear nod to the Kill Bill films.
As much as I talk badly on the customisation, I actually wasted a lot of time in there. 9 times out of 10 the thing I went in there to create wasn't possible and I'd scrap the idea, but I did have fun playing around and seeing what's possible. After a couple of fights though I'd usually see through the novelty and switch back to the default skins as they did tend to be much better.
Tekken 7 Characters
Tekken 7 includes 36 base-game characters, 10 of which are new to the series. There are also 6 additional characters available via DLC, 2 of whom are cameo appearances which I recognise from other IPs.
Let's start with the 10 newcomers:
Akuma – yes, from street fighter
Claudio Serafino – Who I originally thought was Ezio from Assassin's Creed
Gigas – some sort of bane rip-off
Jack-7 – although I'm pretty sure other versions of Jack, I.e. Jack-4, have been in the games before
Josie Rizal – all I could glean from this character is that she's a coward of some sort?
Katharine Alvez – A very kick-y character
Kazumi Mishima – She has a tiger and it's dope
Lucky Chloe – My favourite who I mained for most of the game
Master Raven – I think she has a connection to an older character who I don't know?
Shaheen – I fought this guy about twice and never saw his character chapter so know nothing about him.
The first Tekken game I played (and only main series Tekken I played) was Tekken 3. Back then, Hwoarang had ginger hair and flairs (not edgy black hair and an eyepatch – wtf Bandai Namco?), Yoshimitsu was more robot than alien and Eddie was fun to use. So I'm, understandably, quite surprised by some of the changes. Obviously some characters I used to like such as the Policeman, Lei, are no longer in the base game, but also the characters I'm familiar with underwent some big changes.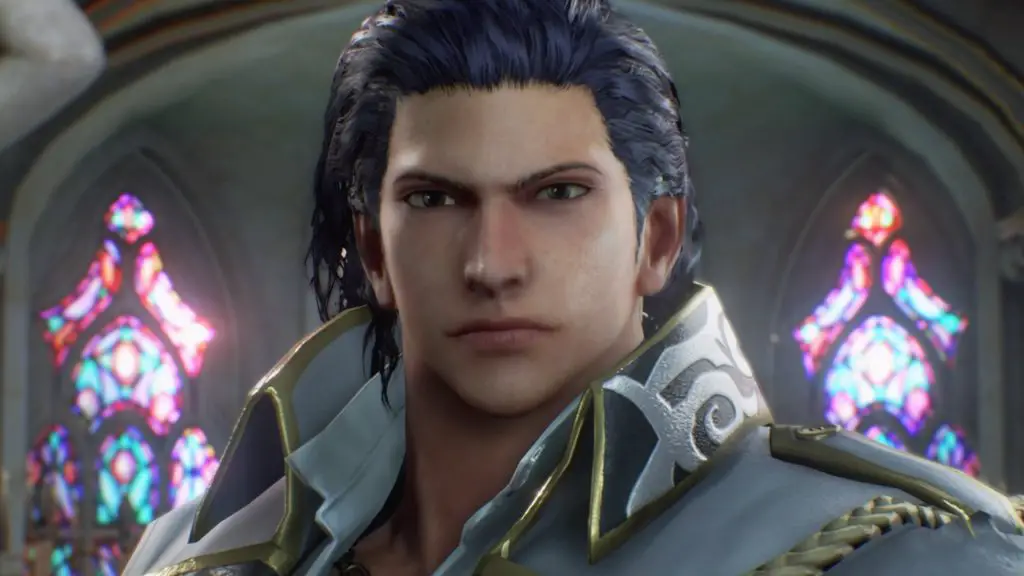 Hwoarang's change was the biggest, he was totally unrecognisable when I was originally looking for him – excited to play as my old favourite. He also seems to have changed a lot combat-wise. He used to use a lot of hard-hitting and fast kicking combos but for whatever reason I was struggling to pull off anything exciting at all, leading to me looking for another main.
Obviously I went straight to Eddie, he was always the most fun to use since his Capoeira dance-fighting style meant you could kick butt and look good doing it. Unfortunately I was disappointed again, as there was just something off about it, it wasn't nearly as fun anymore (plus I couldn't figure out how to do that dope hand-stand spinning-kick thing from Tekken 3). 
Then I tried Kuma, just because I love bears, but he was a bit of a "Shao Kahn" type fighter, wherein all his attacks were hard-hitting but he was slow and pretty boring to fight as.
After playing the field a little longer in Practice mode (I was actually still waiting for the game to download fully) I settled on a new character called "Lucky Chloe". She appears to be an Asian pop-star though whether she's Korean (which would make sense given the popularity of K-Pop) or Japanese (given that my uncultured ears can't tell from her talking) I still haven't discerned. However, her attacks and combos all seem to be based on the Kawaii K-Pop/J-Pop style dance-moves and so using her in fights was a lot like using Eddie for the first time back in Tekken 3 and just loving the move-to-move flow of the character.
Sure, she's a little annoying, especially when she says "Luckyyyyy Chloe!", but the fun dance-like moves were enough to get me practicing a little more until I got quite good using her. Even good enough to kick some ass online, which people seemed pretty annoyed about, I guess the community doesn't like her all that much?
The paid DLC characters available are as follows:
Craig Marduk – No idea who this is?
Armour King – A much cooler-looking take on the wrestler character King, Armour King has appeared in previous games.
Negan – Yes, the ultimately disappointing "baddie" from the once-amazing now-predictable Walking Dead TV series.
Eliza – She appears to be a vampire but I'm not sure where she's from? A previous instalment perhaps?
Lei Wulong – the police officer from Tekken 3, although he's changed a whole lot.
Anna Williams – A 20s-flapper-girl-style character who is for some reason heavily sexualised, even shaking her "assets" for you in one of her victory animations.
Geese Howard – again, not one I'm familiar with, presumably from an older instalment of Tekken?
Noctis Lucis Caelem – The edgy main protagonist from the successful – and brilliant – Final Fantasy XV
Julia Chang – A Native American character from older Tekken instalments who has been changed quite a lot.
I'd just like to note that when I told MrZhangetsu that Negan was in the game he said that Negan will "probably say something about pee or poop" and the two times I fought Negan he said "Pissin' our pants yet?" and "I hope you brought your shittin' pants".
Platting Tekken 7
Tekken 7 takes around 10 hours to acquire the platinum for, with only a few trophies that have the potential to extend that time. The trophies are surprisingly easy to acquire, especially when you compare the game's trophy list to other fighters such as Mortal Kombat 11 (90 hours), Street Fighter V (150 hours) or Soul Calibur 6 (40-50 hours). 
I actually acquired most of the trophies, for things like using Rage Arts so many times, dealing 50,000 damage and performing a ten-hit combo while playing practice mode as the game downloaded via my incredibly shocking 4G home-fi.
Some trophies do require you to play online, however the challenge is really only to win one match in each of the different online modes. I found "Player Match" much more difficult to beat somebody in as the real pros seemed to be hanging out in there most of the time. The Ranked Match and Tournament match trophies I got first time so I didn't spend very long in those modes. I was using my trusty Lucky Chloe for all of these fights as I'd gotten quite good at using her and didn't want to risk switching characters and getting pummeled.
Essentially, aside from the extra miscellaneous trophies and each individual online trophy, there are only these few which you really need to aim for:
Master of Iron Fist
Finished the Special Chapter of the Main Story
Lightning of Fate
Finished 10 Character Episode Stories
Hot Blooded Fighter
Got Promoted to Warrior
I've Finally Found You
Obtained 50 Treasure Boxes
Excellent
Obtained a Total of 10,000,000G
The first two are pretty easy, just complete the story mode and then the special chapter for 6 trophies, then complete 10 of the character "episodes" for two more.
Then you really just want to focus on Treasure Battle Mode. You should get between 30,000G and 40,000G per fight so you'll reach 10,000,000G in no time. Make sure you pick your favourite character and use them the whole time, as you'll gain exp after each fight, allowing you to level up that character over time. The higher you level up, the harder the fights become and you'll want to make sure you're using a character you are quite good with.
The highest level you need to reach is 12th Dan, after 4th Dan the levels have titles such as "Fighter" assigned to them. 12th Dan is titled "Warrior" and is the highest level you need to reach for the Platinum, but you can continue to level up beyond 12th Dan to 100th Dan for the title of "Tekken God Prime".
12th Dan is not level 12, it's more level 21, as you start at 9th Kyu and need to promote yourself to 1st Kyu and then 1st Dan at which point the numbers go in ascending order. It's all very confusing but I'm sure it has its foundations set in traditional Martial Arts ranking systems.
On your journey to reach 12th Dan in Treasure battle you will also obviously be acquiring treasure chests, and after 50 of those you'll have 2 chest-related trophies. 
If you're lucky you may also complete this trophy:
Wow, I'm Pretty Strong
Won Three Special Matches in Treasure Battle
This was the worst trophy because, like many of history's difficult trophies (looking at you Monster Hunter World, with your damn golden crowns) it relies heavily on chance. Each round in a Treasure Battle has a chance of being a Special Match, and you need to encounter 3 of these and win them. 
I didn't encounter my third Special Match until long after I'd acquired the other Treasure Battle trophies, and unfortunately I lost my second Special Match and had to continue searching for another Special Match for a further two hours. 
Special Matches are against either Heihachi, Akuma or Devil Kazumi. Heihachi and Akuma are easy enough and I didn't struggle too much, but Devil Kazumi is absolutely infuriating. As I said before, she has a really nasty ability to teleport away from attacks. Countless times, I'd be in the middle of a very strong Lucky Chloe attack combo but she would teleport away and then keep me stun-locked with her damn tiger for far too long. Admittedly, I'm not the best at fighting games, so it's very likely she's easily counterable or there's some way to compensate for how annoying she is but I'm just no good.
To Summarise…
Honestly, I really enjoyed Tekken 7 and would look forward to turning it on ater a long day at work. At first my excitement was founded in the nostalgia of having played Tekken 3 as a young'un. After my disappointment in the game's changes put my nostalgia to rest I started to see and enjoy the game in a new light. 
A lot of it was extremely cheesy and I was constantly disappointed by the lack of love put into many areas of the game, but ultimately I enjoyed the actual gameplay a lot, and appreciate that the Platinum didn't require hours and hours of grinding, after all, Fighting games don't have the most diverse range of mechanics.