A.K.A Shoot and Loot 3: Queen of the Simp Legion
I picked Borderlands 3 up in the Summer Sale and despite never getting around to finishing my other two half-finished Borderlands platinum trophies, I booted up Borderlands 3 and dove in head-first with my trusty side-kick (yes, he is the sidekick) MrZhangetsu tagging along.
Borderlands 3 is actually the fourth Borderlands game counting the pre-sequel they released a few years back (fifth if you count the Telltale game which… I don't). I've played them all in the past, I loved Borderlands 2 and became obsessed with it back when I worked at Blockbuster and playing Borderlands was the only thing I could think to do besides busting my own block through a wall.
The series has a fantastic cel-shaded art style which has looked consistently excellent since the very first game, with improvements to resolution over the years only helping to really solidify the style's aesthetic. Pair that with its quirky sense of humour and the series really stands out as a must-play IP.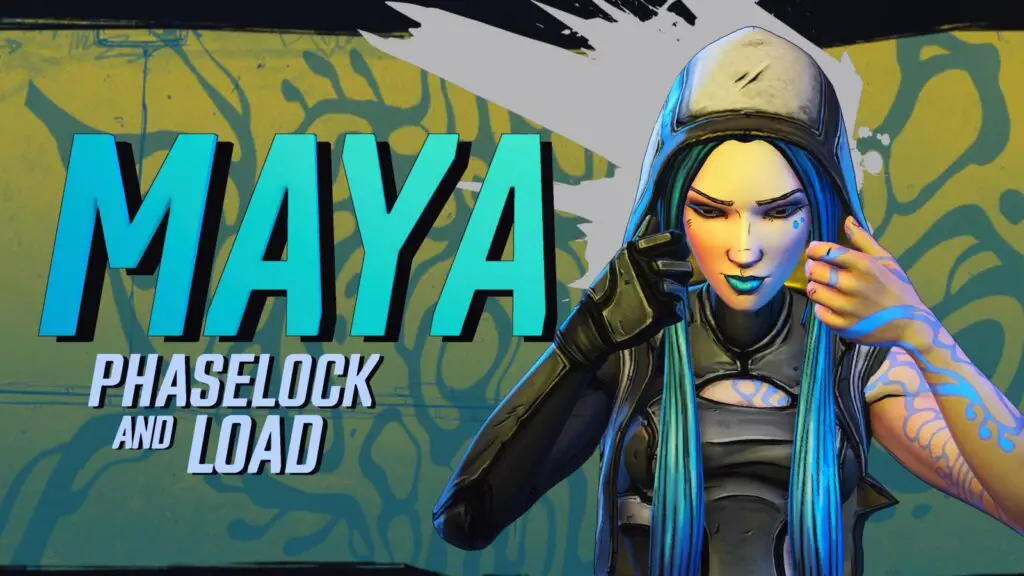 Borderlands 3 Review
Comic-book action
Borderlands 3 picks up somewhat near the approximate vicinity of where Borderlands 2 left off… Except, with new protagonists and new antagonists – save for a few familiar faces – you're in for an entirely new tale, meaning that newcomers and existing fans will both find the title just as approachable and enjoyable.
There are four new protagonists to select from:
Amara: The Siren.
FL4K: The Beastmaster.
Moze: The Gunner.
Zane: The Operative.
I went with FL4K because having pets sounded like a very cool ability! However, I do regret it a little because the character is kind of boring and the pets are not as cool as I expected them to be. If anything, they just get in the way a lot when I'm trying to pick up loot from the floor.
Regardless, I didn't want to start over so I stuck to my guns while MrZhangetsu went for the much cooler Amara, a Siren with a seriously sick skillset which proved useful for both of us.
Together we followed the direction of Lilith – a returning character – with whom we hoped to uncover and raid a few vaults for story purposes I suppose. Along the way we get caught up in the turbulent tales surrounding the many weapons manufacturers (Maliwan, Atlus, Jakobs, etc) who pretty much rule the world(s) and give us plenty of quests to keep us busy.
Stirring up drama the whole way, however, is new antagonist "Tyreen", a glorified Twitch Thot who has managed to turn the whole Bandit Legion into her personal army of Simps, known as the "Children of the Vault" or COV for short. Along with her whiney ex-siamese twin brother, Troy, and her power-draining Siren abilities she seeks to become the all-powerful ruler of… everything, I guess?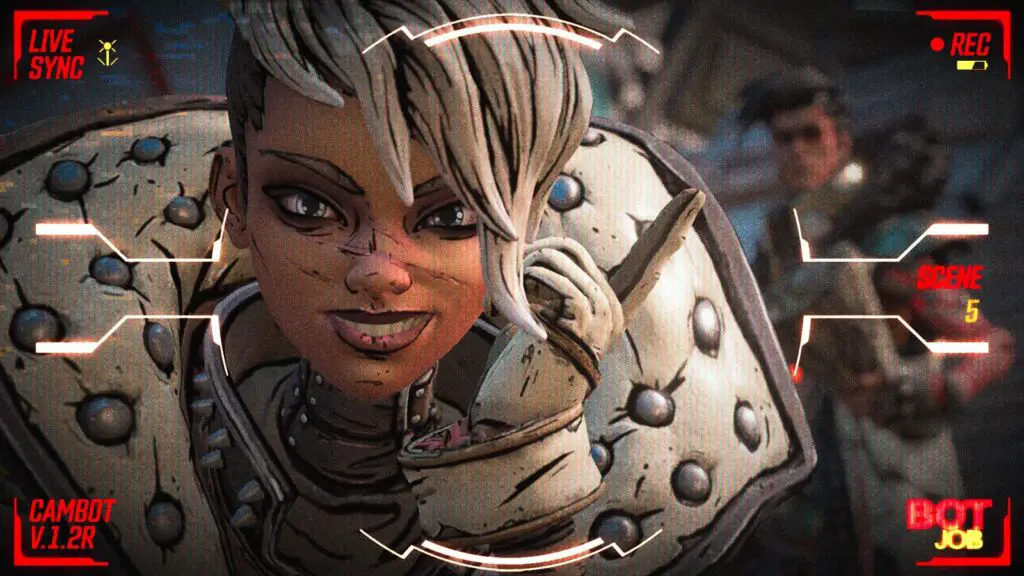 I'm not sure to be honest. Her "Amateur YouTuber" way of talking makes my brain switch off as soon as she says "What is up" but from what I gathered, her Father was a vault hunter and his tales of the vaults made her become obsessed with finding them and claiming their power as her own, so she doesn't take kindly to our band of Vault Hunters and calls us "Vault Thieves" to rile up her Simp horde.
The "Minions" of the Gaming World
The Borderlands series has its own brand of humour which is something of an unstable offshoot of late 00s internet meme culture, this means that going back to the original title can be pretty uncomfortable. A bit like looking back at old pictures your Dad took of you at Legoland in 2008, wearing a black heavy metal band t-shirt in the scorching heat with a straightened but sweaty black fringe draped over the flame-decal sunglasses you insisted on wearing.
In-fact, the series mascot "Claptrap" is pretty much just an embodiment of the regret we all feel when we think back to our days of trolling people on "Funnyjunk" and thinking we were acting… "Like a boss".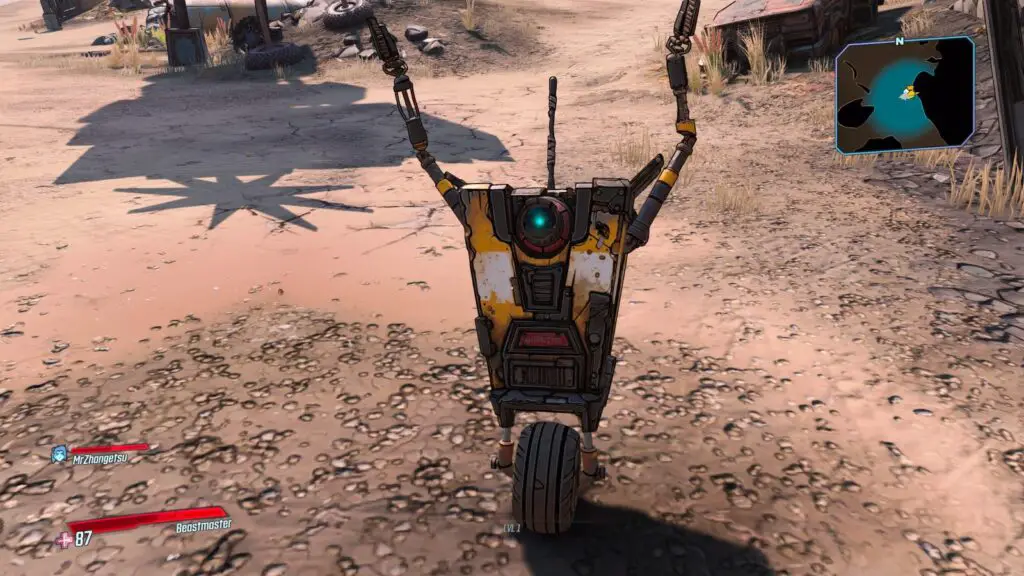 This really hasn't changed much either. Even in this latest instalment, I didn't find Claptrap to be funny or lovable, just painfully cringe-inducing. His high Spongebob-inspired voice coupled with non-stop incessantly yelled dialogue made me take my headphones off a couple of times, though, I won't argue with you if you tell me my 20s have made me cynical.
Claptrap reminds me of a late 00s version of today's "Minions". If parents were gamers, you just know they'd be sharing Claptrap memes all over Facebook.
Ignoring our bright yellow one-wheeled best friend – who, thankfully, isn't featured in the game much past the tutorial – the humour in Borderlands 3 everywhere else hasn't lost its charm. The many Mad-Max-esque post-apocalyptic enemies you face along the way are still as ludicrously unhinged as ever and managed to slap one or two solid hearty laughs out of both myself and MrZhangetsu, cynicism be damned.
When you kill an enemy they won't leave the mortal plane without first dropping some dialogue. Some of which is just chaotic background noise while other lines are well deserving of the sharp nasal exhale they receive, or even the sputtering laughter they're sometimes able to summon.
One which managed to get an honest-to-goodness snort out of me was "Joke's on you! I soiled myself!"
In hindsight, the dialogue is nothing but cheesy dad humour but as someone who always loved his father's dumb sense of humour, I feel right at home among the dying pleas of the apocalypse-damned. They also like to talk about poop… a lot.
Shoot and Loot, So That You Can Shoot Some More, So That You Can Loot… You get it.
The gameplay of the Borderlands series puts you into something of an endless loop, which has a few frustrating inconveniences tied to it.
Throughout the many worlds in the "Six Galaxies", you'll explore are a plethora of enemies who will all drop health and ammo, surrounded by crates, boxes, and any other kind of container from a gachapon dispenser to a port-a-potty which also contain health and ammo. However, some of these enemies and containers will grace you with weaponry.
There's a rarity system in place similar to Diablo or Destiny, but a weapon with "Legendary" rarity doesn't particularly mean it's the most powerful weapon you will find at your level, it just means that the randomly rolled attributes of that weapon will be rarer. The attribute system, however, is where all the fun comes from.
First, you have each weapon type, Pistol, SMG, Assault Rifle, etc. You get the idea. On top of that, you have the gun manufacturers who have their own signature traits which are laid into the weapons.
For example, Torgue weapons will always feature explosive ammunition while Jakobs weapons will usually have an extremely high fire rate, meaning they will fire as fast as you can pull the trigger. Next, there are the elemental traits.
A weapon can have fire damage, cryo damage, shock damage, radiation damage, and so on and so forth. Each of these attributes can also be randomly rolled into the weapon and then finally there are a few rarer abilities which are loaded in there for fun and the stats are rolled within a threshold to top it all off.
The above is just my understanding of the system from playing the game and isn't exactly an accurate breakdown of how the system works. Essentially though, rarer guns will have a higher number of randomly rolled attributes as well as more chance of higher stats.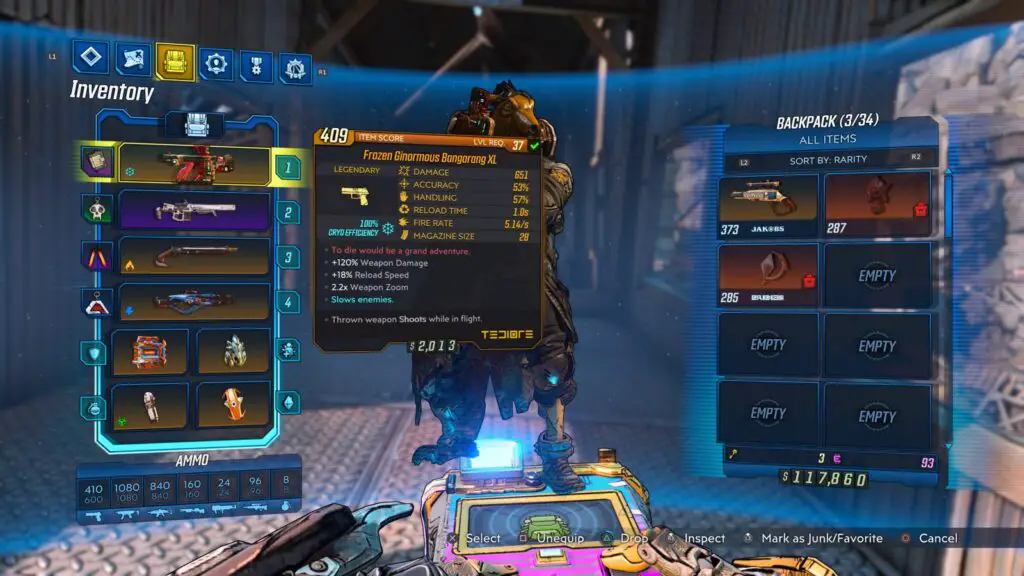 My favourite weapon attributes are the creative ways of reloading. There was one gun we found which instead of changing the clip when we hit

, our character would just throw it away and spawn in a new gun while the original bounced around the area, giggling with every bounce until it exploded. We also found that most CoV weaponry would overheat and were delighted to learn that our characters would pull out water guns to cool them.
This quirky attention to detail makes the random loot system exciting and fun but it also has plenty of downsides. The weapons you find are usually around your level when you find them, naturally, but you will level up after only a couple of missions. Level up twice and suddenly your guns are way too underpowered for the enemies you're facing, which means you need to keep your arsenal in constant rotation.
This isn't a bad thing because it keeps gameplay varied and gives more value to the loot, but the fact that you are constantly at the total mercy of the random loot system means that quite often you'll end up with an arsenal of completely crap weapons. It seems that all I could find most of the time were SMGs and Machine Pistols which were barely effective. Whenever I found a decent gun it ended up being a shotgun so, at one point, I was using three different Shotguns because I didn't have much of a choice.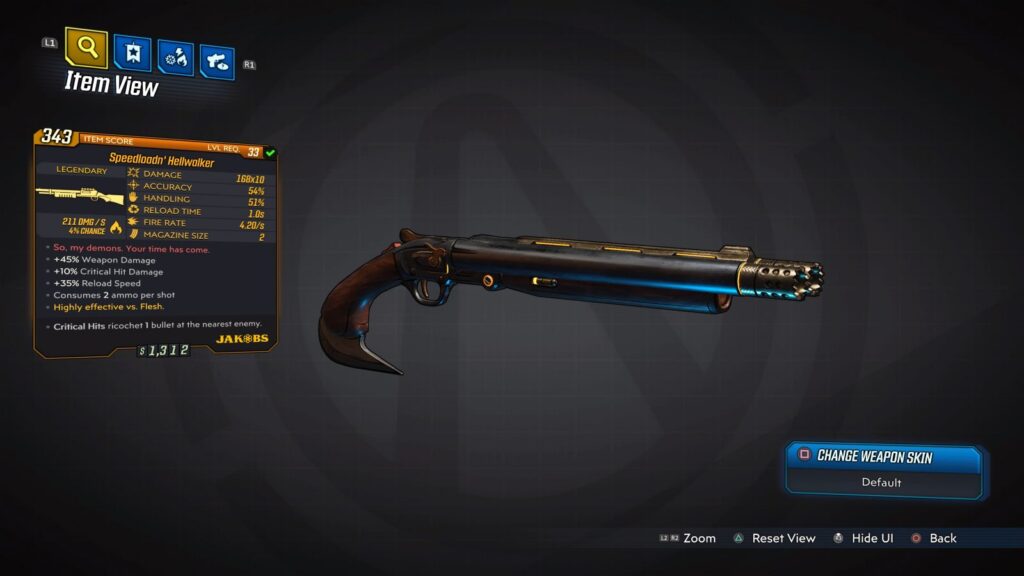 In fact, this has been an issue for the entire Borderlands Series and the reason I bailed on my Borderlands 2 platinum journey a few months ago was over this very same issue, my weapons were total crap and I struggled to make progress at a pace I could enjoy.
It would have been nice to at least have the option to upgrade weapons I liked and wanted to keep around, just in-case RNGsus decides to screw me over for 6 missions in a row.
Getting Around
Traversing the worlds in Borderlands 3 requires a few things. Firstly, you need legs, obviously, I don't think those are optional but luckily every character comes fully equipped with their own pair from the start!
Except, of course, one of my favourite NPCs from the game; "Goner my Leggies" who was very appropriately named.
Secondly, there's a little bit of vertical traversal required for some areas, mostly leading to secret crew challenge items, but the actual climbing mechanic is awful. You basically just need to jump at a ledge and press

when the character extends their arm to grab it. However, this window is extremely small, stupidly so. Therefore, for every ledge you climb, there's about a 10% chance of you successfully mantling it, the rest of the time you're mashing

wildly in a futile attempt to grab the damn thing.
Okay, so what about travelling great distances? Well, a lot of the explorable areas have big long stretches of absolutely nothing, which makes vehicular travel a preferred method of heading from point A to point B. However, the vehicle controls are also absolute trash. Rather than a dedicated accelerator, you push up on

and then use the camera to dictate the direction you drive in – commonly known as "Warthog controls". Which is okay I guess… it could be a lot better.
When it really becomes a pain is when it comes to trying to shoot things. Trying to move and shoot at the same time is pointless, because you'll always just be driving towards what you're aiming at. So your best bet is to just stop and sit there, completely defenceless, letting the enemies fill your vehicle full of holes, while you trade munitions in what simply amounts to a war of attrition. Biggest health bar wins.
So, say you reach your destination, what happens then? Well, you kill a lot of enemies. I mean a lot of enemies. Too many enemies. It's repetitive, the enemies take too long to kill thanks to some hefty health bars and that's not to even mention the health bars on the bosses who soak up munitions like it's giving them life and frequently enter irritating invincibility states.
When you're not killing enemies or travelling from enemy group A to enemy group B, you're stood listening to dialogue which goes on and on for way too long. Don't believe me? Do a mission for Clay.
While they yammer on, you are prevented from making progress until the NPCs are finished ramming 9 inches of exposition down your gullet. It's excessive, to say the least.
The Co-op experience
I have to say that due to the repetitive and cyclic nature of the Borderlands 3 experience, I wouldn't have had anywhere near as much fun were I not playing it with a friend, with whom I could share loot, laugh at the stupid humour and just generally chit-chat to keep my mind occupied during long, drawn-out, and boring combat encounters against the infinite horde of bullet-sponge enemies.
There are a couple of different ways to play the game with a friend, you can either set it up so that loot is unique to your instance of the game so that there's no arguing over loot and money, or you can play competitively so that it's first-come-first-served.
We decided it would be better to work co-operatively to ensure a quick and easy platinum trophy so we went for the former of the two options.
There's a duelling system in place too which can be quite fun if you're the competitive type, you can request a duel with your friend and then put your weapons to the test one-on-one. I noticed that there was a feature which would allow you to lay down a wager for your duel. In the trading system (hold

over your friend) you can choose to duel instead of trading, which will then mean that the winner of the duel wins the items you wager. I think that's a great idea!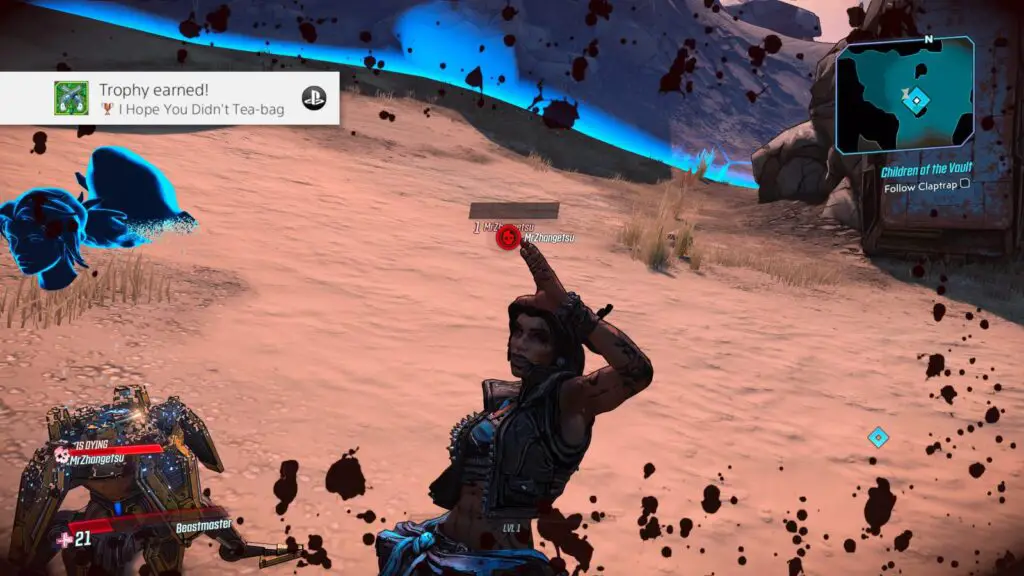 Having a co-op companion was useful in completing the objectives faster, too. Not just because they served as a second set of weapons to help carve through the endless waves of enemies, or because they can shoot enemies from your vehicle while you just focus on driving, but because often we could split up to tackle multiple mission objectives or even multiple quest-lines at the same time.
My Borderlands 3 Platinum Experience
Playing through the Story
As with most Borderlands games, no trophy is missable, and we were able to just focus on getting the main story out of the way before worrying about collectables and other such additional trifle. The way we tend to play games like this, however, is to put off the story until there are no side-quests left and Borderlands 3 is a perfect fit for that strategy.
The game's maps are broken up into Zones, each of which has it's own side-quests and collectables which you'll come across as the story takes you slowly through them. So, we would stick around in each new zone, completing side-quests – which you can conveniently flick between with a simple press of

or

– until we had no other choice but to complete the story objectives. Eventually, that would lead to us leaving for the next location and the cycle would begin again.
It actually wasn't all that fun though. The zones are relatively small if you consider that most of the map is just road to drive on, and it seemed like every side-quest we took on would take us through the exact same places to fight the exact same enemies with maybe a unique boss at the end who would just be no fun to fight anyway. It became quickly repetitive and we found ourselves getting distracted by every little thing as we tried to find entertainment elsewhere.
By the end of the campaign we were so disinterested in what we were doing that we'd given up on doing side-quests and just wanted to get the last few chapters of the 23-chapter campaign out of the way so we could focus on the side-quests.
The finale was lacklustre as the bosses went down laughably fast thanks to a specific and incredibly powerful weapon I had (which was then completely useless a few levels later) and the game expected us to care a whole lot more about some characters who had done nothing but incessently sling dialogue at us, preventing progress, for the past 20-30 hours of our journey.
Once all that was over, I made a spreadsheet of all 75 Side-quests we would need for the "A bit on the side" trophy, which would include the Circles of Slaughter and Proving Grounds. I then marked off all the quests we had already completed by checking the Completed Quests section in the in-game quest tracker and was delighted to find we needed only 20 more.
Side-Quests and Challenges
With the Story out of the way we began cleaning up our quest list, getting rid of the few we'd managed to pick up along the way, one of these happened to be the third and final Circle of Slaughter, which we picked up towards the end of the game. However, we hadn't done the first two yet so we were going in kind of blind.
This particular Circle of Slaughter is known as Slaughterstar 3000, the most difficult of the three, and it took us hours and hours of repeated practice to get through. A couple of times we ran out of time to play so had to quit but when we came back the next day, the whole 5-round 20-wave challenge had started again from the start!
The most annoying thing was that the first time we tried Slaughterstar 3000 was actually our best run, because our weapons then were pretty good. But after playing it for a while – and levelling up a lot – the scaled enemies became too powerful for our weaponry so our subsequent attempts were worse and worse thanks to a struggle to find any decent weaponry. Once again, the random nature of the loot system was screwing us over.
With time, we found our way through the to the end of the Slaughterstar after leaving a few times to try and farm better gear. During our final attempt we both earned our level 50 trophies and were glad to turn our backs on the Slaughterstar, never to return.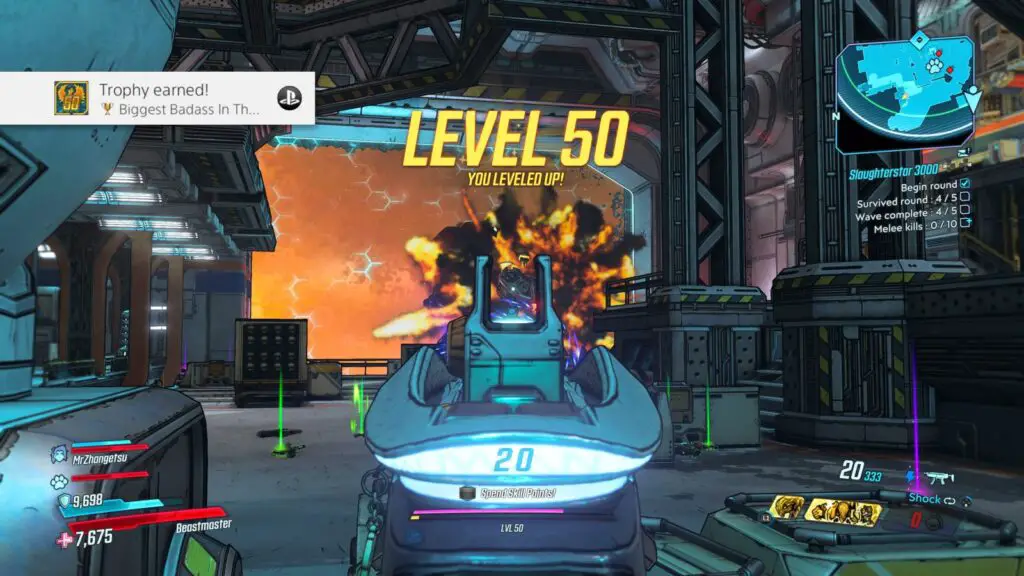 Setting our sights on the spreadsheet I'd thrown together which listed all of the game's side-quests, we made our way one-by-one to each quest's starting point and worked on them until done. The majority of these were Proving Ground missions which actually consisted of two separate questlines, helping us to quickly complete our remaining 20 quests.
Two of these were also Slaughterhouse missions, the two we hadn't done yet. And they were hilariously easy compared to our experience in the Slaughterstar. I don't know if it was because of better weaponry or something (I doubt that) but the two remaining Slaughterhouses; The Slaughter Shaft and the Slaughter Cistern, took us way less time to complete.
While making our way across each planet in search for side-quests, we were careful to check the map and press

to view our completion of each zone. We were looking at how many locations we still needed to visit as well as any Eridian Slabs we still needed to translate.
With those numbers in mind, we'd take the time to first complete the nearby side-quests and then scrutinously explore every last corner of the map which was still grey (visiting part of the map will reveal it in blue, fog of war style) hoping to find the locations and slabs we needed but also keeping our eyes out for two types of Crew Challenge in particular;
Zero's Targets of Opportunity: Basically just human/humanoid minibosses to take down.
Hammerlock's Hunts: Basically just creature minibosses to take down.
These were found on the map in the form of green diamond icons with either a skull icon or crossed swords icon in the center. Finding all of those would net us a trophy in the end.
After what I'd guess as being about 5 hours of additional gameplay from the story's finale, we had at last completed what side-quest content we still had remaining and were finally in the last leg of our trophy journey.
Final Cleanup
There were quite a few locations we didn't end up revisiting for our side-quest cleanup, so we used the map's completion tracker to check each zone for locations and Eridian Slabs we still needed, while there we'd ensure we're uncovering any potential Target or Hunt locations but we managed to cross those off our lists quite quickly.
This whole process was fairly straight-forward but we were often met with the irritating fact that a lot of the named locations have very specific trigger points which were hard to pin down. Sometimes we'd have uncovered the entire map but it turned out there was a 1-meter by 1-meter spot we hadn't stepped on to officially register certain locations, extremely frustrating!
On top of all that, once we finally had everything our Eridian Slab trophies wouldn't pop. It turned out that the solution was to quit the game, load it back up, travel to Sanctuary and then mash

"Translate" on the Eridian Slab in the infirmary over and over again until the prompt changed from "Translate" to "Inspect".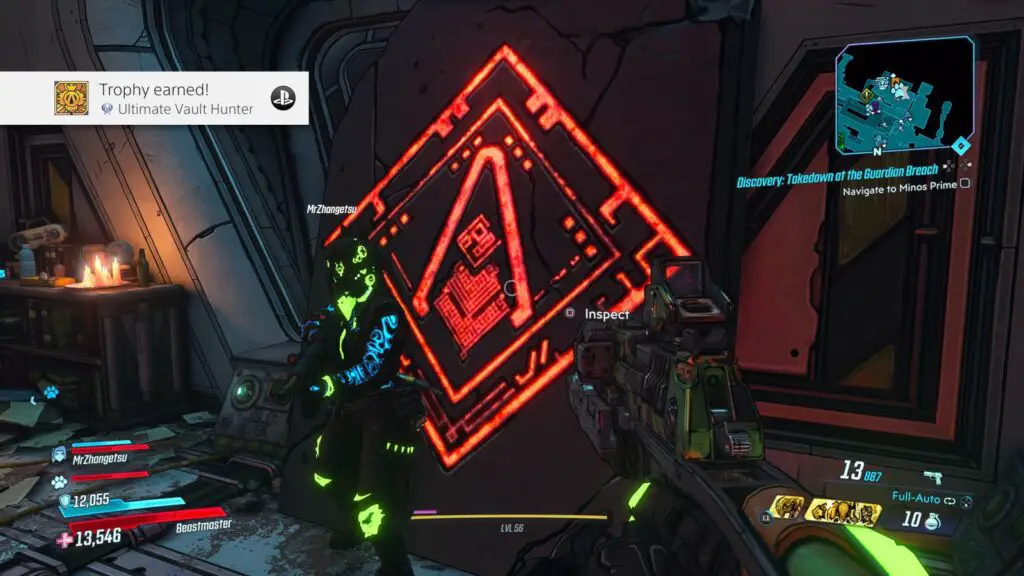 Even after doing that, MrZhangetsu had to quit out and load his own instance of the game to do the same for his trophy to pop.
Though, finally, after a long and somewhat arduous journey, we were finally treated to our well-earned platinums and Borderlands 3 was removed from my PS4 storage.
Time Breakdown
Initial Story & Side-Quests
Remaining Side-Quest Cleanup
Borderlands 3 Trophy Guide
So, what do you think? Sound like a Platinum you would like to add to your own collection?
Well, I've put together a trophy guide specially for you. Yes, I really mean you. The person reading this, just you specifically. You can find the Borderlands 3 Trophy Guide Here.
That concludes my Borderlands 3 Trophy Review. If you enjoyed reading this review, please do let us know, it means the world to us when we hear feedback and we love engaging with people over the game we just platted. It's basically the only thing motivating us at the moment!
You can follow us on Twitter @GetPlat and Instagram @platget where we'll be sharing updates, upcoming reviews and general gripes about the games we're working on so feel free to follow us or use it as another channel for feedback!