PlayStation 4
Jigsaw Abundance Trophy Guide
Trophies
1
8
9
3
FAQ
How long does it take to beat Jigsaw Abundance and unlock all trophies?
How difficult is it to beat Jigsaw Abundance and unlock all trophies?
Does Jigsaw Abundance have online trophies?
Does Jigsaw Abundance have difficulty-specific trophies?
Does Jigsaw Abundance have missable trophies?
Does Jigsaw Abundance have glitched trophies?
What is the minimum number of playthroughs required to unlock all trophies in Jigsaw Abundance?
Does Jigsaw Abundance have a Platinum Trophy?
Jigsaw Abundance Trophy Guide and Road Map
welcome to our Jigsaw Abundance Trophy Guide. Jigsaw Abundance is a pretty standard jigsaw game in which you aim to place together the correct jigsaw pieces and reveal a complete image. It is made by the same people who brought us Memory Lane, another quick puzzle-based platinum.
You should be able to get this trophy in around 15-20 minutes.
Phase One – Complete 20 puzzles
This is all you need to do. Simply select 20 of the 50 available puzzles to complete.
You can do them on any size you like, so choose the easiest size (4×4) if that's what you want to do. You must complete 20 unique puzzles, replaying puzzles – even with a different size selected – will not count towards these trophies.
Puzzle Trophies
These trophy descriptions are in no way helpful but it seems that you'll earn a trophy for each unique puzzle you complete.
Your nerves becomes soothed…
Your screen becomes the canvas…
We all need to calm down…
And let the mind do the trick…
Move up and down and left and right…
The pieces are flowing non-stop…
They connect again and again…
Time to move on and pick another one…
You have mastered this craft…
And your mind sends the signals…
Plat Get!
To the whole universe, that you love jigsaw puzzles
Having completed 20 unique puzzles on any size, thus unlocking every other poorly-described trophy, you'll have this Platinum in the bag.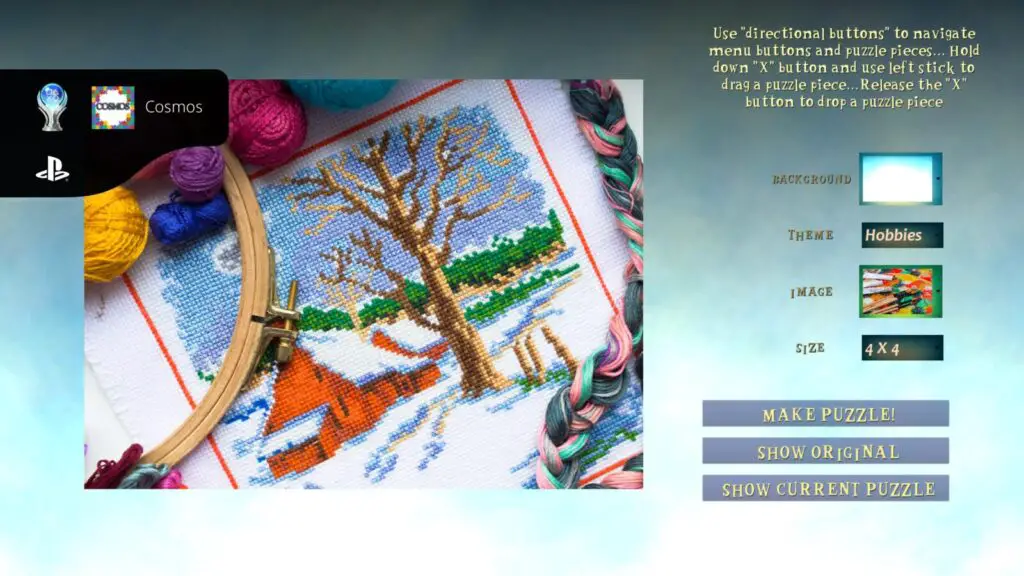 Full Disclosure: You won't find this platinum trophy on my PSN Profile, I used my alt account PlatGet_DblTap, so look there if you're hoping to verify!
If you enjoy collecting quick and easy Platinum Trophies like this one, check out our full list of Quick and Easy Platinum Trophies, all of which can be earned in an hour or less!
Thank you for choosing PlatGet as your source for this Jigsaw Abundance Trophy Guide, consider checking out our reviews and other guides!
Follow us on twitter @GetPlat or Instagram @platget for updates on new reviews and guides, as well as small anecdotes about our platinum journeys.
We've Partnered with NordVPN
You may see links to NordVPN products and services on our site. Purchasing a NordVPN Subscription via one of these links is a great way to support us! You would be helping us continue releasing quality guides—as we'll receive a small commission—but you'll also get a great deal on the world's leading VPN!
Grab the Special Deal!