PlayStation 4, PlayStation 5
Warp Drive Trophy Guide
Trophies
1
5
11
16
FAQ
How long does it take to beat Warp Drive and unlock all trophies?
How difficult is it to beat Warp Drive and unlock all trophies?
Does Warp Drive have online trophies?
Does Warp Drive have difficulty-specific trophies?
Does Warp Drive have missable trophies?
Does Warp Drive have glitched trophies?
What is the minimum number of playthroughs required to unlock all trophies in Warp Drive?
Does Warp Drive have a Platinum Trophy?
Warp Drive Trophy Guide and Road Map for PS4 & PS5
Welcome to our Warp Drive Trophy Guide. Warp Drive is a thrilling hovercraft-racing game with focus on both warping through the map and reaching high speeds. The simple yet beautiful cel-shaded/comic-book aesthetic looks amazing, especially at breakneck speeds.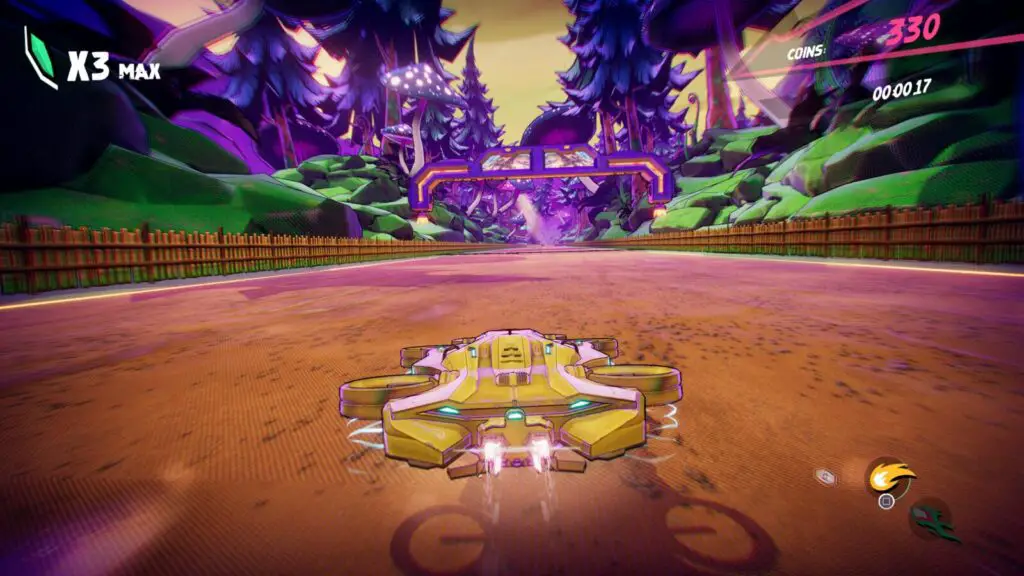 The trophy journey for this game is very simple, if a little repetitive in places. You will need to put plenty of hours into each of the game's three modes, but the overall journey is fairly short.
We'll tackle the game modes and associated trophies one-by-one throughout this Warp Drive Trophy Guide, leaving us with a small amount of cleanup at the end for some Misc Trophies, most of which will unlock naturally.
Phase One - Complete the Challenges
In this first phase of our Warp Drive Trophy Guide, we're focusing on completing the Challenges. The reason for this is that they each require you to use a specific vehicle so that you will have the same vehicle in every attempt, regardless of your progress in the game.
This will allow you to gain a lot of exp and also become accustomed with the game and its various mechanics.
There are 104 Challenges split across the three maps. You will start with a handful of Challenges available in each of the three maps and then must use medals earned by completing Challenges to unlock more.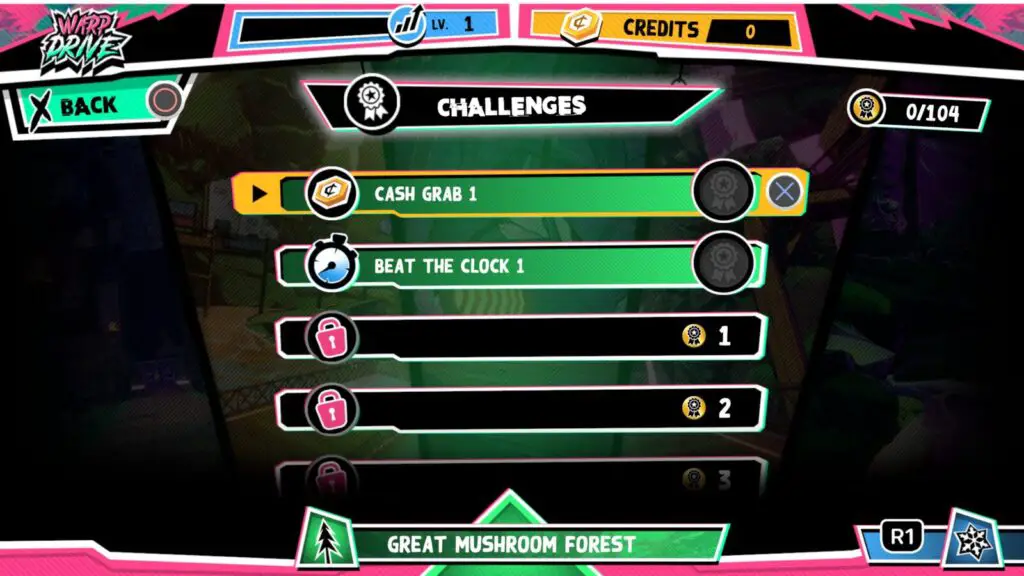 While playing, I advise you do the following to reduce future cleanup:
Challenge Trophies
Phase Two - Complete all Tournaments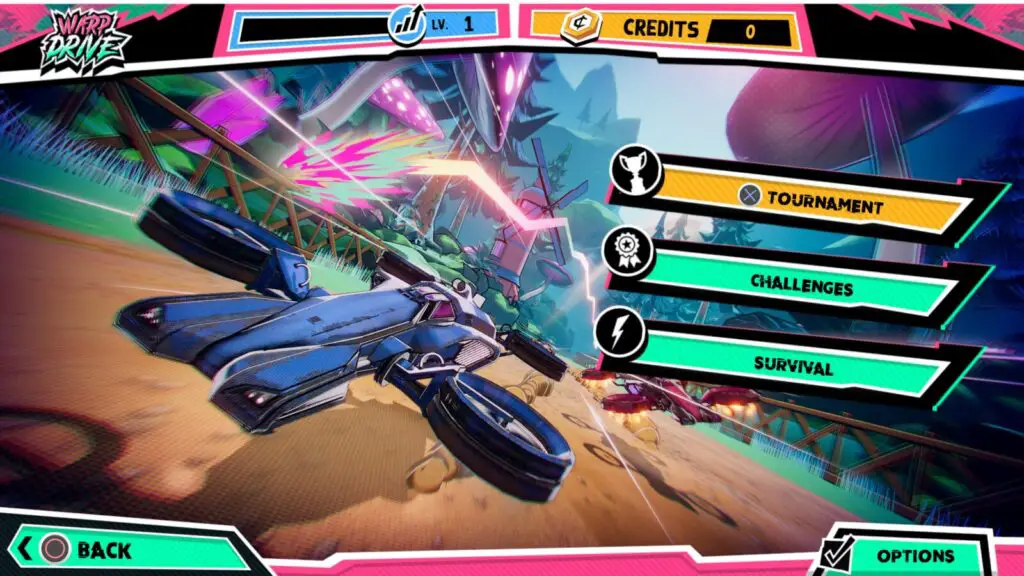 In this second phase of our Warp Drive Trophy Guide, we shift focus to the game's main "Tournament" mode. There, you will have access to the "Great Mushroom Forest tournament."
There are six tournaments in total, and you will need to earn a gold trophy in each one by completing the tournament in first place overall. Completing one tournament will unlock the next.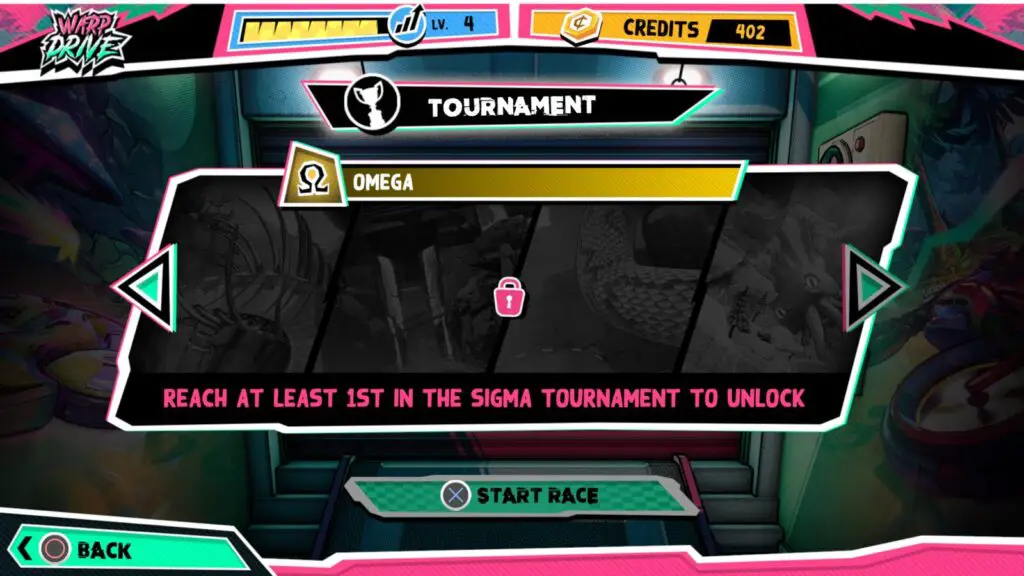 You're welcome to play on the easiest Race Speed Setting (Amateur – 500CC) as there are no difficulty-specific trophies or repercussions to doing this.
While playing through each of the six tournaments, I advise you do the following to reduce future cleanup:
Tournament Trophies
Phase Three - Survival Mode
The next phase of our Warp Drive Trophy Guide focuses on the game's third and final game mode; Survival. In Survival Mode, you will need to complete randomised events back-to-back. Throughout this phase, you will need to complete a total of 100 events in Survival Mode, and 30 of those need to be back-to-back wins.
You will also need to try and collect 100 coins in any of Survival Mode's Bonus race events. On top of that, as with other phases, I recommend you continue to work on the following:
As with the Tournament mode, there are no consequences to playing on the 500CC Race Speed if you want, which will allow you to have an easier time.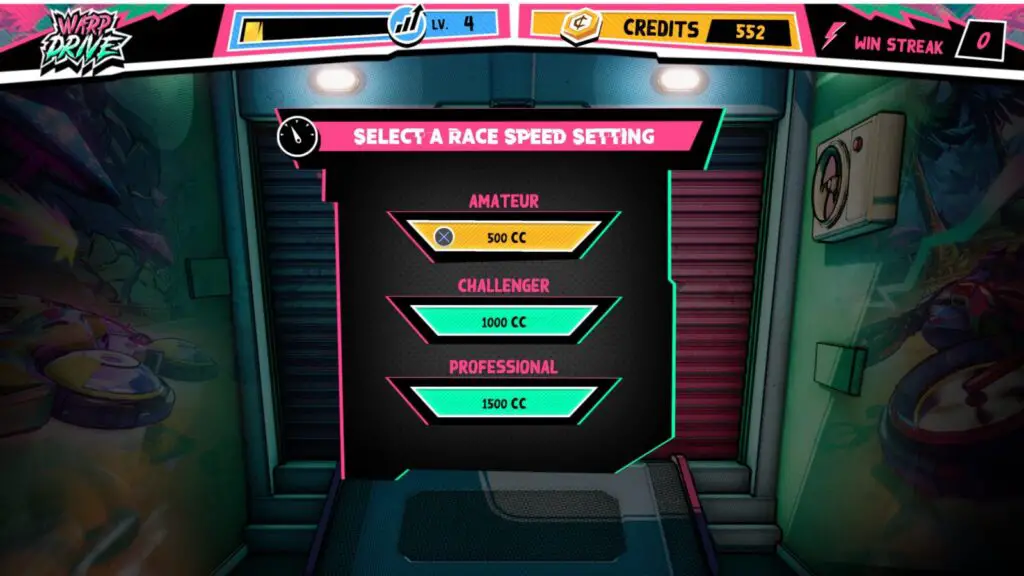 Survival Trophies
Unbeatable
Get a win streak of 30 (Survival).
Every time you complete the objectives of an event in Survival, your Win Streak will increase by 1. The higher your win streak, the more bonus credits you will earn after each event.
To unlock the "Unbeatable" trophy, you must complete the objectives of 30 events in Survival back-to-back without ever failing.
If you're close to losing an event, you can pause the game with

and select "Restart Race" to reset the current event without repercussions. However, if you fail an event, your win streak will be set to 0, and you will need to try again from there.
Honestly, this isn't too difficult of an accomplishment to pull off, and you'll likely earn this trophy naturally while attempting the Made A Name For Yourself trophy.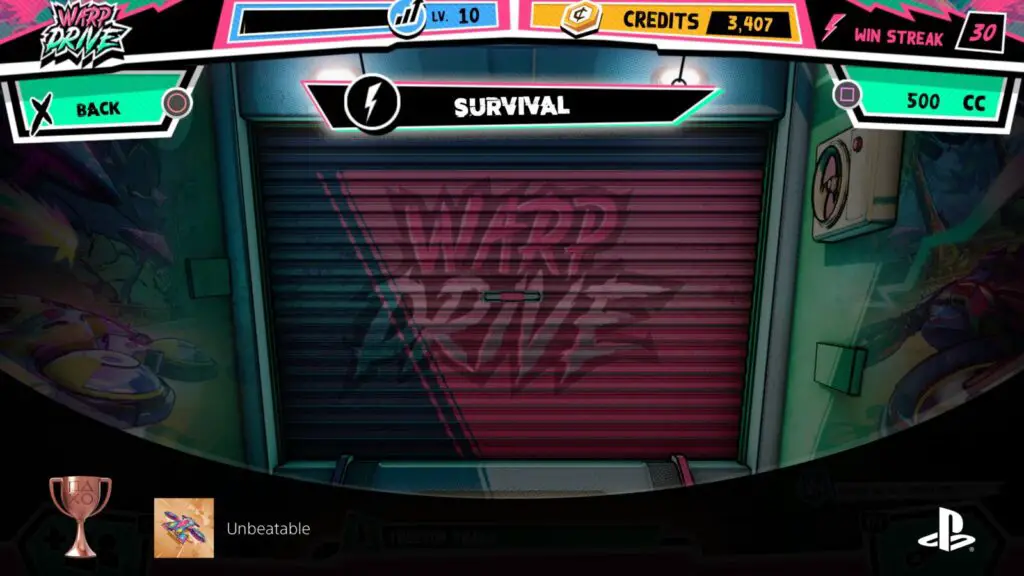 A Name For Yourself
Win 100 events in total (Survival).
To unlock the "Made A Name For Yourself" trophy, all you need to do is complete the objectives in a cumulative total of 100 Survival Mode events.
Don't forget that you will need to try and accumulate a win streak of 30 for the Unbeatable trophy, but once you have that, there's no need to maintain your streak anymore (except for the increased credit gain).
You should also keep your eye out for Bonus Race events so that you can earn the Rolling In It trophy here too. Once done, you can simply continue playing Survival until this trophy unlocks.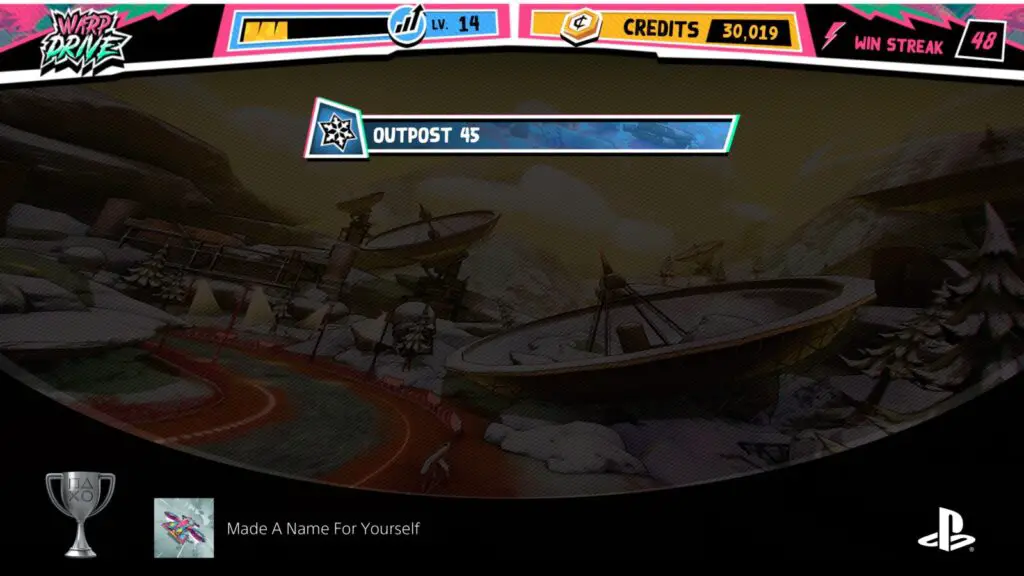 Rolling In It
Collect 100 coins in a Bonus race event (Survival).
You will know when you come to a Bonus Race event in Survival because the coin reward will be hidden, and the objective will be to "Collect Coins." Additionally, the first time you start one of these events, you'll be informed directly about what they are.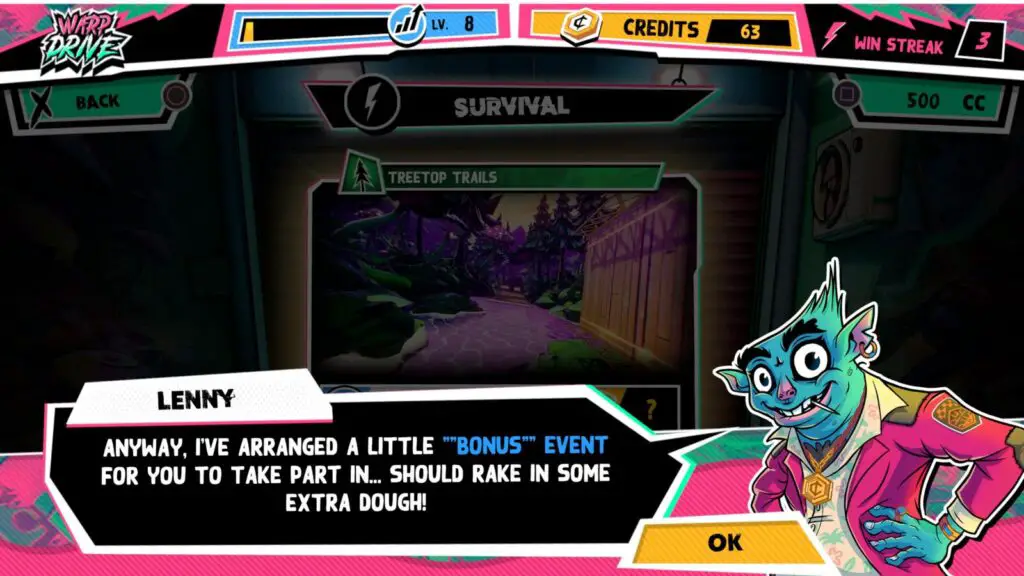 In these Bonus Race events, you have a set number of laps to drive around the course and collect as many coins as possible. The coins will act as your reward, so it benefits you to get as many coins as possible.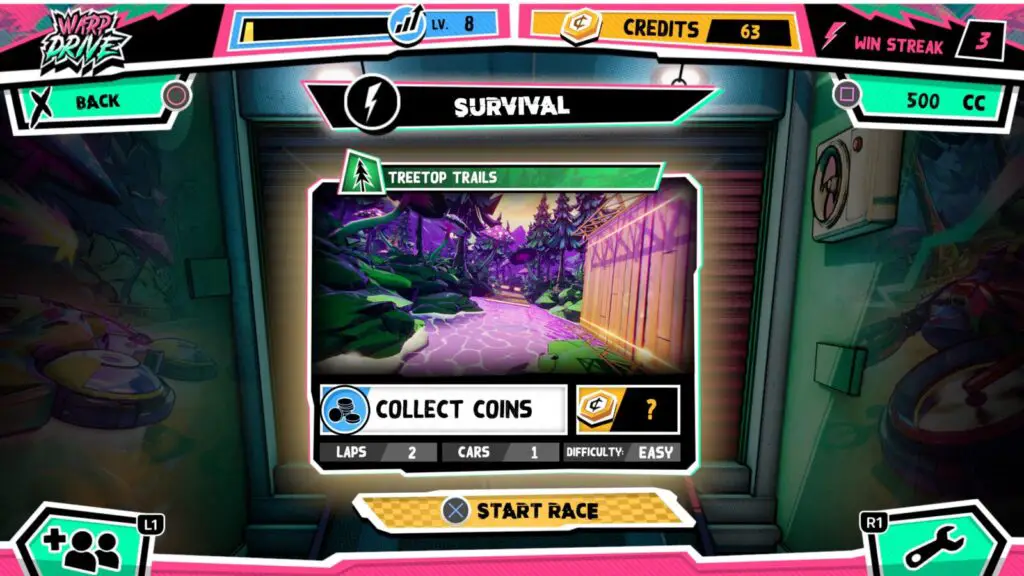 The "Rolling In It" trophy requires you to collect at least 100 coins in one of these events. 100 coins isn't very much at all. In fact, on my very first attempt at a Bonus Race event, I was able to collect over 300 coins without difficulty.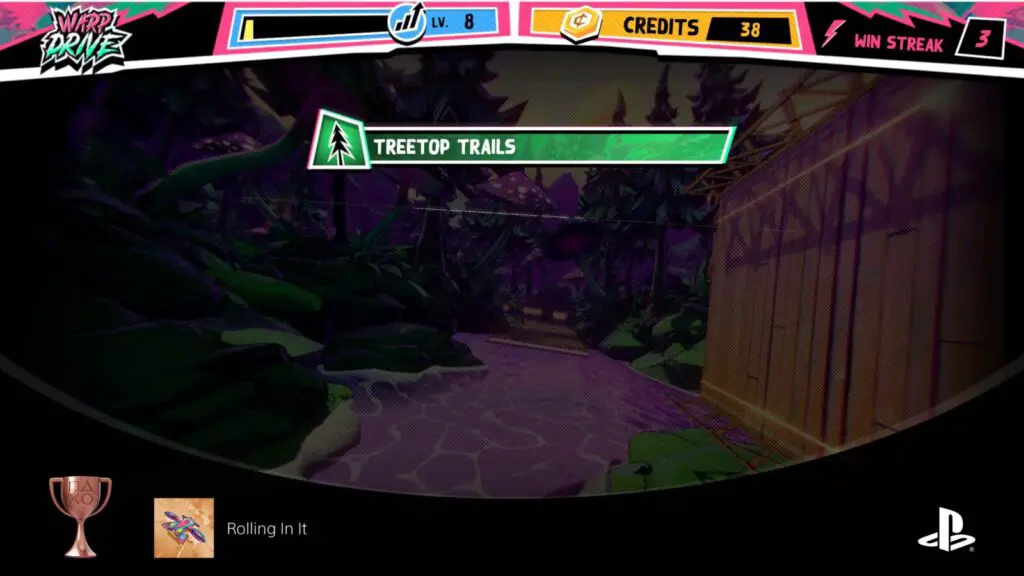 Phase Four - Cleanup
With every Warp Drive game mode mastered, we bring our Warp Drive Trophy Guide to a close with a classic cleanup phase. You can complete this phase in any game mode; just be aware that the shop isn't accessible through Challenges mode.
Essentially, you will need to complete all of the misc trophies I've been trying to prepare you for throughout the guide, such as boosting 1000 times and purchasing a full set of Mythic Car Parts.
Most of your progress on these trophies will have occurred naturally. In other words, you should be very close to unlocking the Platinum by now!
Misc Trophies
PlatGet!

Total Completion
Unlock All Trophies
After collecting every trophy in this Warp Drive Trophy Guide, the "Total Completion" Platinum Trophy will unlock. Congratulations!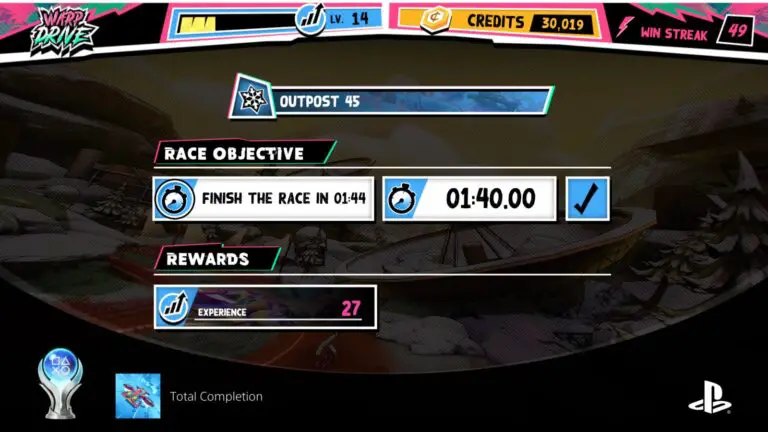 Thanks for Reading
Plat Get!
Thank You!
Thank You for choosing PlatGet as your source for this Warp Drive Trophy Guide.
Wondering what to complete next? Browse our complete guide selection or check out our friends at PlatPrices.com to filter the PS Store based on price, trophy difficulty, or completion time.
Got a question, some feedback, or just want to say thanks? Drop a comment in the discussion section below, we'd love to hear from you! No account required!!
We've Partnered with NordVPN
You may see links to NordVPN products and services on our site. Purchasing a NordVPN Subscription via one of these links is a great way to support us! You would be helping us continue releasing quality guides—as we'll receive a small commission—but you'll also get a great deal on the world's leading VPN!
Grab the Special Deal!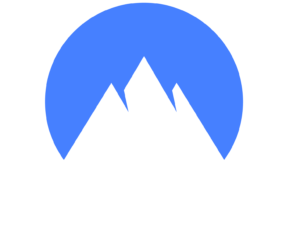 This Guide uses our Trophy Tracking features!
Here on PlatGet, you will sometimes see the new tracker on trophies in certain trophy guides. These tracking tools allow you to manually keep track of your own trophy progress without having to give us any personal details or create an account.
The tool uses localStorage to save and load your changes, allowing you to even leave and return in some cases. However, for best performance and to ensure your tracking details aren't lost, try to keep this tab open until you're done with your trophy journey and avoid refreshing as much as possible.
Close