PlayStation 4, PlayStation 5
Ghost of Tsushima Iki Island DLC Unwritten Tales Guide
Ghost of Tsushima Iki Island DLC Unwritten Tales Guide for PlayStation 5 & PlayStation 4
Welcome to our Ghost of Tsushima Iki Island DLC Unwritten Tales Guide. In the Iki ISland expansion for Ghost of Tsushima, there is a trophy called "Common Courtesy," which requires you to complete 6 Unwritten Tales.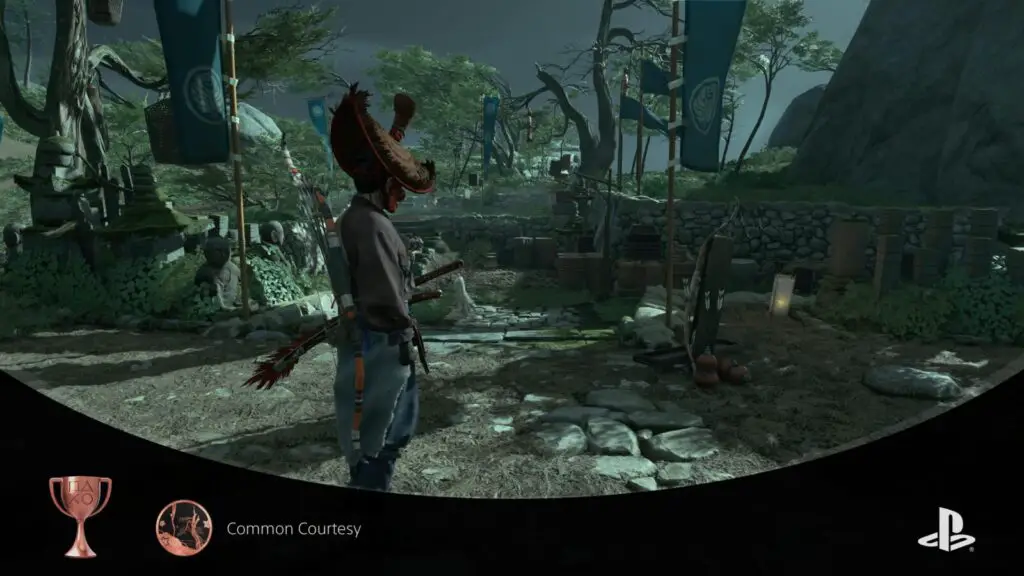 The problem is that these tales, being unwritten, don't have any waypoints, Journal entries, or other vital indicators of progress and/or location. To solve that problem, I painstakingly scrubbed through several save files completing myriad combinations of actions until I could specifically pin down what is and isn't required for the Common Courtesy trophy.
I'm very pleased to now share that information with you!
If you are interested in earning more Ghost of Tsushima trophies, check out our other Ghost of Tsushima guides:
For each one of the Unwritten Tales, you should head to the locations on the map screenshots I have provided below and then speak to the NPC there.
Unwritten Tale 1: Burying the Ship Captain
On the North Coast, not far from where you arrive on Iki Island, you will find the wreckage of the ship you traveled over in. Next to it, you can find the corpse of the ship's captain. Interact with him using

to bury his body.
Unwritten Tale 2: Saving Hachibee's Bees
Hachibee in Old Gamblers Wood needs help defending his bees from the Mongols. Speak to him, defeat the Mongols, and then speak to him again.
Unwritten Tale 3: Kodama and the Burnt-down House
When you approach this location on the map, Jin will say that something brought him here. Approach the house and interact with the tattered Sakai Banner outside the door to begin this mini-quest and meet Kodama.
Follow her to the forest's edge and she will send you out to search for a group of Mongols. Use

to find them and kill them. You will hear Kodama giggle to indicate you are done.
Make sure you head back to the burnt-down house and you'll find some supplies and a note on a nearby Tree-stump, collect them to complete this mini-quest.
Unwritten Tale 4: Save the Peasants in the Lake
There is a group of Mongol enemies by the small lake at the center of the Buddha's Footprints area, kill them to free the peasants they are torturing.
Unwritten Tale 5: Uta and the Fire Spirits of Yarikawa
Uta can be found surrounded by Japanese calligraphy sheets in a small hut on the eastern side of Yahata Forest. When you head inside and speak to her she will ask you about one of the stories from the Legends mode, "The Fire Spirits of Yarikawa." If you have done that part of Legends mode you can tell her about the story and she will give you a Kitsune mask.
If you have not completed the "The Fire Spirits of Yarikawa" mission in Legends mode, you cannot unlock this trophy. If you haven't done so, you must play all 9 story missions in order. The Fire Spirits of Yarikawa is the final mission. It might be possible for a friend to bring you into the mission before you have unlocked it.
If you have completed that mission but Uta won't give you the mask, then you will need to go into Legends mode and play that specific story mission again. This happens sometimes.
Unwritten Tale 6: The Raider Memorial Archery Challenge
One of the Archery Challenges, found at the Raider Memorial on the South Coast, can only be started if you equip Tadayori's Armor (from the base game) and speak to the NPC there. This counts as one of the Unwritten Tales so complete the Archery Challenge. See Pride of Ishikawa for more about this and other Archery Challenges.
Thank you for choosing PlatGet as your source for a Ghost of Tsushima Iki Island DLC Unwritten Tales Guide. Consider checking out our other guides!
Follow us on Twitter @GetPlat or Instagram @platget for updates on new reviews and guides, as well as small anecdotes about our platinum journeys.
We've Partnered with NordVPN
You may see links to NordVPN products and services on our site. Purchasing a NordVPN Subscription via one of these links is a great way to support us! You would be helping us continue releasing quality guides—as we'll receive a small commission—but you'll also get a great deal on the world's leading VPN!
Grab the Special Deal!