Moving Out Movers in Paradise Trophy Guide and Road Map
Moving Out is a fantastic couch co-op title made better by this excellent DLC add-on. Within this Moving Out Movers in Paradise Trophy Guide, you'll find a step-by-step walkthrough as well as in-depth details on every trophy and how to earn them.
Moving Out Movers in Paradise Trophy Guide: Before You Begin
If you haven't read or used our Moving Out Trophy Guide for the base game yet, then check that out. Particularly this section where I explain how co-op works and what Assist Mode is.
For the purposes of this guide, and our Moving Out Movers in Paradise Walkthrough, I'll be assuming you are playing alone with Assist Mode turned on. If you're playing with a friend or have chosen not to use Assist Mode, then just know that your experience will differ.
Regardless of the increased number of items and the different time limits, I recommend playing with a friend as it is a lot more fun that way!
Phase One – Story Mode
During this first (and only) phase of our Moving Out Movers in Paradise Trophy Guide, you will just want to complete the game. If you play your cards right, you can do pretty much everything in this first run, with just a tiny bit of cleanup later. There's also no trophy for completing the new Arcade levels so you can completely overlook them if you like. Here's what you'd want to do:
Well, I've prepared a Moving Out Movers in Paradise Trophy Walkthrough, which will not only provide tips for completing each stage, but it will tell you each level's Bonus Objectives, Hidden Cassette Tape Location, and every other piece of information you might need for the trophies in the list above.
None of these trophies are missable because every level can be replayed. So, if you choose not to follow the walkthrough and would like to experience the game for yourself, then during this phase of our Moving Out Movers in Paradise Trophy Guide, you should focus on completing every stage. Then, go back through to complete the rest of the trophies listed here before moving on to Phase Two.
Lastly, you should smash any and all Sandcastles you see, until you see the SMASH! trophy unlock. This way you can avoid a small end-game grind.
Complete Story Levels
Where to next?
Complete Movers In Paradise
Once you have completed all 13 stages for the first time, regardless of your completion time and how many objectives you've completed, you'll unlock this trophy.
Consider using our Moving Out Movers in Paradise Trophy Walkthrough to ensure you have the smoothest possible playthrough here.
You will also earn these two unmissable story trophies:

Recertified
Complete welcome to Packmore Resort
Who lives here?
Find out who lives on Packmore Island
Complete Optional Objectives and Trophies
The trophies in this portion of our Moving Out Movers in Paradise Trophy Guide will require a little extra effort. For these, you'll need to complete all objectives, get gold in every stage, deliver all Hidden Cassette Tapes, ride every Zipline, Explode all hot air balloons, and a few more misc objectives.
Our Moving Out Movers in Paradise Trophy Walkthrough will help you do all of these things in one single playthrough.

Golden paradise
Get Gold on all Movers in Paradise levels
Whenever you complete a level under the pre-defined time limit for a Gold Medal, you'll be awarded one. You can also earn Platinum Medals for certain time thresholds (which you'll probably do for every level if you are using Assist Mode) but Platinum Medals are not required for the Platinum Trophy.
All you'll need to do is aim for the Gold Medal. You can find the time thresholds for all 13 levels in our Moving Out Movers in Paradise Trophy Walkthrough but know that your time limits will differ depending on your Assist Mode setup and the number of friends helping you out.
Once you have successfully earned all 13 Gold Medals, you will have this trophy in your collection!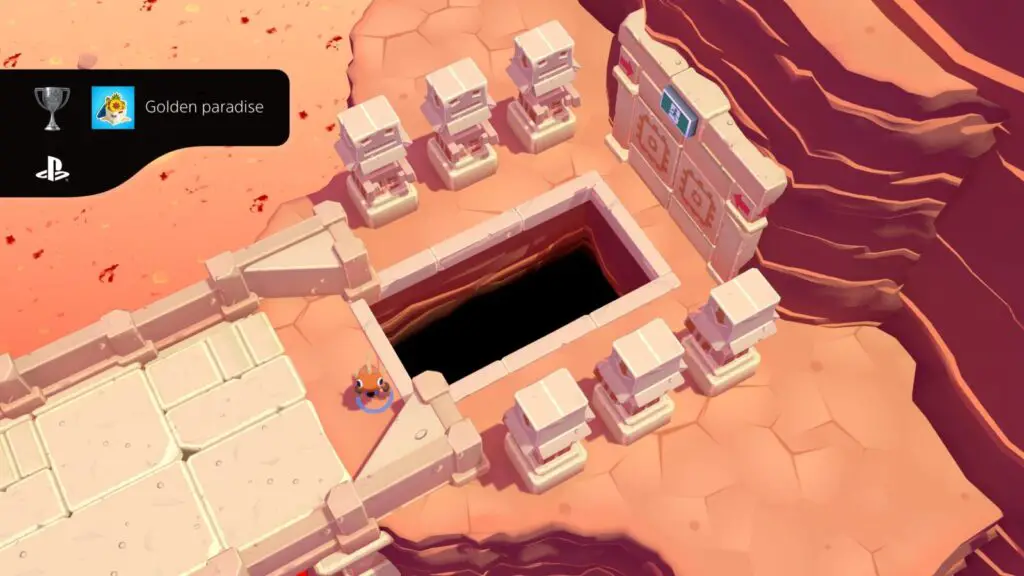 Objectives Complete II: The Completionist
Complete all bonus objectives
Every level has three bonus objectives you can complete as you play. In an effort to increase replay value, the objectives are hidden upon your first playthrough and are revealed to you once you've completed a stage for the first time.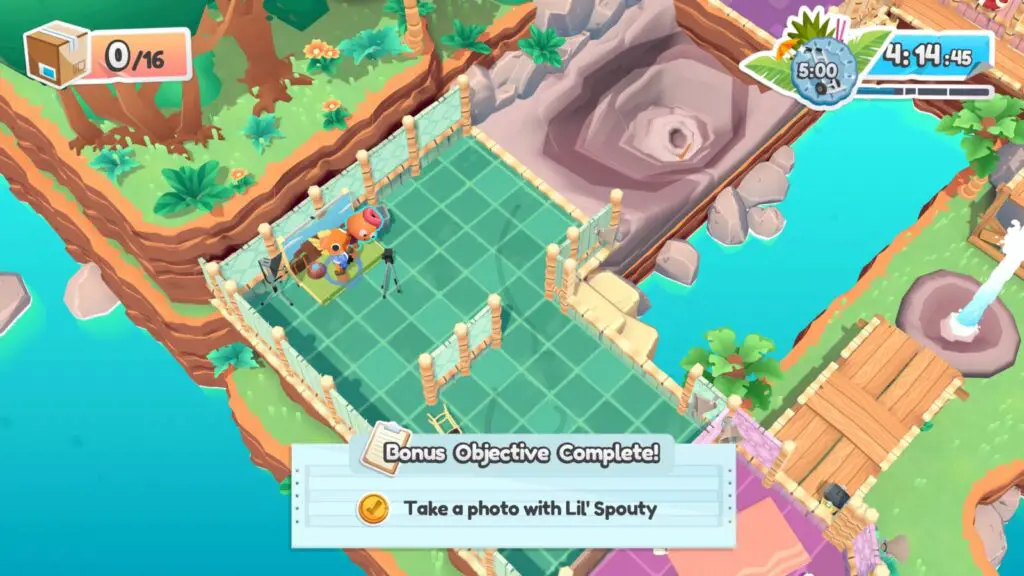 However, you can complete these objectives even before the game tells you what they are, if you know what's required beforehand.
Either way, our Moving Out Movers in Paradise Trophy Walkthrough lists out every level's bonus objectives and even some tips for completing the trickier, more vague objectives.
Work your way through all 13 paradise levels and complete the 39 bonus objectives in this trophy is yours.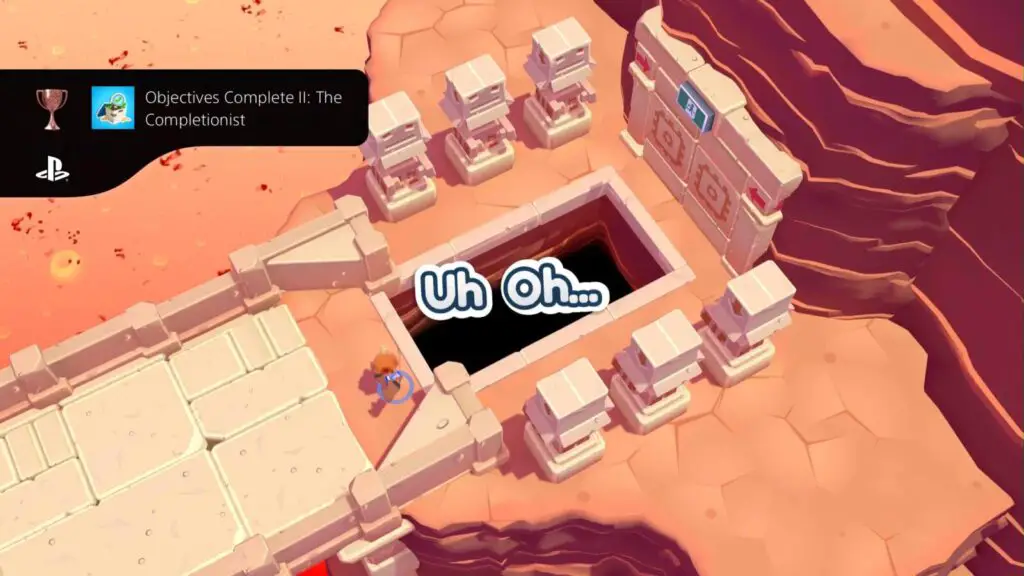 Did I do that?
Showed that car Who's the Boss
While driving around on the overworld map, hit a car until it flips over and starts smoking, then hit it again. This trophy will unlock. Easy as that!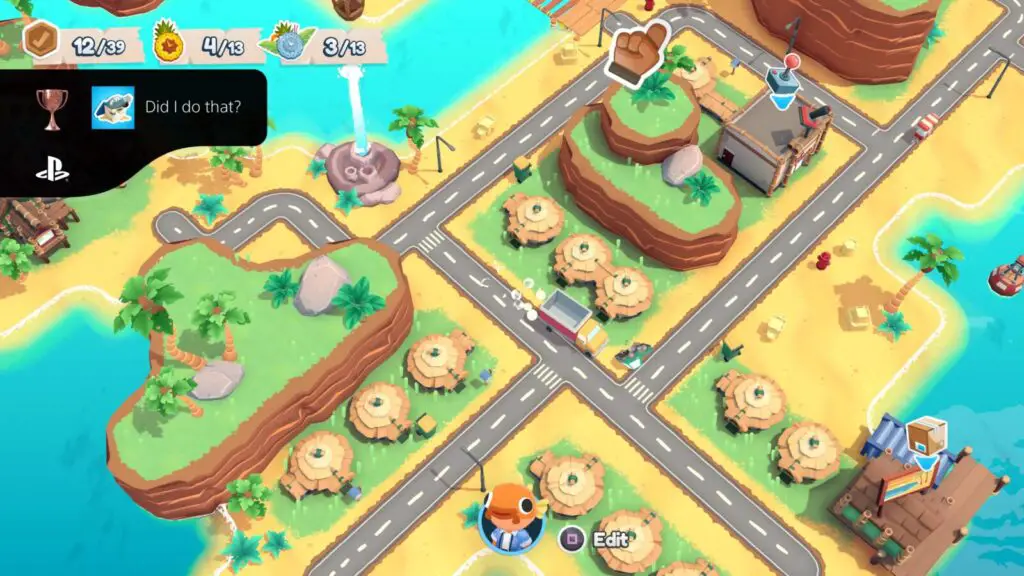 You can do this from the very start of the DLC, once you've completed the Mandatory Training and have access to the overworld map.

Hot Tub Reward Machine
Deliver the puffer fish in a jacuzzi
This trophy can be unlocked in the first level; "Sandy Shores."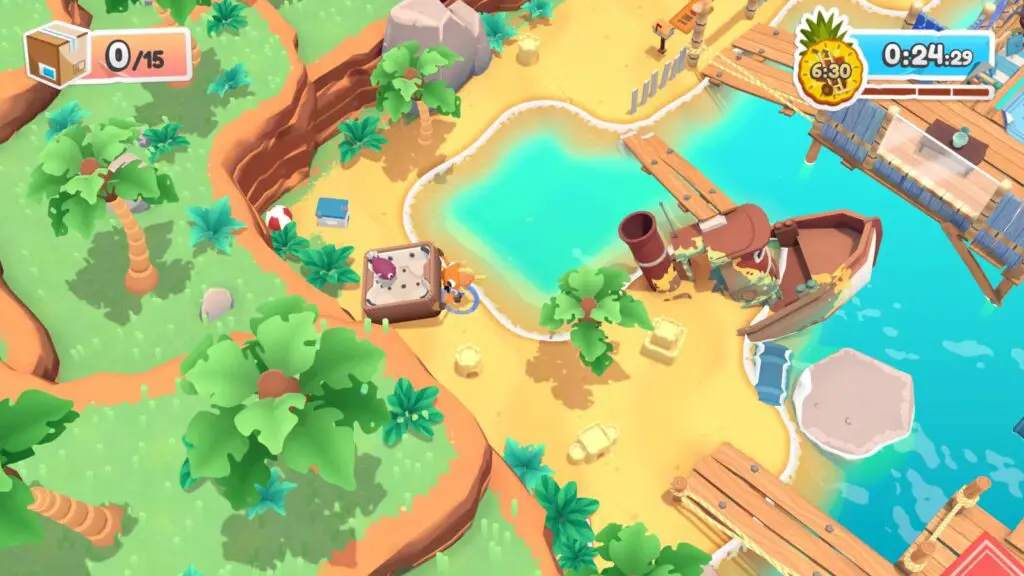 Grab the pufferfish and place it into the nearby Hot Tub. Then, drag said hot tub onto the delivery truck. Make sure the pufferfish doesn't fall out, it has to be inside the hot tub when they're both delivered.
You'll unlock the trophy immediately if you did it right.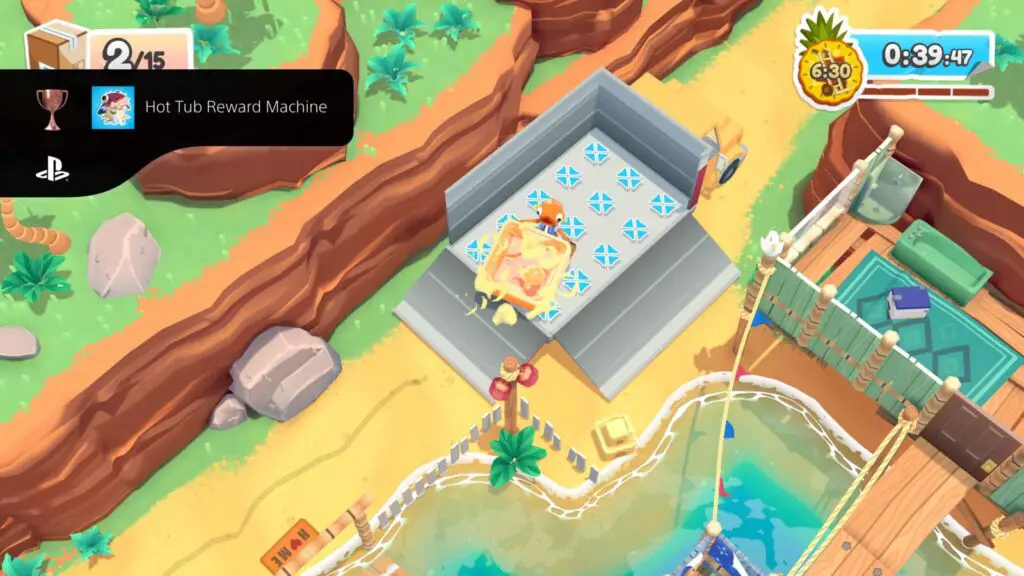 SMASH!
Destroy 50 sandcastles
You can find sandcastles in several locations throughout the game, In the stages and on the world map, there are plenty of sandcastles to destroy, and all you need to do is walk/drive into them for them to crumble.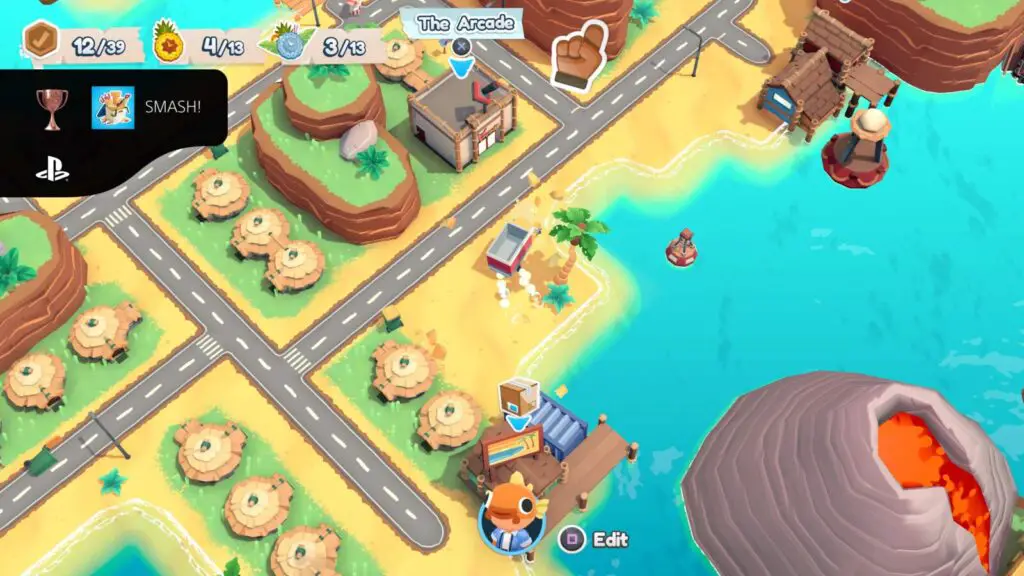 I recommend walking over them as much as possible to prevent the need for an end-game grind for this trophy. Or you can get the grind out of the way at the start, in the first level, "Sandy Shores."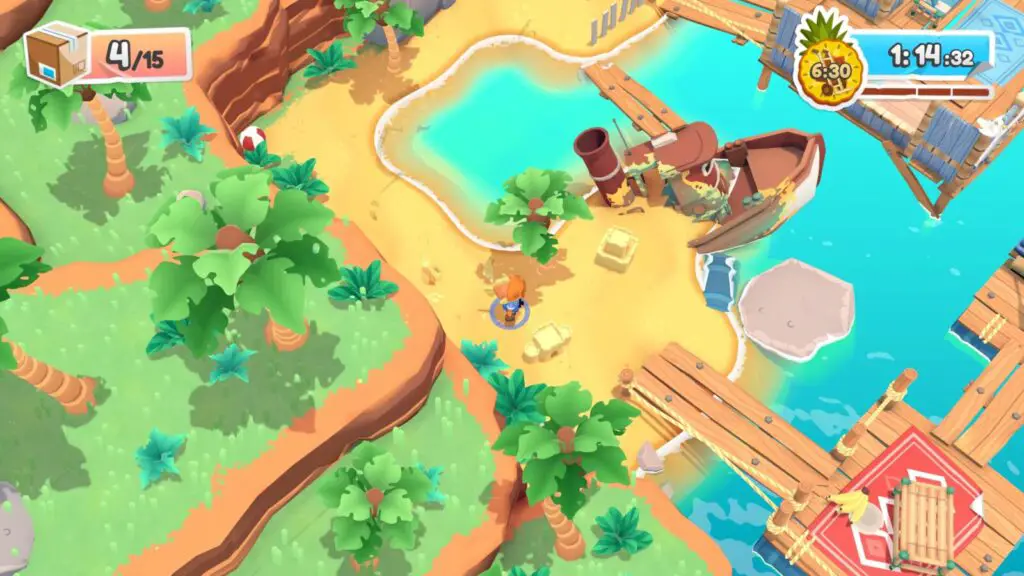 Load Sandy Shores and then walk over the five sandcastles in this level, then restart. Do that up to 10 times, and the trophy is yours!

Weeeeeeeeeeeeee!
Ride a scuba tank. Weeeeeeee
Scuba tanks are very common in this DLC and you'll need to use them to fly quite a lot on your journey to the platinum, so this trophy is pretty much guaranteed.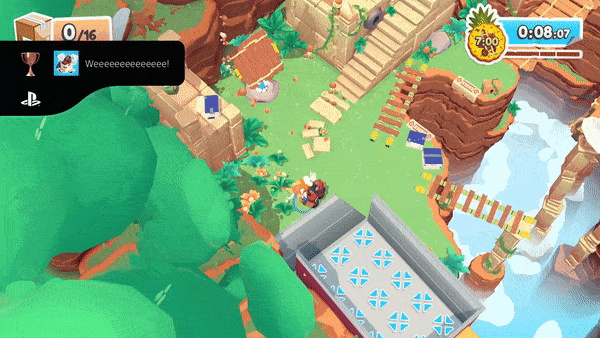 Essentially, you will want to slap or throw a scuba tank to break it open so that air is escaping, it will begin shooting off wildly and if you grab it, it'll take you with it.
You first opportunity for this will be the fourth stage; Crashed Cargo Clearing.

Zip It Good
Ride every zipline on Packmore Island
Some levels in the Movers in Paradise DLC contain Zip Lines which you can use to cross gaps by grabbing onto them. To unlock this trophy you will need to use all 8 ziplines at least once.
You can use our Moving Out Movers in Paradise Trophy Walkthrough while you play through the game, which will tell you exactly which levels have zip lines and where to find them.

Not Landfill 2: Packmore Island's Revenge
Find and deliver all the hidden cassette tapes
All of the new paradise levels in the game contain a Hidden Cassette Tape (There are no hidden consoles in Arcade or Memory levels) and you will need to deliver all of them.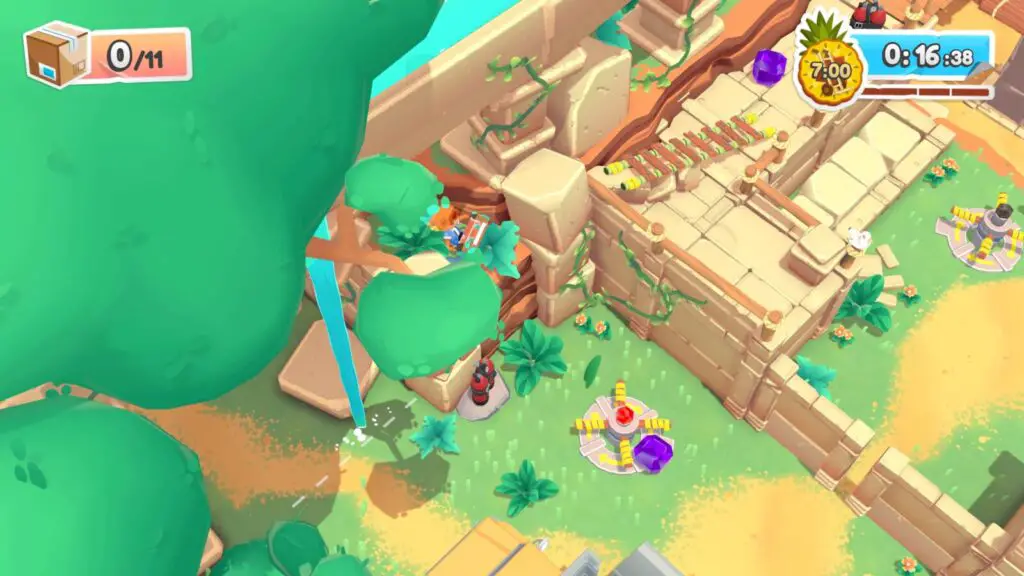 There's no way to track how many/which ones you have delivered so I recommend keeping a checklist of some sort so you can keep track. It will also help to use our Moving Out Movers in Paradise Trophy Walkthrough which will tell you where to find all Hidden Cassette Tapes so there's no chance of you missing any.
The Hidden Cassette Tape must be in the delivery truck when you deliver the final item for it to count as delivered. With assist mode on, if you have it set up so that delivered items disappear, the Hidden Cassette Tape will not disappear.
With all 13 Hidden Cassette Tapes placed in the delivery truck, the trophy will unlock at the end of the level where you deliver your last one.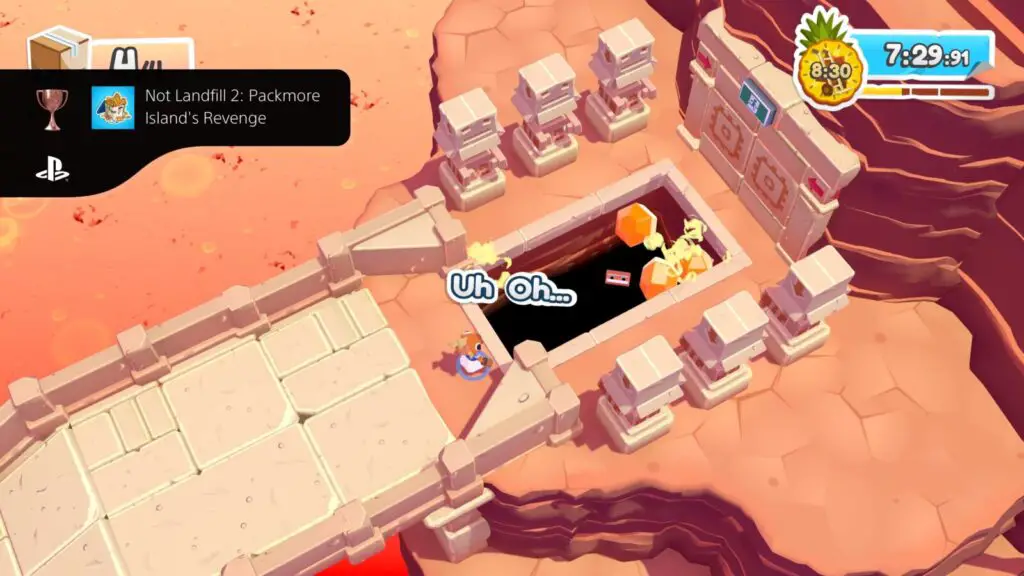 Oh the humanity
Explode all the hot air balloons on Packmore Island map
Throughout the Packmore Island world map, you'll find 4 hot air balloons which are always situated above geysers. To hit them, you need to drive onto the nearby geyser at just the right angle, so that you soar into the balloon and knock it down.
Unfortunately, it's hard to track which ones you've hit because they respawn immediately, so I recommend you hit them all as and when you reach them.
You can use our Moving Out Movers in Paradise Trophy Walkthrough which will give you a heads-up before each level that there's a hot air balloon nearby, and tell you when and how you can hit it.
Thank you for choosing PlatGet as your source for this Moving Out Movers in Paradise Trophy Guide, consider checking out our reviews and other guides!
Follow us on twitter @GetPlat or Instagram @platget for updates on new reviews and guides, as well as small anecdotes about our platinum journeys.