PlayStation 4, PlayStation 5
ANNO: Mutationem Trophy Guide
Trophies
1
3
14
18
FAQ
How long does it take to beat ANNO: Mutationem and unlock all trophies?
How difficult is it to beat ANNO: Mutationem and unlock all trophies?
Does ANNO: Mutationem have online trophies?
Does ANNO: Mutationem have difficulty-specific trophies?
Does ANNO: Mutationem have missable trophies?
Does ANNO: Mutationem have glitched trophies?
What is the minimum number of playthroughs required to unlock all trophies in ANNO: Mutationem?
Does ANNO: Mutationem have a Platinum Trophy?
ANNO: Mutationem Trophy Guide and Road Map for PlayStation 4 & PlayStation 5
Welcome to our ANNO: Mutationem Trophy Guide. ANNO: Mutationem is an indie game developed by ThinkingStars and published by Lightning Games as part of the Sony-created China Project.
ANNO: Mutationem perfectly blends 3D environments with 2D pixel art in a slick cyberpunk world filled with interesting characters. Players take control of Ann on her quest to track down her missing brother while stumbling into a deadly plot that threatens the city where she lives.
Phase One – Play Until Final Chapter & All Side Quests
During Phase One of our ANNO: Mutationem Trophy Guide you can just relax and experience the story while you periodically check the map for any new side quests that may appear.
There are 10 side quests split across Skopp city, Noctis city, and Freeway 42. All side quests will appear and can be completed before heading into the Consortium area near the end of the game.
Once you reach the final chapter—a prompt will let you know before reaching the Consortium—make sure you finish all side quests and make a back up save before moving on to Phase Two of this ANNO: Mutationem Trophy Guide.
Additionally, there are 25 Cyber Neko+ statues, and 25 Posters to find throughout ANNO: Mutationem. You can pick them up as you see them during this phase or you can leave them for Phase Two.
Unmissable Story Trophies

Dress to impress
Change into the night dress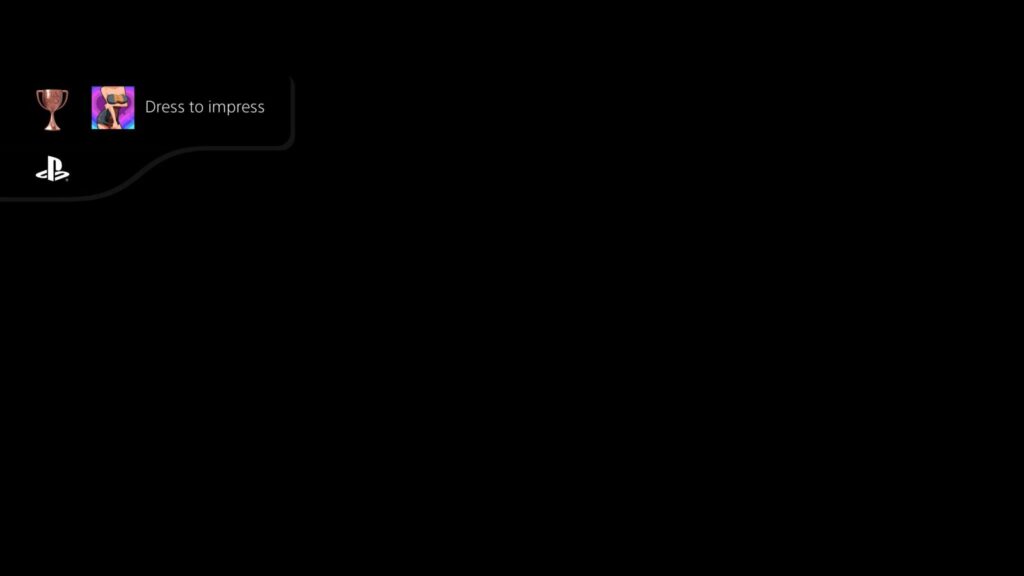 The truth is out there
Complete the Underground Water Channel area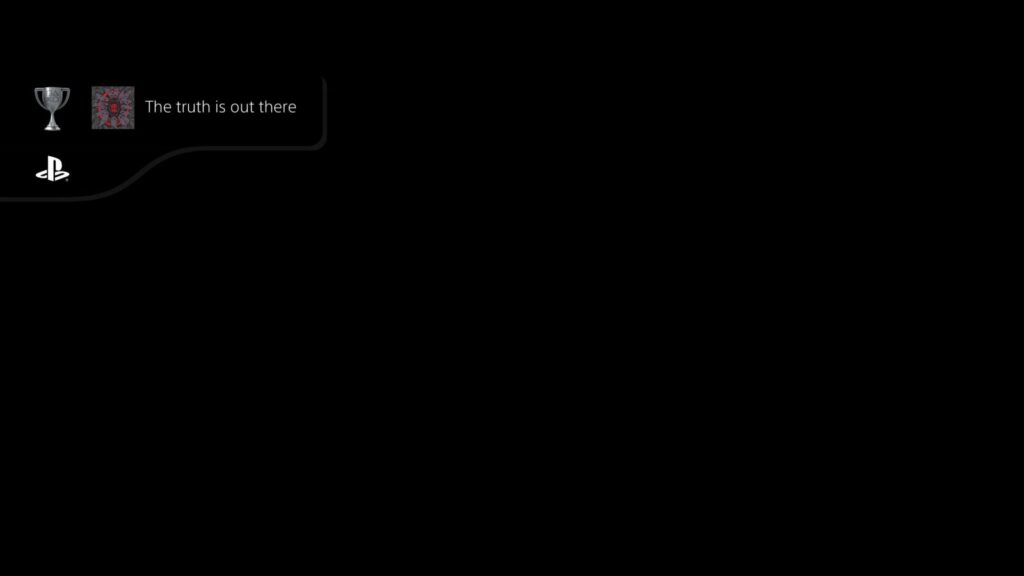 Arm Wrestlin'
Defeat the Factio Pugni Boss TR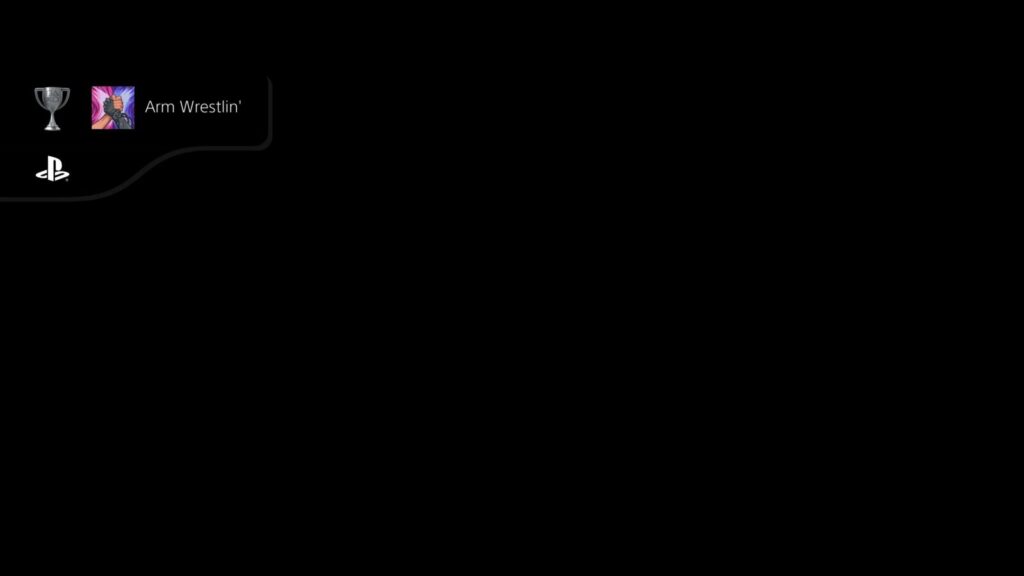 In the smacker…I think
Kill a Red Ball Monstrosity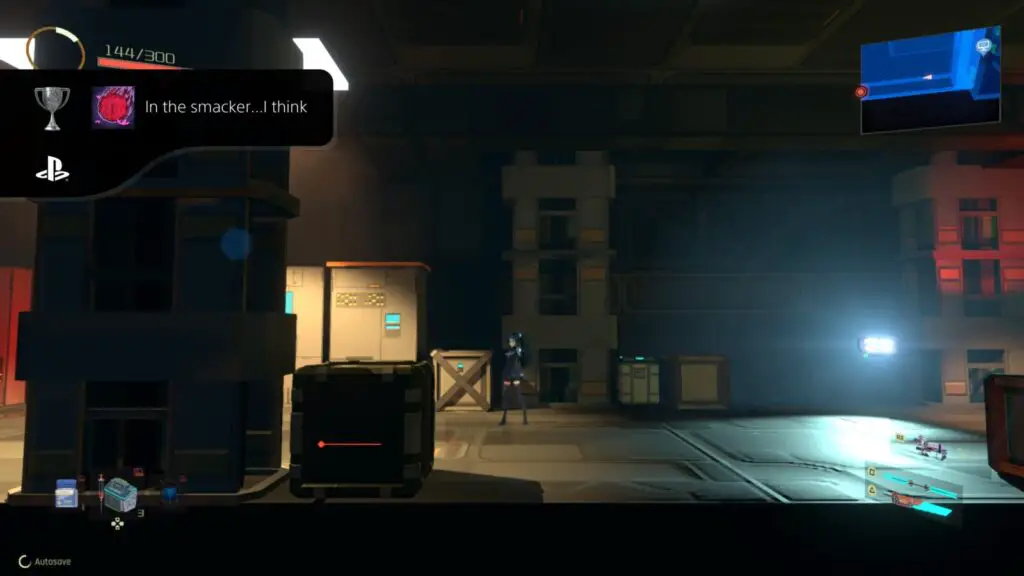 Welcome home, 06
Arrive at the Consortium's Inner Hall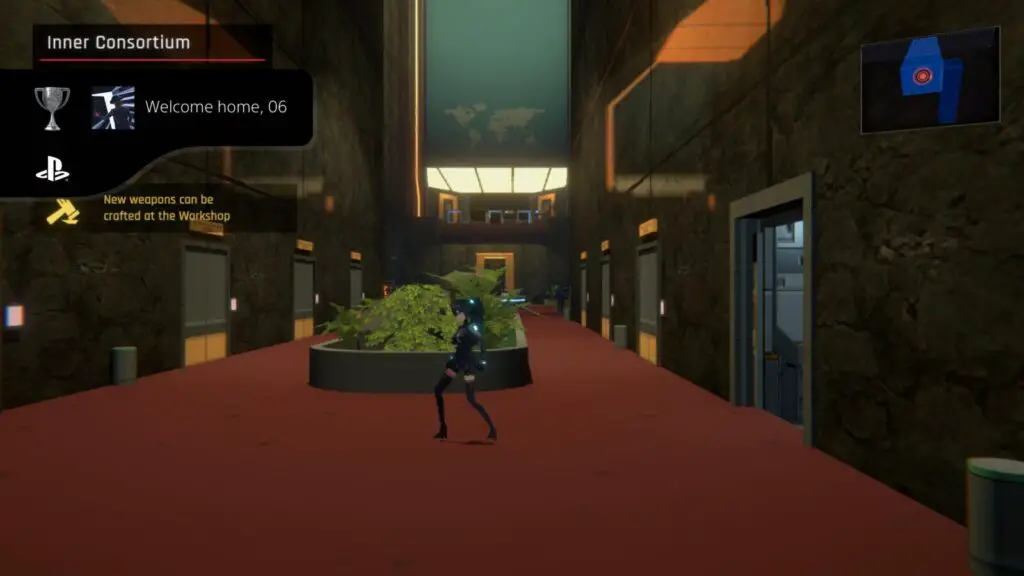 Clarity of Mind
Defeat C's Dragon Incarnation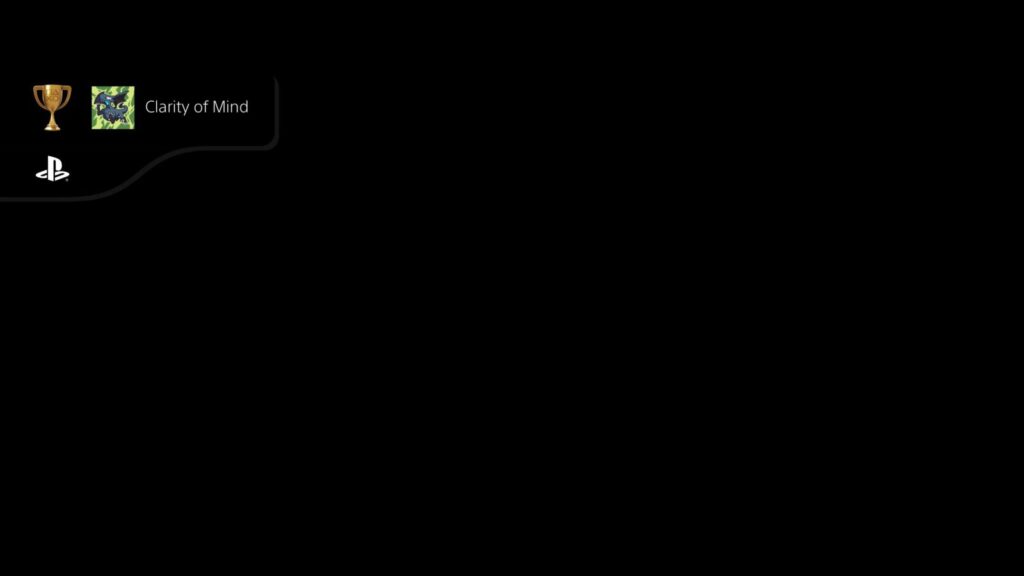 Side Quests Trophy

Woman on a (side) mission
Complete all side quests
See our All Side Quests in ANNO: Mutationem Guide.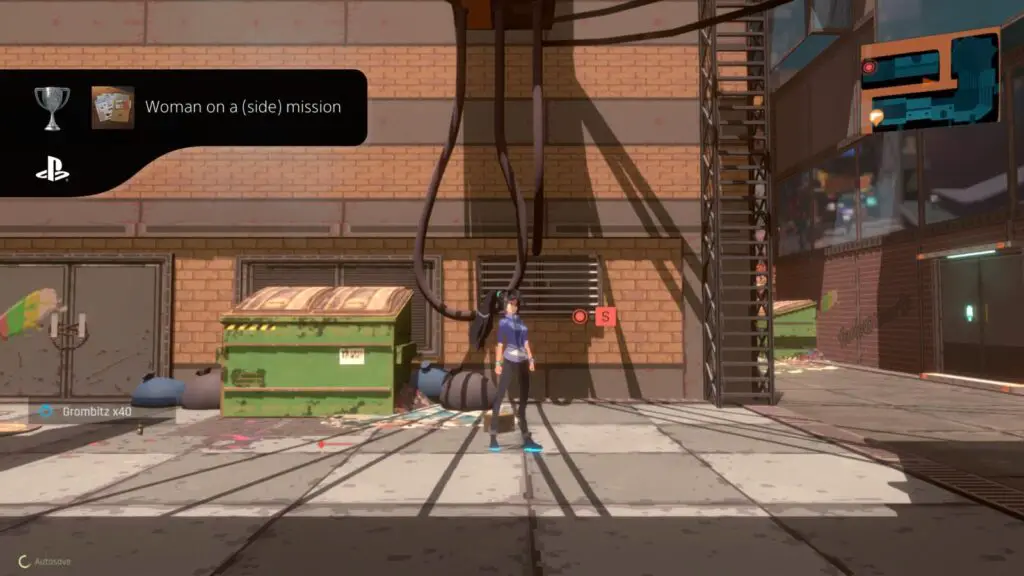 Phase Two – Collectables & Clean Up
In this phase of our Anno: Mutationem Trophy Guide, you will be running around picking up any Cyber Neko+ statue or Poster you may have missed in Phase One. There are only 25 of each to find and none of them are truly missable as they will only appear in the open world.
You should also make sure you have unlocked any miscellaneous trophies during this phase before moving on to the third and final phase.
Collectible Trophies

Love me like I love my posters
Collect all posters
See our All Posters in ANNO: Mutationem Guide.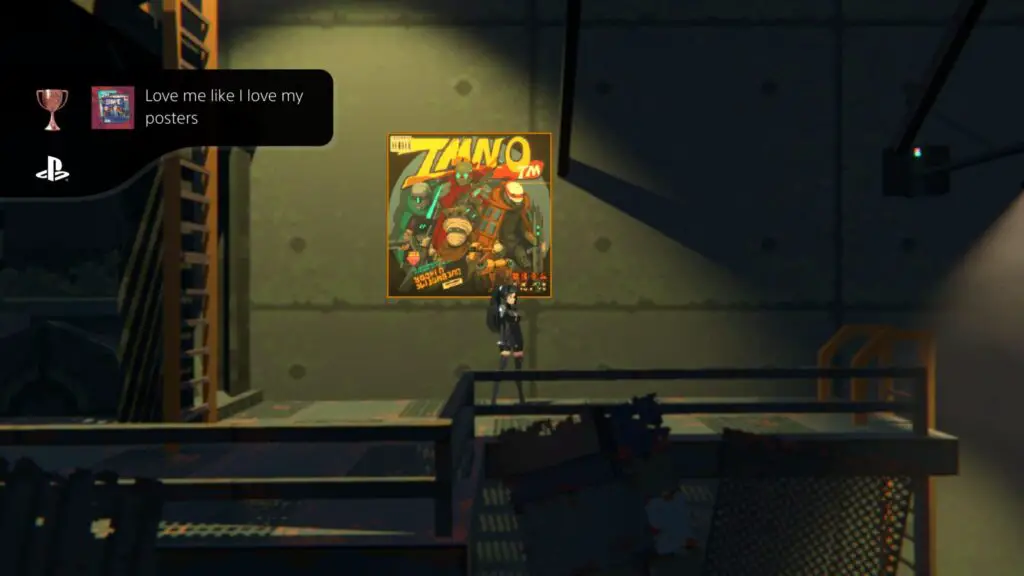 Lady Luck is a cool cat
Collect all the Cyber Neko+ statues
See our All Cyber Neko+ Statues in ANNO: Mutationem Guide.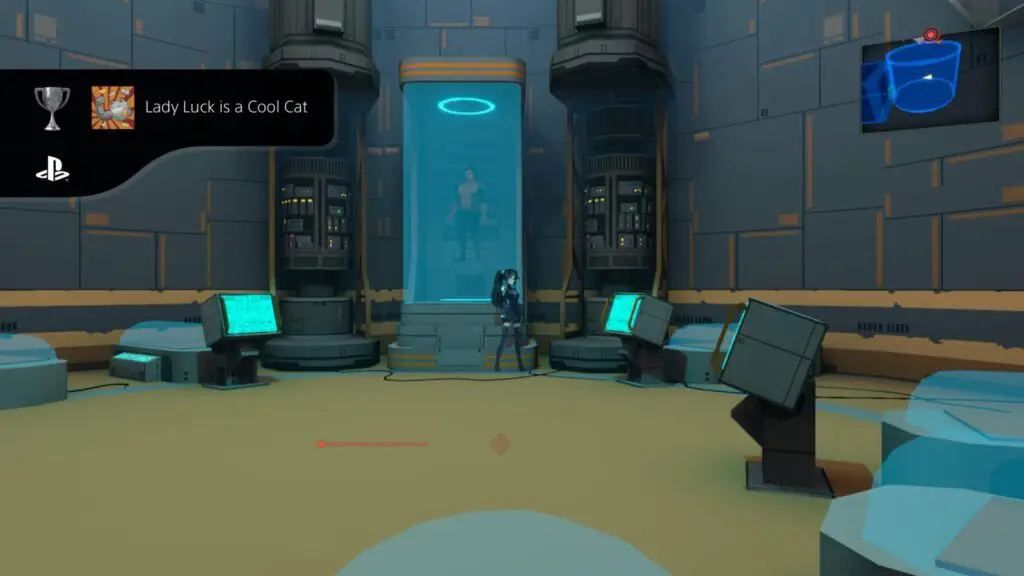 This can't be right…
Unlocked the false ending
The "false" ending can be obtained while hunting down Cyber Neko+ Statues. There is a room in the Research Base called Encrypted Transit Area. Inside this room is a teleporter that will take you to a large cylindrical room called Special Project Control Area where a small cutscene will play and you will have to fight a woman. After defeating the woman This Can't Be Right… will unlock.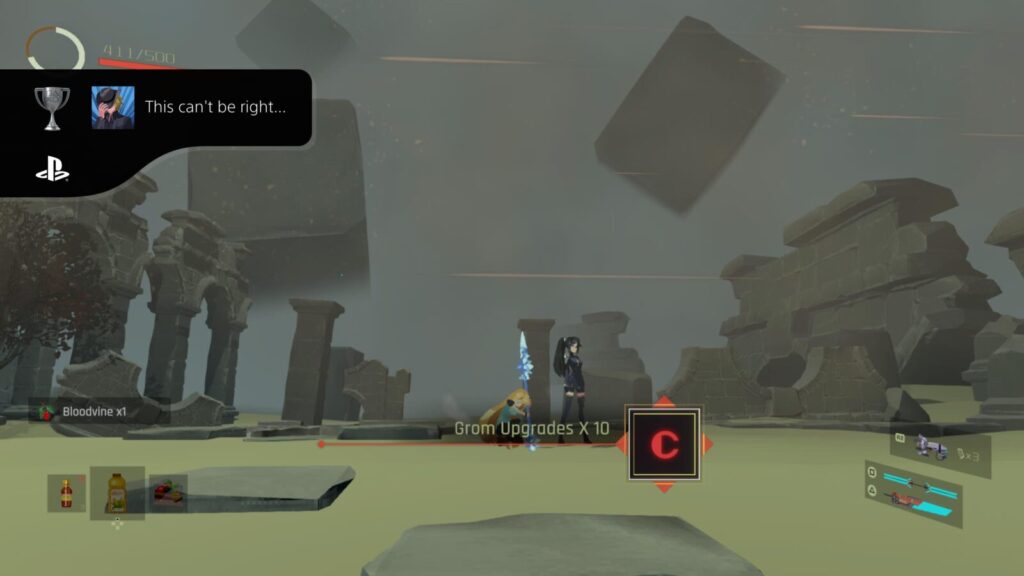 Miscellaneous Trophies

So Fresh and So clean clean
Shower 3 times
At the very start of the game Ann is in her apartment. To the left of the exit is her bathroom where you can press

to take a shower. Do this three times and So Fresh and So Clean Clean will unlock.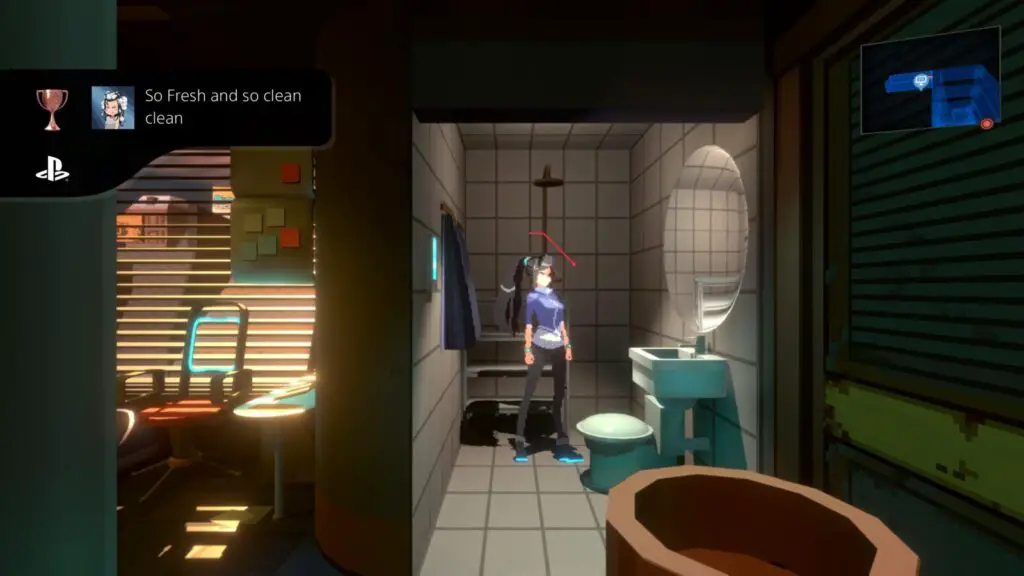 Tell me your story
Listen to 50 conversations
As you explore the world of ANNO: Mutationem you will spot various NPCs stood around with speech bubbles above their head. Walk up to them and interact with them to listen in on their conversations. You can unlock Tell Me Your Story before you leave Skopp City.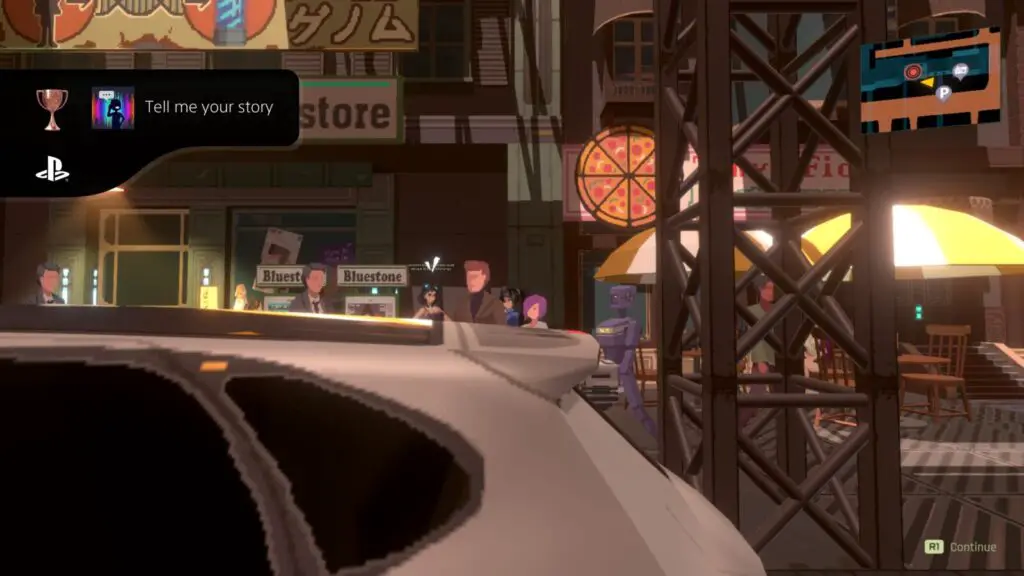 I'm walking here!
Make 15 cars stop
Stopping cars in ANNO: Mutationem is as simple as standing in the road. Cars will drive up and stop right in front of Ann before crashing into her. The best place to unlock I'm Walking Here! is right outside Ann's apartment in Skopp City as there is a steady stream of traffic compared to the other locations.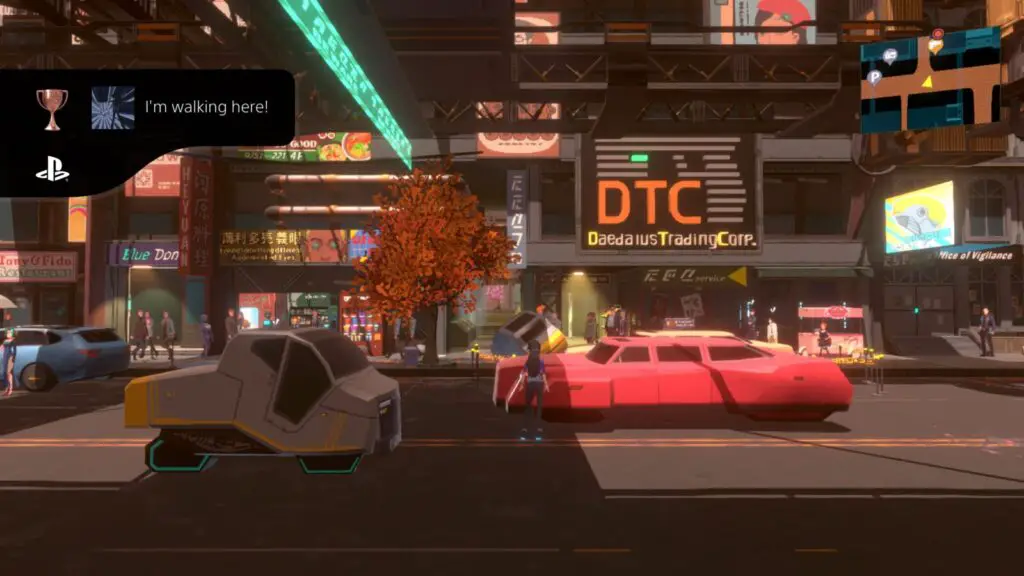 SERENITY NOW
Pray to the statue in the bookstore 10 times
Inside the bookstore that Ann has to go to at the very start of the story is a statue that you can pray at. It doesn't cost anything to pray; just your time. Before leaving the bookstore pray at the statue 10 times to unlock SERENITY NOW.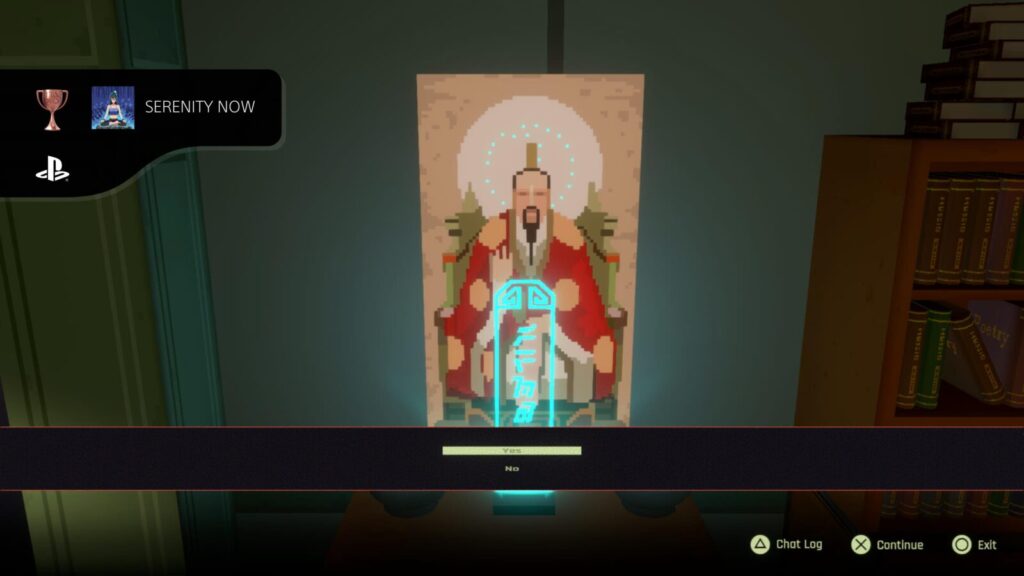 Big Spender
Spend 1000 credits in total
Spending 1,000 credits over the course of the game should be an unmissable endeavor for most players, however, if you have yet to achieve Big Spender head to a shop and buy as much as you can to unlock it.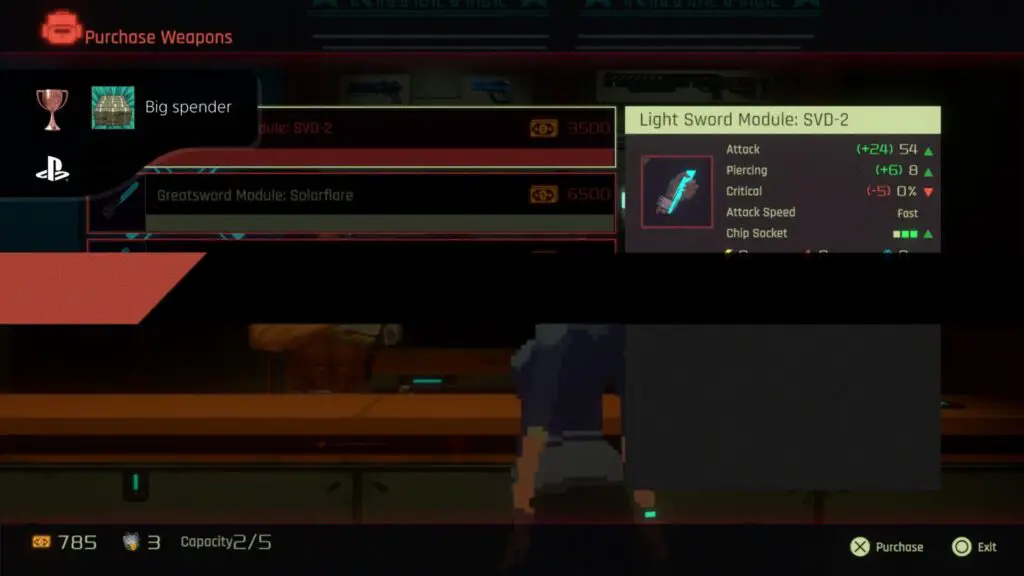 I just got real good
Win the arcade mini-game
Inside The Sicilian Jar is an arcade machine where you can play the classic Pong. Once you reach a score of 11—before your opponent does—I Just Got Real Good will unlock. However, the opponent cheats which makes getting to 11 before it is incredibly hard. When the ball hits your paddle the opponent paddle updates its position so it can reach the ball. This means if the ball is heading to a far corner that the opponent paddle can't possibly reach it in time it will just speed up and zip closer to it so it can.
Instead of trying to beat the opponent legitimately, use the image below to line up your paddle with the exact spot and then just leave it. The ball will hit the top of your paddle and bounce in a pattern that the opponent paddle will try and fail to reach it. If your paddle is a pixel out, back out of the arcade machine and go back in to nudge it in place until you hit the spot.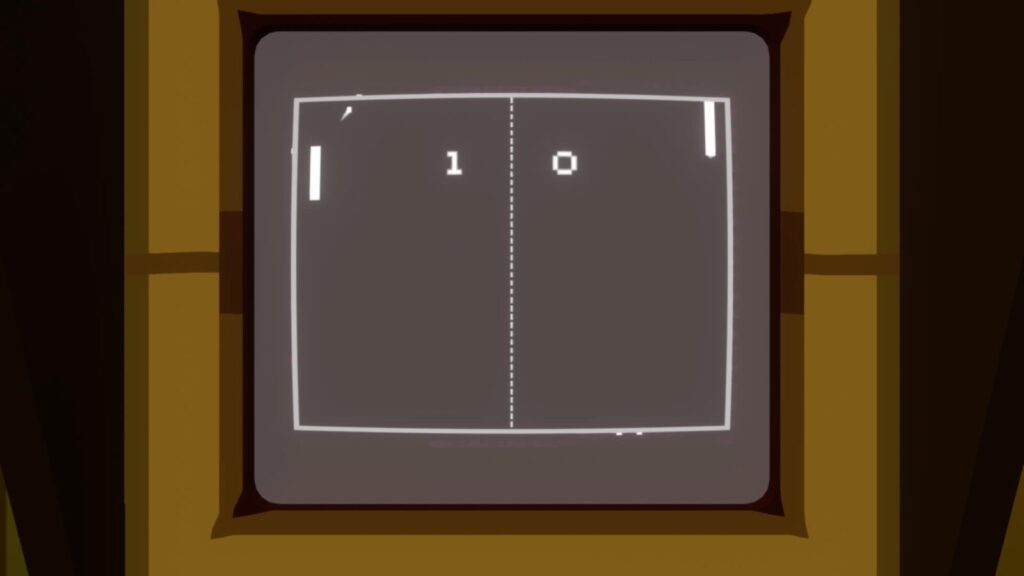 Ann-at-Arms
Obtain 10 weapons in total
In ANNO: Mutationem you can purchase and craft weapons at shops in Skopp City, Noctis City, and Harbour Town. When you accumulate 10 of them Ann-at-Arms will unlock. This trophy is listed as The Warlord online, however, in-game it is listed as Ann-at-Arms.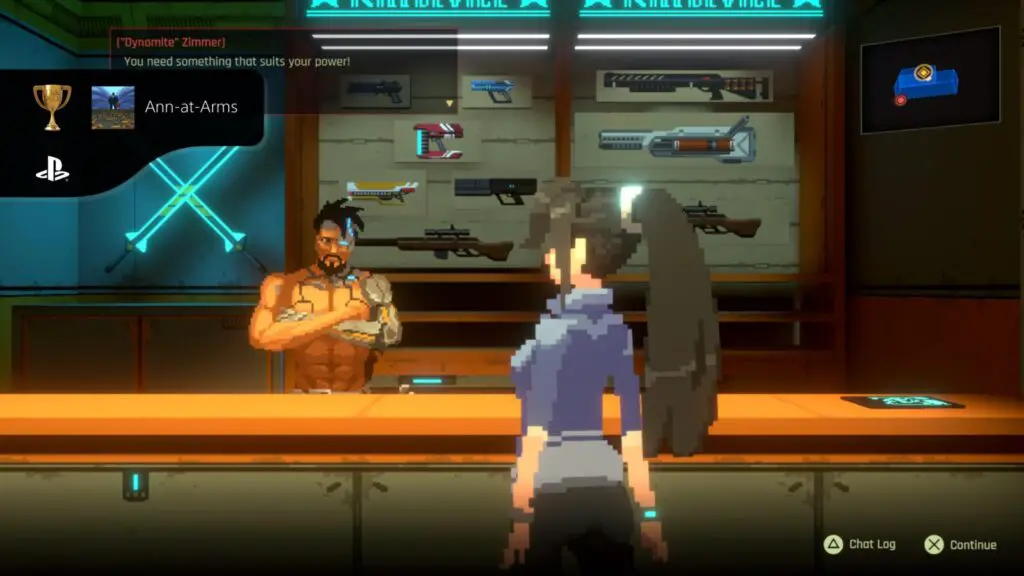 You are the One
Complete 10 Hacking mini-games
Players will be introduced to the hacking mini-game very early into the story. There aren't many opportunities for hacking in ANNO: Mutationem, though as you make progress through the story and side quests you will easily unlock You Are the One before the credits roll.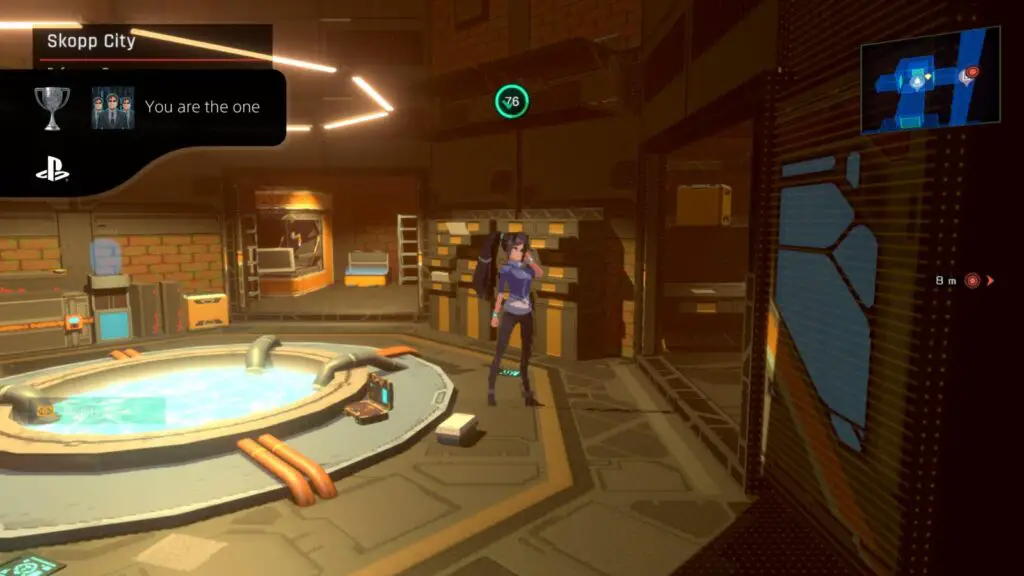 Ann ULTRA
Defeat 20 enemies while Ann is transformed
A short while into the story Ann will unlock the ability to transform by pressing

+

simultaneously. This will transform her into a deadlier version of herself and increase her damage output considerably. As you attack and defeat enemies the circle in the top left of the screen will full up and once it reaches 100% you can trigger a transformation. Kill 20 enemies will transformed and Ann ULTRA will unlock.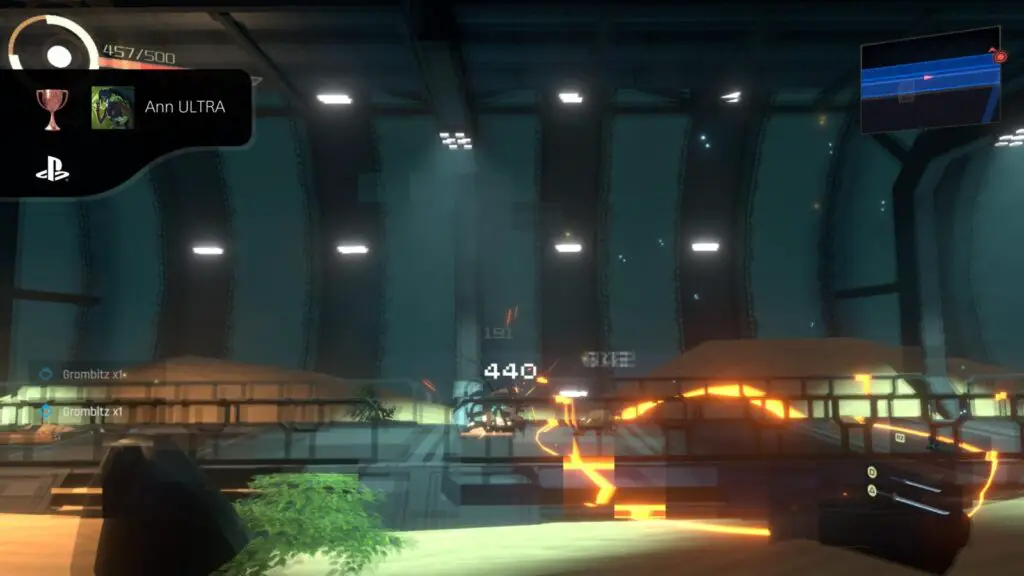 That's gotta hurt
Cause 150 damage in a single attack
That's Gotta Hurt will likely unlock naturally as you progress through the story and upgrade your weapons. You can also use Ann's transformation to acquire this trophy as the damage output is increased and Ann will do more than 150 damage per attack.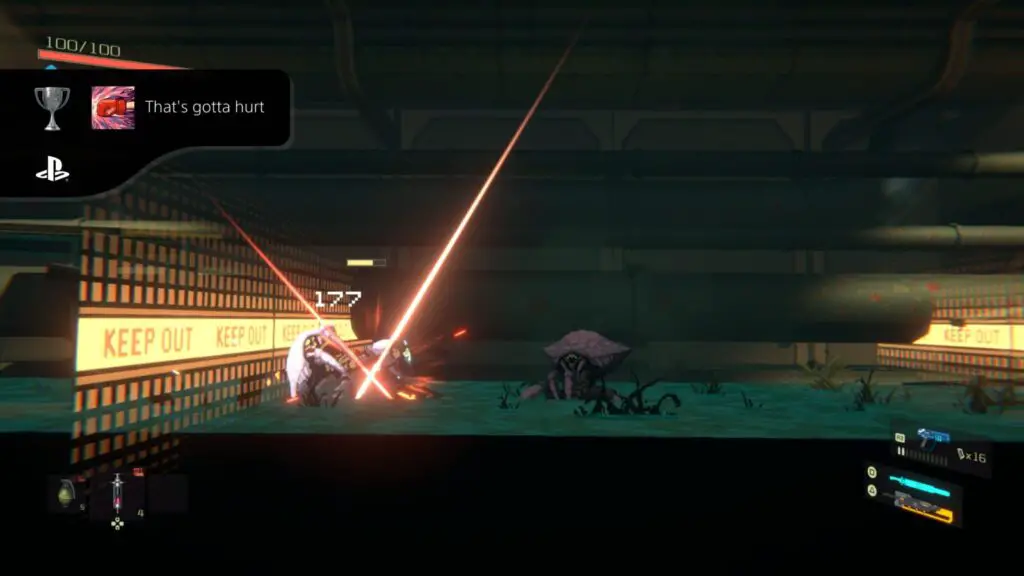 Omnipotence
Unlock 50% of all Talents
As Ann defeats enemies she will receive two types of upgrade currency. The red upgrades increase Ann's natural abilities such as health or defence and the blue upgrades unlock extra skills such as a flying knee attack. Unlocking 50% of all talents isn't hard but will take a few hours to reach.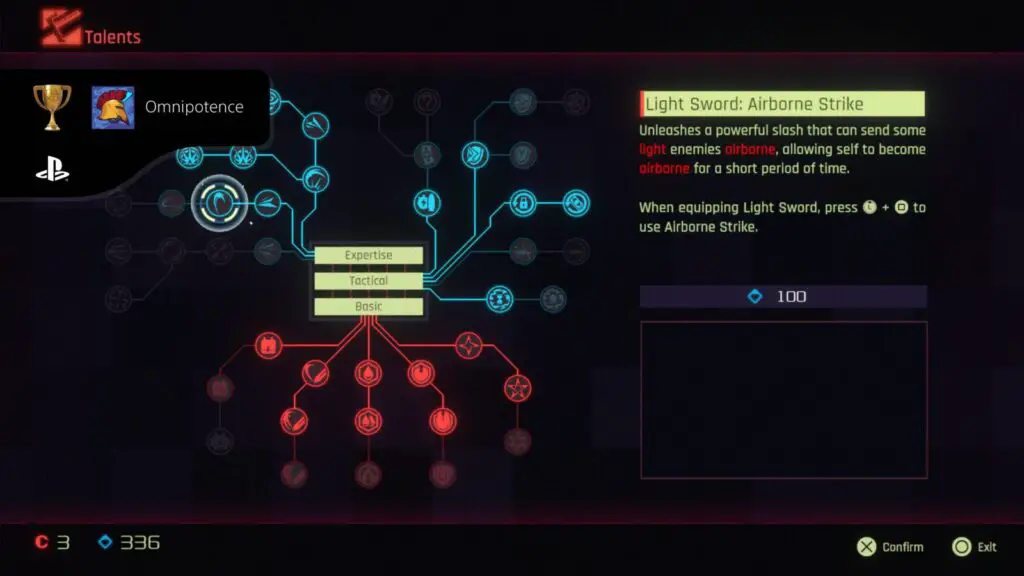 Supreme Bartender Ann
Complete the highest difficulty of bartending
Supreme Bartender Ann is the hardest trophy in ANNO: Mutationem. You will be introduced to bartending as part of the story and can return later to play the mini-game as much as you want. To unlock Supreme Bartender Ann, you must complete the mini-game on Master difficulty but you must first complete two other difficulties before you unlock Master.
When you play the mini-game people will approach the bar and ask for a specific combination of drink—

,

,

for example—and you must press the combination shown on-screen and confirm it by pressing

. Then you will have to rapidly press

and

alternatively to shake the drink and slow the cursor down on the bar. The goal is to land the cursor on the bar in the green section for a "perfect" drink. Stopping the cursor in the yellow will result in an "okay" drink and in the red will result in a bad drink and will remove 20 points from your total score. As the difficulty increases the yellow and green sections will shrink and the red section will grow.
You have to get a score of 700 to "complete" the difficulty challenge. This doesn't change as the difficulty level increases, however, the total amount of bad or okay drinks you can serve and still pass will go down. On Master difficulty it's impossible to serve okay drinks as there is no yellow section on the bar; you can only serve perfect or bad drinks. To reach 700 score on Master, you must serve only perfect drinks—at least 7 of them.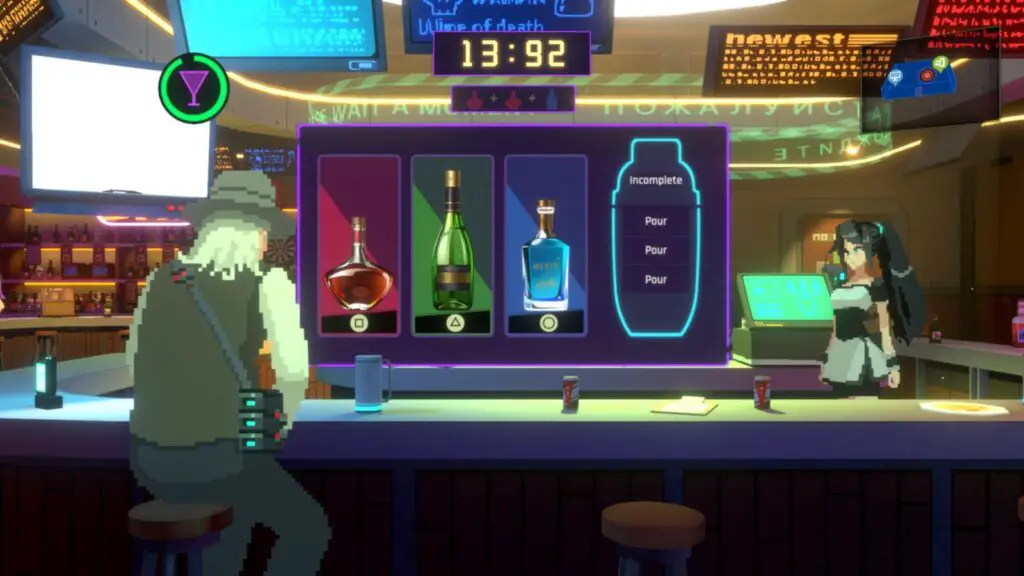 I think it's broke
Disassemble 30 items
As you play ANNO: Mutationem you will pick up a lot of items. Some of them will be vendor trash you can sell for money, others will be items you can take to a Weapon Shop and dismantle for parts to use in Weapon Crafting. After your first hour or two you will have enough to unlock I Think It's Broke.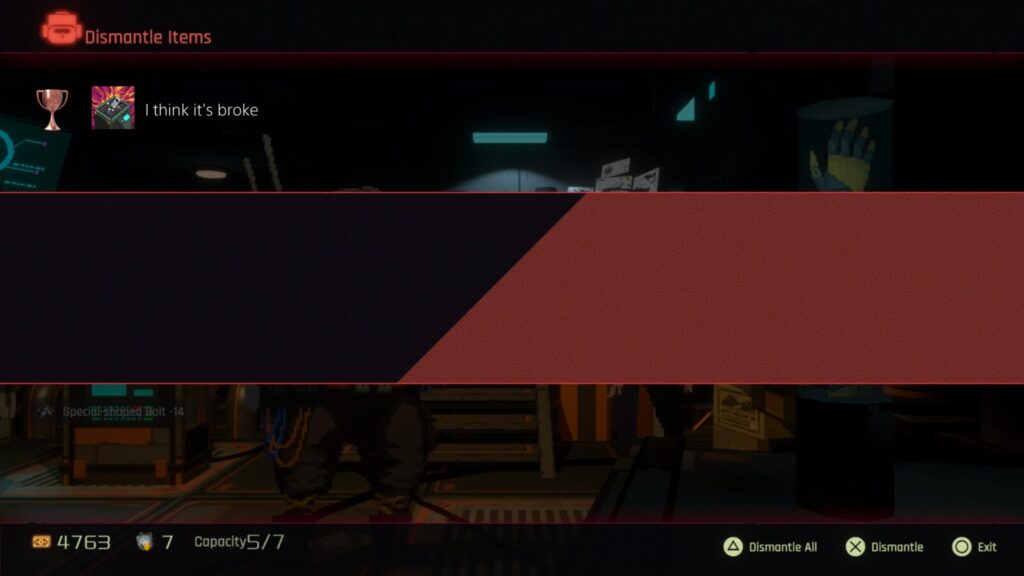 I just love stuff!
Pick up 100 items
There are containers all over the place in ANNO: Mutationem and they will all have junk or items you can dismantle in them. If you're lucky they will have health items or throwable weapons in them.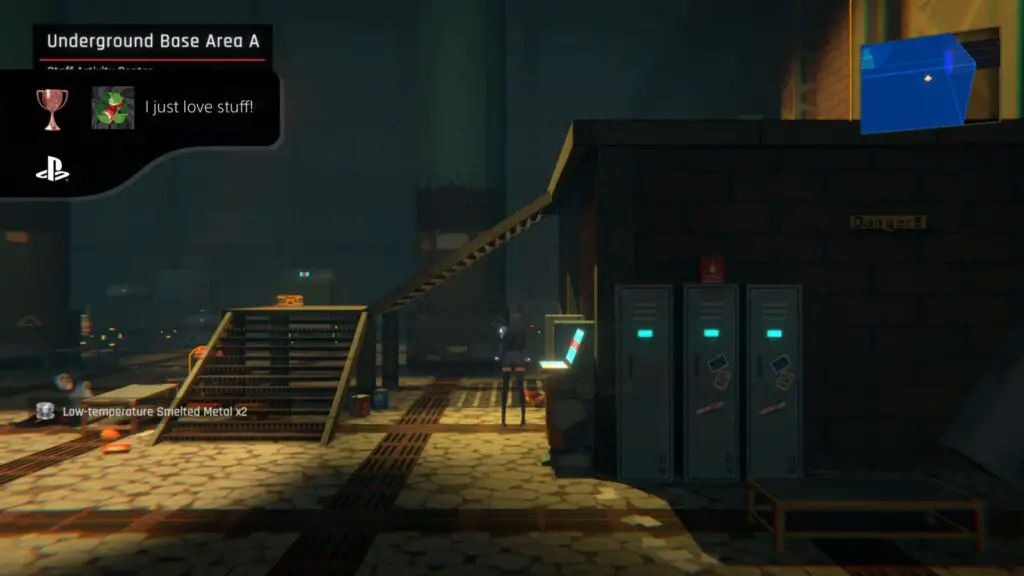 The things they print nowadays
Read 30 documents
All through ANNO: Mutationem you will find documents strewn about on floors, desks, walls, and on computers. Reading them can often lead to insight into a particular place or person in the game and is advised if you want to get to know the world and it's people a little better. Reading 30 documents will unlock The Things They Print Nowadays.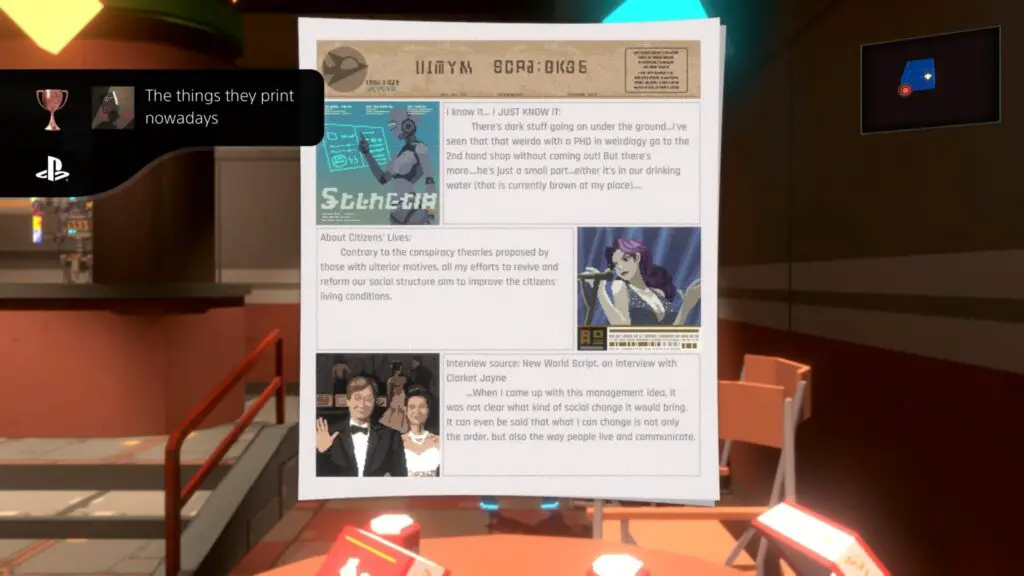 1+1>2
Combine 15 items
As you fill your pockets with the items you collect from the hundreds of containers littered throughout ANNO: Mutationem you will eventually have enough to combine some of them into useful items such as health kits. Combining items is as simple as holding

during combat to quickly create the item you desire. You can tell that an items can be combine by the red box icon on the top right of the quick bar (bottom left).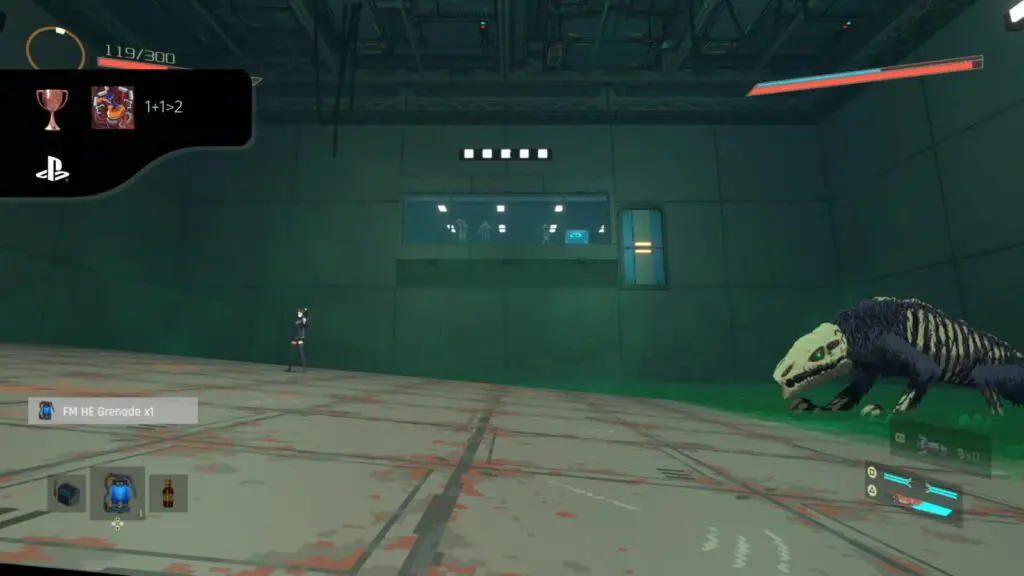 Keep 'em coming!
Defeat 100 enemies in total
Defeating 100 enemies is likely an unmissable trophy, however, if you have come this far and still don't have this trophy then take a trip to the underground sections of the map where you can often run into bugs and critters.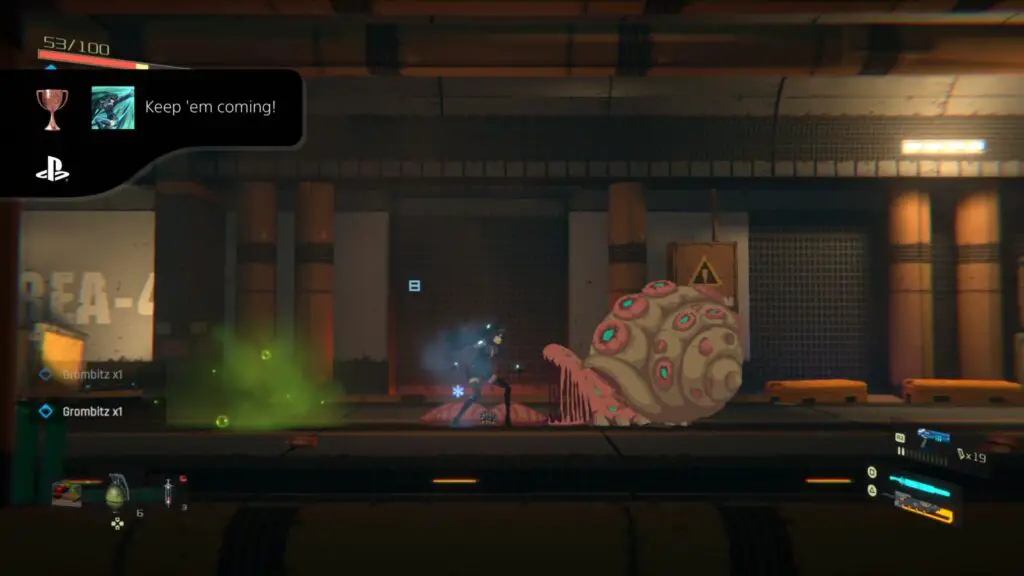 Science, it works!
Super-Enchance a Weapon Chip
In Noctis City there is a shop called Chip Ace where you can buy chips for your weapons. You can use three of the same chip to Super-Enhance them into a bigger chip which will have improved stat buffs. You will need additional crafting items when you Super-Enhance a chip but once you do Science, It Works! will unlock.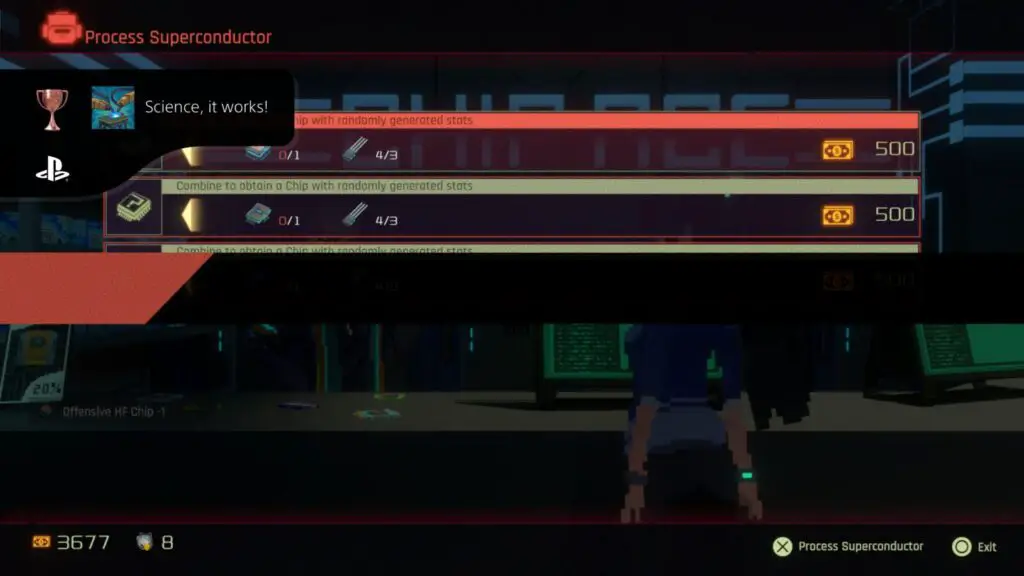 Fire in the hole!
Defeat 2 or more enemies with 1 grenade
When you have a grenade equipped you can press

to throw one. The best place to defeat 2 enemies with 1 grenade is in the sewers where multiple small worms will spawn and try to attack Ann. These worms have very little health and will die instantly when the grenade explodes. Alternatively, you can reduce two human enemy's health down to below half and try to kite them together so you can throw a single grenade at them and kill them both.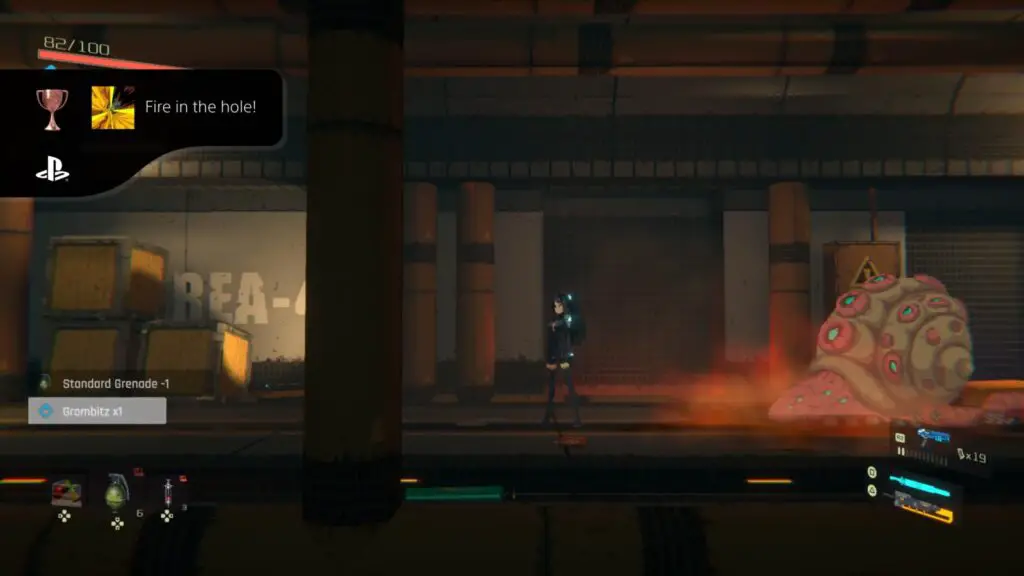 Don't judge a manhole by its cover
Discover Hapi's lair
Behind the Weapon Shop in Skopp City is a manhole cover you can inspect. When you do, a man will talk to you and ask for an ice cream. Simply talking to this man—Hapi—will unlock Don't Judge a Manhole by Its Cover.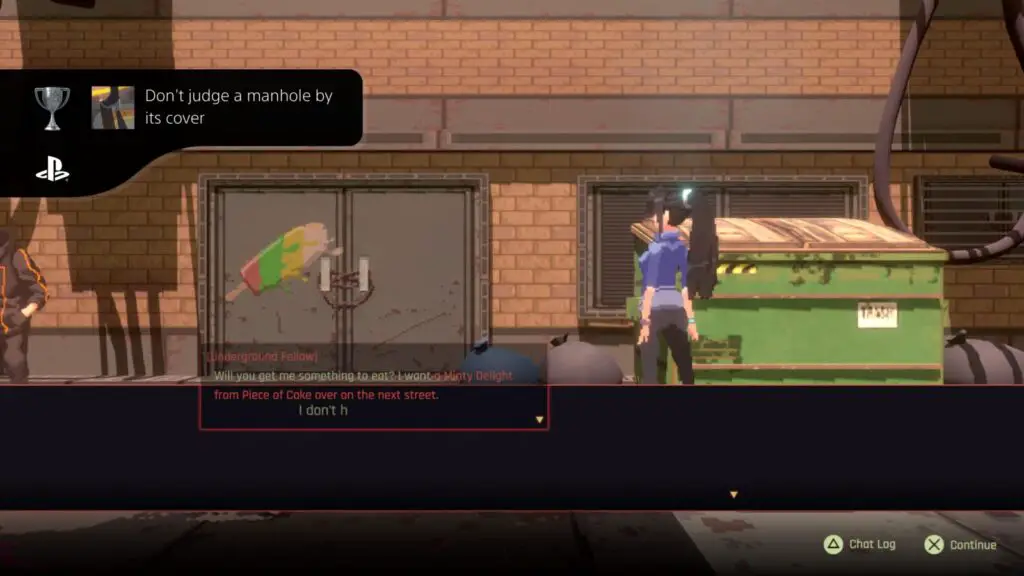 Deadly Kombationem
Watch the Arena Fighters for 30 second as spectactor
When you reach Harbour Town and manage to get inside the Boxing arena you can spectate a fight. Stand there for 30 seconds and Deadly Kombationem will unlock.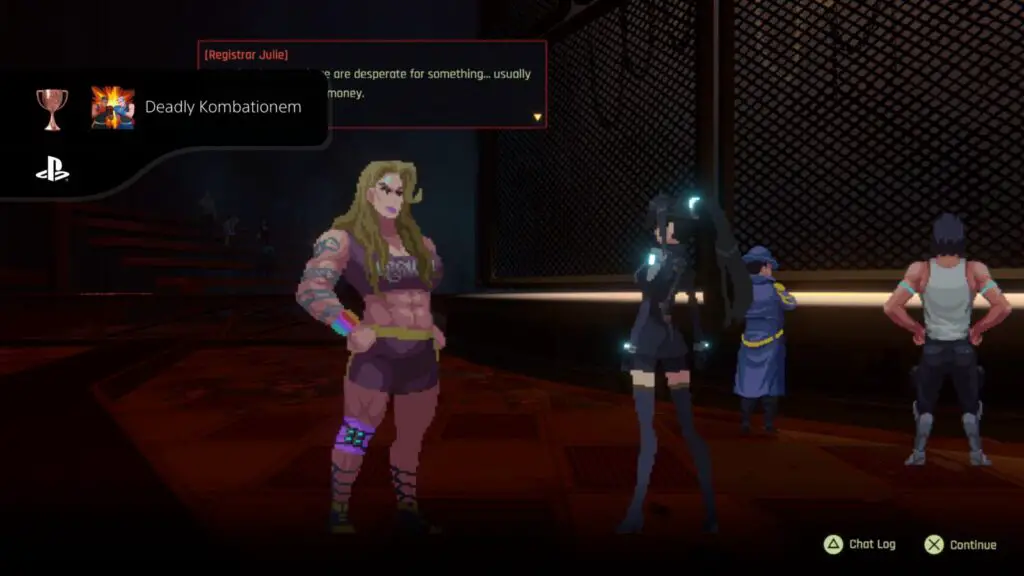 Annakin Skyscroller
Deflect 10 projectiles with your energy sword
Ann can deflect projectiles by pressing

before they reach her. The best place to farm Annakin Skyscroller is in the sewers under Freeway 42 as there are several enemy androids with single shot rifles. Kill all but one of them in an area and deflect his projectiles when he shoots his weapon at Ann.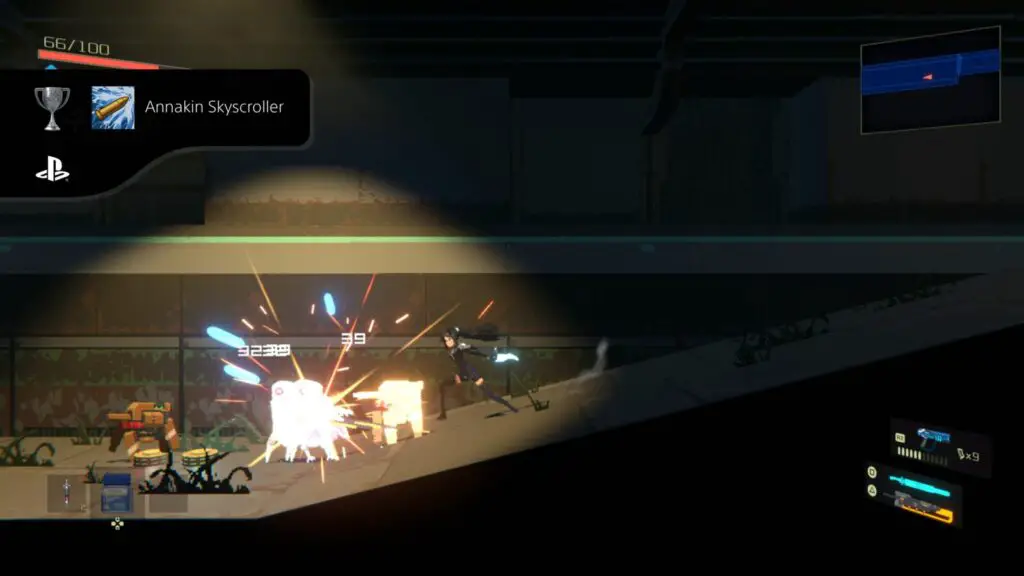 The Ann Flores Combo Experience
Pull off a 20-hit combo
Reaching a 20-hit combo is incredibly easy once you have obtained the dual swords weapon. There are several tanky bug enemies in the sewers which will take more than 20 hits to defeat which is a good place to farm The Ann Flores Combo Experience.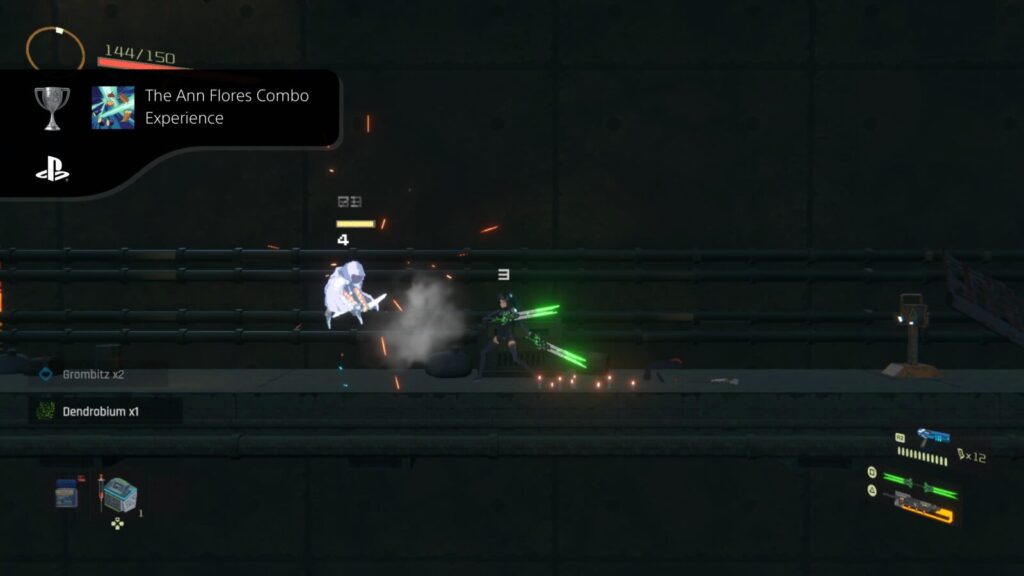 Phase Three – Finish Final Chapter
This last phase will be dedicated to cleaning up any trophy you haven't yet earned. These trophies will likely be for completing the highest difficulty of bartending or beating the pong arcade game as these two trophies are the hardest in the game. The pong trophy itself is hard because the opponent paddle can jump up and down faster than you can move your paddle.
You maybe also be missing some cumulative trophies if you neglected to read documents whenever you found them or disassemble/combine items.

The Traveler
Discover all Teleport-Springs
Teleport-Springs act as places to save, upgrade abilities and, well teleport to other Teleport-Springs. As long as you enter every single room while playing through the story you will find all the Teleport-Springs with the very last one being awarded to you as the credits roll.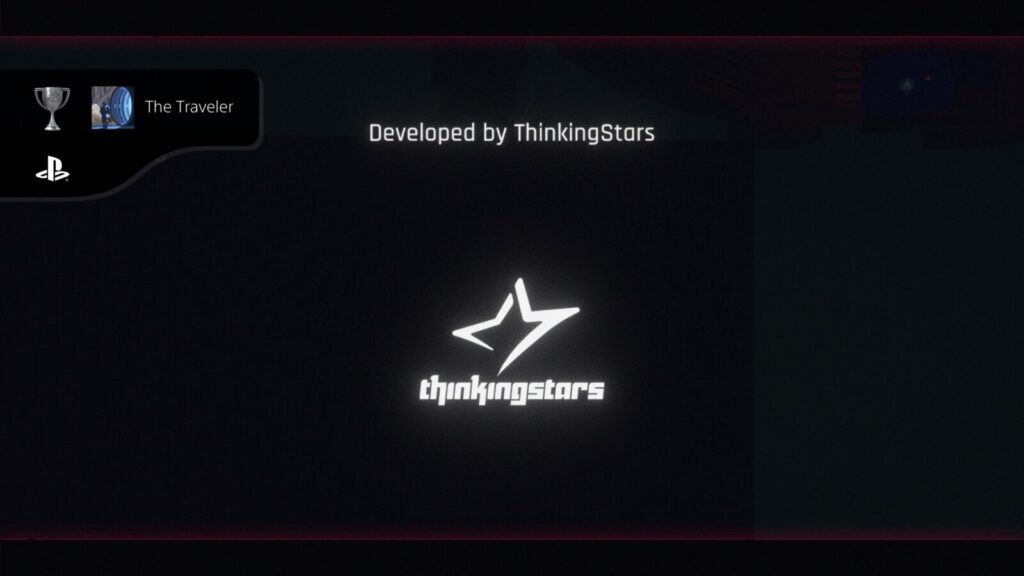 I feel secure, contained & protected
Come back to Consortium after having completed the game
After finishing the story you can load up the game again and you will see "Head back to the Consortium" on the main menu. Do this and I Feel Secure, Contained & Protected will unlock.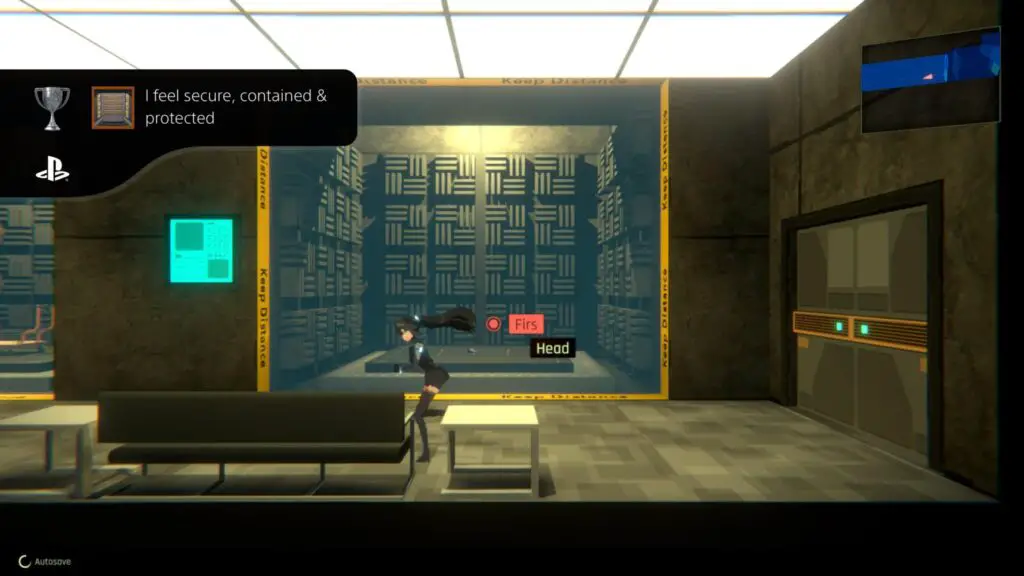 Plat Get!

The Age of Mutationem
Unlock all other Trophies
Once you have acquired every other trophy in this ANNO: Mutationem Trophy Guide, the "The Age of Mutationem" platinum trophy will unlock.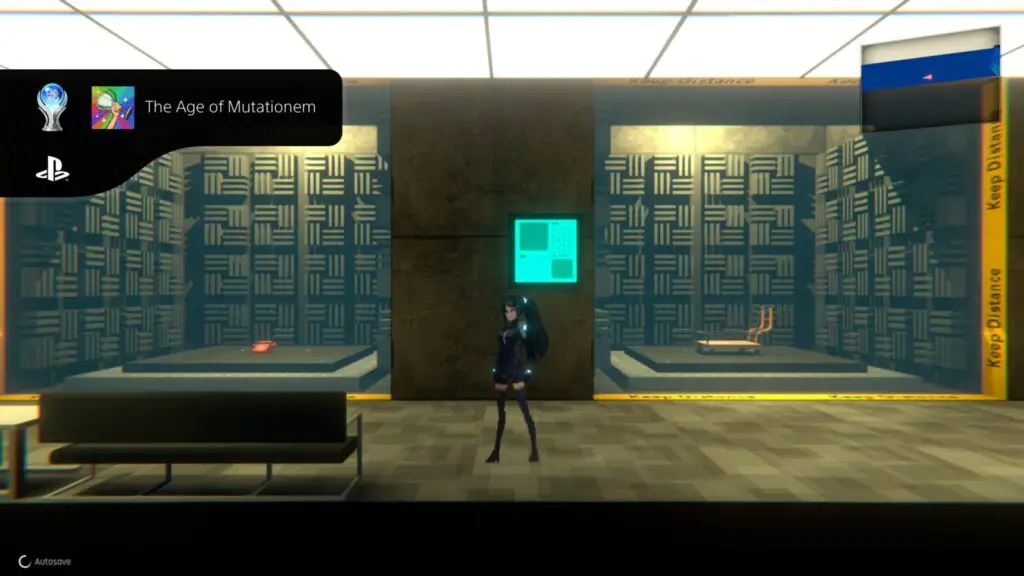 Thank you for choosing PlatGet as your source for an ANNO: Mutationem Trophy Guide. Consider checking out our other guides!
Follow us on Twitter @GetPlat or Instagram @platget for updates on new reviews and guides, as well as small anecdotes about our platinum journeys.
We've Partnered with NordVPN
You may see links to NordVPN products and services on our site. Purchasing a NordVPN Subscription via one of these links is a great way to support us! You would be helping us continue releasing quality guides—as we'll receive a small commission—but you'll also get a great deal on the world's leading VPN!
Grab the Special Deal!