PlayStation 4, PlayStation 5
The Quarry Trophy Guide
Trophies
1
4
7
29
FAQ
How long does it take to beat The Quarry and unlock all trophies?
How difficult is it to beat The Quarry and unlock all trophies?
Does The Quarry have online trophies?
Does The Quarry have difficulty-specific trophies?
Does The Quarry have missable trophies?
Does The Quarry have glitched trophies?
What is the minimum number of playthroughs required to unlock all trophies in The Quarry?
Three full playthroughs with some minor replays via chapter select.
Does The Quarry have a Platinum Trophy?
The Quarry Trophy Guide and Road Map for PS4 & PS5
Welcome to our The Quarry Trophy Guide. The Quarry is the latest instalment in SuperMassive's string of love letters to classic horror movies. In The Quarry you play as a bunch of camp counsellors as they celebrate one last night before heading home. However, things quickly sour as strange creatures begin to attack and menacing hunters prowl the forest. The Quarry is available on PS4 & PS5.
Phase One – Everyone Infected & Alive, and All Clues, and Evidence
For the first phase in our The Quarry Trophy Guide, it's recommended to play through the game completely blind so you can experience everything the game has to offer. This will add an additional full playthrough to your platinum journey, however, the pay-off is that you get to experience a great narrative entirely spoiler-free. Though, if you've already experienced the story or just want to unlock the platinum in the least amount of playthroughs then you can just follow the phases as normal.
There are 72 collectibles in total to be found in The Quarry but you can't get them all in one playthrough. This is because in Chapter 2 while playing as Nick you have to make a decision on which path to take. One path has a tarot card and the other has some clues. Once you pick a path you can't go back to the other path. Because of this I would recommend collecting everything up until the point in Chapter 2 where Nick chooses which path to take and then only focus on collecting clues from there on. This will mean you only need to replay from Chapter 2 to 10 to collect every Tarot you missed. This guide will focus on Clues first. Follow along with our The Quarry Collectibles Guide to make sure you don't miss anything and for more information.
During this phase you will also need to make sure every playable character survives until the end. This can be quite difficult if it's your first playthrough (make sure to check this mostly spoiler-free Everyone Infected & Alive Guide attached to the Rough Knight and Blood Pact trophies if you need help), though, if you already did a blind playthrough you will have some idea on how to save everyone. You should also make sure everyone becomes infected at some point during this phase to cut down on repeat playthroughs later.
Additionally, you should enable Auto Aim in the settings (

>

to get to settings) to make the Peanut Butter Butterpops! trophy trivial, kill every member of the Hackett family—this can be tricky as you will need to make sure Travis survives to the very end so you can also grab the Above the Law trophy—and unlock the Chapter-Specific trophies. You can also change the timer on QTEs and change the button mash settings so you only have to hold

. I would advise against enabling auto-complete QTEs and Don't Breathe sections as some of them will need to be failed to get the outcome we need.
Unmissable Story-Related Trophies
Prologue
Completed the Prologue
Chapter 1
Completed Chapter 1
Chapter 2
Completed Chapter 2
Chapter 3
Completed Chapter 3
Chapter 4
Completed Chapter 4
Chapter 5
Completed Chapter 5
Chapter 6
Completed Chapter 6
Chapter 7
Completed Chapter 7

Chapter 8
Completed Chapter 8

Chapter 9
Completed Chapter 9

Chapter 10
Completed Chapter 10

Epilogue
Witnessed the Epilogue
For Epilogue to unlock you must let the credits roll to the end without exiting the app or quitting to the main menu. The credits sequence is quite long and the mock podcast dialogue is cringe at best so you might want to put your controller down and find something else to do for the next 20 minutes.
Collectible-Related Trophies
What's This?
Collected first clue
The first clue in The Quarry can be found in the Prologue as Laura explores the trench after the car crash. This clue will likely be the Harum Scarum Poster if you're following our The Quarry Collectibles Guide. There are 40 clues in total.
It's All Coming Together
Found a matching clue
Most Clues in The Quarry are linked and proved extra insight as you collect them. If you're following our The Quarry Collectibles Guide then It's All Coming Together should unlock naturally around Chapter 1 or 2.
The Truth is Out There
Collected first piece of evidence
Evidence and Clues are practically identical except clues seem to piece together things that happened in the past whereas the evidence pieces together the things that happen at the lodge. The first piece of evidence you can pick up is in Chapter 1 while playing as Abigail. There are 10 Evidence to find and all are listed in our The Quarry Collectibles Guide.
Conspiracy Theorist
Collected all evidence
See our The Quarry Collectibles Guide for all 10 pieces of Evidence in The Quarry.

Meddling Kids!
Collected all clues
See our The Quarry Collectibles Guide for all 40 Clues in The Quarry.
Chapter-Specific Trophies
Nick of Time
Successfully took the fastest route to Nick
During Chapter 3 Nick will be in trouble and Ryan will be racing to help him. To unlock Nick of Time you must choose to take the Shortcut both times the game asks. You will also have to complete the QTEs when taking the shortcuts.
| Shortcut 1 QTE | Shortcut 2 QTE |
| --- | --- |
| , , , tap | , , , , |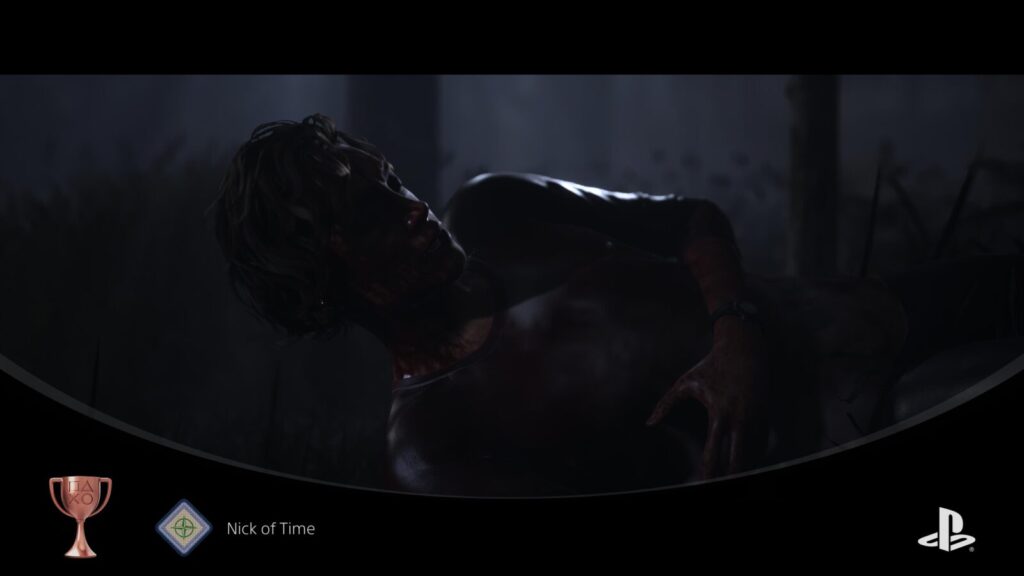 Just a Flesh Wound
Saved a friend from infection
This trophy is tied to Dylan and Ryan in chapter 5 as they try to get a message out on the camp's PA radio. Providing you broke through the door as Abigail in Chapter 1, Dylan will get his hand bitten while attempting to use the radio to create a feedback loop to scare a "bear" away. To unlock Just a Flesh Wound, when Dylan falls to the floor and begins demanding that Ryan cuts his hand off, select Desperate followed by Chainsaw to cut Dylan's hand off and save him from infection.
Bizzare Yet Bonafide
Listened to the podcast
During The Quarry the character Ryan will often reference a podcast called Bizzare Yet Bonafide which he listen to. Later in Chapter 7 when you get to play as Laura again, she can come across an excerpt from this podcast. To listen to the podcast and unlock Bizzare Yet Bonafide, head up the wooden stairs on the ground floor of the police station in Chapter 7 when you have control of Laura. In the first room on the 2nd floor is a birthday card pinned to the wall that you can inspect with

. Once you have inspected the card you can leave the room and enter the locker room—3rd furthest room on the 2nd floor—and find a calendar on the wall in the corner of the room. Inspect the calendar with

and go back downstairs. On the ground floor is a set of small steps that lead to Travis' office. Inside is a computer that you can interact with and guess his password thanks to the birthday card and calendar. Laura will listen to the podcast automatically once you press

on the computer.
Phlebotomy
Accepted the bite of a werewolf
During Chapter 9 you will play as Ryan and Laura as they are chased throughout the Hackett mansion. At some point Ryan will be stabbed and begin to start bleeding out. Laura will appear and float the idea that if she bites him he will become infected and his wounds will healing thus saving his life. To unlock Phlebotomy choose to be bitten and don't pull away as Laura leans in.
Above the Law
Travis and Laura agreed to work together
Travis and Laura are enemies for most of the story, however, near the end they can finally agree to work together to end the curse once and for all. In order for this agreement to happen you must keep Laura and Travis on relatively good terms. To unlock Above the Law it's best to grab the syringe and hide it behind the brick in chapter 7. The last thing that needs to happen is for Chris Hackett to die at the hands of Ryan otherwise Laura will die as a werewolf. Once Chris has died and Laura reverts back to her human self she can agree to work with Travis.

The White Wolf
Killed Silas
The Silas scene is unmissable while keeping all characters alive as Travis, Ryan, and Laura will naturally end up coming across him as part of the story. To unlock The White Wolf, shoot and kill Silas when you get the opportunity.
Everyone Infected & Alive Guide
The table below will cover the requirements for unlocking both Rough Night and Blood Pact. Decisions for each trophy have been colour-coded so that if you're only going for Rough Night—or Blood Pact—you can quickly see which decisions that matter to you and what the outcome is.
Chapter
Decision
Outcome
1
Rough Night Pick up Emma's bracelet by the gate near the van
Blood Pact Break into cabin as Abigail
Rough Night Jacob will not kill Emma in a later chapter
Blood Pact Causes Dylan to be bitten in a later chapter
2
Blood Pact Leave fireworks while playing as Emma
Blood Pact Emma can't use fireworks to scare off the monster later
3
Rough Night If you stole the Rotor Arm as Jacob and chose to dive into the water, select DETANGLE
Blood Pact Fail the Don't Breathe section as Abi
Rough Night Jacob doesn't drown (he will drown if you don't select DETANGLE)
Blood Pact Abi will be bitten
4
Blood Pact* Fail part of the QTE as Emma (SEARCH BAGS>USE TASER>TAKE PICTURE>tap >SPRAY>>>BLOCK DOOR>USE TRAPDOOR>>fail QTE for 1st chance to be bitten>>fail QTE for 2nd chance to be bitten>) Emma can also be bitten if you choose to REEL SLOWLY and then press to speed up.
Blood Pact Emma will be bitten
5
Blood Pact Dylan will be automatically bitten if you chose to break into the cabin in chapter 2. Once he is bitten choose TERRIFIED so that Ryan doesn't cut his hand off.
Blood Pact Fail the first QTE when Jacob is chased by the werewolf
Blood Pact Dylan is infected
Blood Pact Jacob is bitten
6
Rough Night #1 Choose PRY OPEN when Jacob is trapped in the bear trap
Rough Night #2 Shoot Nick in the pool house as Abi
Rough Night Jacob will survive the trap and be taken to the Hackett house
Rough Night Nick will leave the pool house without attacking Abi
7
Rough Night Sedate Travis (or don't fail the QTEs and shoot him) during Laura and Max' escape
Blood Pact Laura will automatically be bitten by Max during a cutscene
Rough Night Travis won't kill Laura in chapter 9
Blood Pact Laura is infected
8
Rough Night Shoot werewolf Emma at every opportunity (use REGULAR SHOT when prompted)
Rough Night Emma isn't shot with silver bullets and will survive but run away
9
Rough Night #1 Stop Laura from shooting the werewolf in the cage
Rough Night #2 & Blood Pact #1 Accept bite from Laura when Ryan is bleeding out
Rough Night #3 & Blood Pact #2 Warn Kaitlyn and SLAM CAR but do nothing on the next QTE when Dylan is using the crane
Rough Night #4 Interact with fusebox as Abi to grab silver bullets
Rough Night #5 Shoot Chris as Ryan
Rough Night #1 Werewolf Nick will survive
Rough Night #2 & Blood Pact Ryan will survive his stabbing and is infected
Rough Night #3 & Blood Pact #2 Kaitlyn and Dylan survive but Kaitlyn is infected
Rough Night #4 Abi can give Kaitlyn silver bullets later to save her life
Rough Night #5 Ryan survives, everyone infected by Chris is reverted back to human, and a Hackett is killed (Laura will also not be killed by Travis)
10
Rough Night #1 Choose to STAY on the island as Max
Rough Night #2 As Kaitlyn choose RUN>BEAM>tap >RUN>INVESTIGATE and then shoot werewolf Caleb
Rough Night #3 Don't raise gun and fail the next QTE and then you can shoot Silas
Rough Night #1 Max survives the night
Rough Night #2 Kaitlyn will survive and another Hackett is dead
Rough Night #3 Laura and Travis will struggle for the gun which kills Travis. Laura then shoots Silas and ends the curse.
*You only need to be bitten once during Emma's section and you have 3 chances to do so
See Everyone Infected & Alive Guide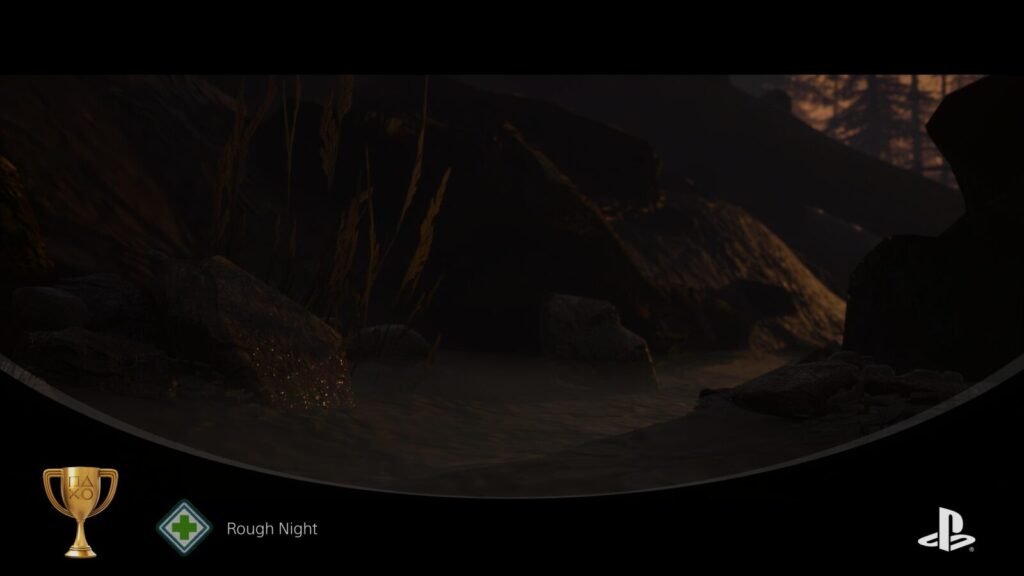 Blood Pact
Infected every character
See Everyone Infected & Alive Guide
All Hacketts Killed Guide
Family Matters
Killed all the Hacketts
There are 7 members of the Hackett family and we need to kill every single one of them for Family Matters. The names, chapters, and methods of killing these Hackett members is listed below but before you begin you need to make sure you broke into the cabin in Chapter 1 while playing as Abi and took the teddy bear inside. Later in chapter 9, Abi must also investigate the fusebox in the basement to find some silver shells that she can then later give to Kaitlyn.
Kaylee Hackett
Kaylee will die at the hands of Laura automatically during Chapter 5 and there is nothing that can be done to prevent it.
Constance Hackett
At the start of Chapter 9 Laura and Constance will struggle to gain control of a shotgun. Pass the tap

QTE and Constance will die. You can also fail this Constance can still die at the end of the chapter as long as Bobby is stabbed by Ryan.
Bobby Hackett
The way Bobby dies isn't very clear. After Laura and Constance's struggle, Bobby will stab Ryan and both he and Laura will escape. The next scene with Ryan he will attempt to pull the knife out of his chest but you must do nothing so that the knife stays where it is. A little while alter, Ryan can then use the knife to stab Bobby which makes him leave the room and return later as Chris attacks Bobby and kills him as he is too injured to defend himself.
Jedediah Hackett
Laura will run into Jedediah a little later into the chapter and will easily over power him through a series of QTEs. When given the chance you must choose to ATTACK instead of running and then pass the tap

QTE and Jedediah will die. Just like Constance you can also ignore him and he will die later as long as Bobby is stabbed by Ryan.
Chris Hackett
Make sure to accept Laura's bite as Ryan is bleeding out before you bump into Chris. Ryan and Laura will come across a chained up werewolf Chris and as they approach all three of them will fall through the floor. If Bobby is stabbed then he, along with Constance and Jedediah if they survived their earlier encounters, will be killed by Chris. Ryan must then shoot Chris to kill him. If Ryan didn't accept Laura's bite then he will die and Laura must pass the QTEs to get the gun and shoot Travis otherwise Travis will kill Laura and the Hackett family purge ends here.
Caleb Hackett
Caleb will attack the Lodge as Kaitlyn, Dylan, and Abi are inside. To survive and kill Caleb, Kaitlyn must choose RUN>BEAM>tap

>RUN>INVESTIGATE and then shoot Caleb with the silver bullets Abi gave to Kaityln. Alternatively, you can lock Caleb in the freezer which will kill him once Silas has been taken care of.
Travis Hackett
At the end of the chapter when Laura, Ryan, and Travis are stood outside Silas' den, choose to do nothing when asked "Raise gun?". This will cause Travis and Laura to fight over the shotgun and when you fail the tap

QTE Travis will be shot and die.
Misc Trophies
You're Breathetaking!
Passed 5 Don't Breath events
During certain scenes in The Quarry you will have to hide and hold

while an enemy is searching the area. There will be a read glow around the edges of the screen which tracks the enemy and when it disappears it becomes safe to let go of

. There are more than enough Don't Breathe events in The Quarry which makes it almost unmissable.
Peanut Butter Butterpops!
Never missed in a combat encounter
To unlock Peanut Butter Butterpops! without having to work for it, you can simply enable Auto-Aim in the accessibility settings (

>

to get to the settings) and play the game as you normally would. The game will automatically aim and shoot for you and it will never shoot whenever it's not necessary thus never missing the required combat encounters.
Reactionist
Activated 15 Interrupts
The Quarry will teach you early on about Interrupts and how to use them—at certain points during dialogue or scenes you will see a red bar at the bottom of the screen that acts as a timer and a prompt such as "shout?

"—when they appear. Some interrupts will leads to good outcomes, others bad, and sometimes they don't really add or take anything away from the situation. To unlock Reactionist you will need to trigger 15 interrupts while you play. This is only semi-missable if you miss almost every interrupt during your playthrough but for most people this trophy will unlock around Chapter 4—give or take.

Forewarned is Forearmed
Got a Tarot reading
In between chapters you will talk to a woman who has things to say about how you are playing and provide you with ominous foreshadowing. This woman will ask that you find her tarot cards that are hidden around in the world. Whenever you find your first tarot card—the earliest possible one being found in the Prologue—you will be asked by the mysterious woman if you want to "See More". Choose to see more and Forewarned is Forearmed will unlock.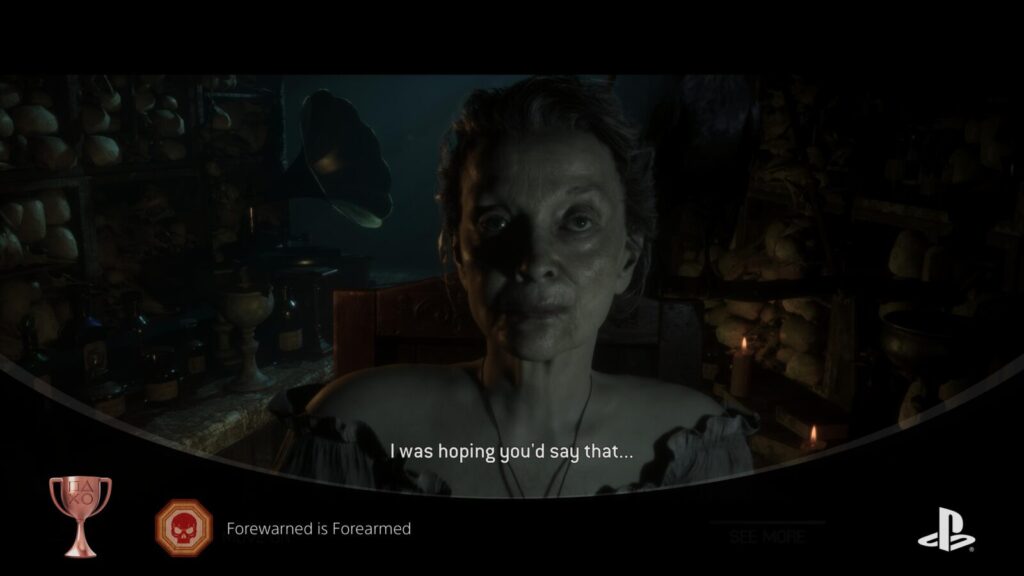 Phase Two – All Clues
For Phase Two of our The Quarry Trophy Guide you will be replaying from chapter 2—or the prologue if you didn't follow our The Quarry Collectibles Guide—but this time you will be grabbing every Tarot card while getting the Jacob and Emma truth ending. This is also a good time to work on any trophies you may have missed in phase one.
Lastly, make sure to read the guide attached to the Hard Pass trophy as this trophy is glitched but there is a reliable workaround to get it to unlock.
Collectible Trophies
Decked Out
Found all Tarot cards
See The Quarry Collectibles Guide to find all tarot cards.
Laura and Max Reunite
Should've Gone to the Motel
Reunited Laura and Max
Even though Laura's main goal is to blow up reunite with Max, the "good" ending never actually lets us see them together again. To actually reunite them you have to let poor Ryan die after he shoots Chris so that both Laura and Max are freed from their curse. You will then need to shoot Travis as he and Laura fight over the shotgun. This means the Silas scene will never occur and instead Laura will go meet up with Max.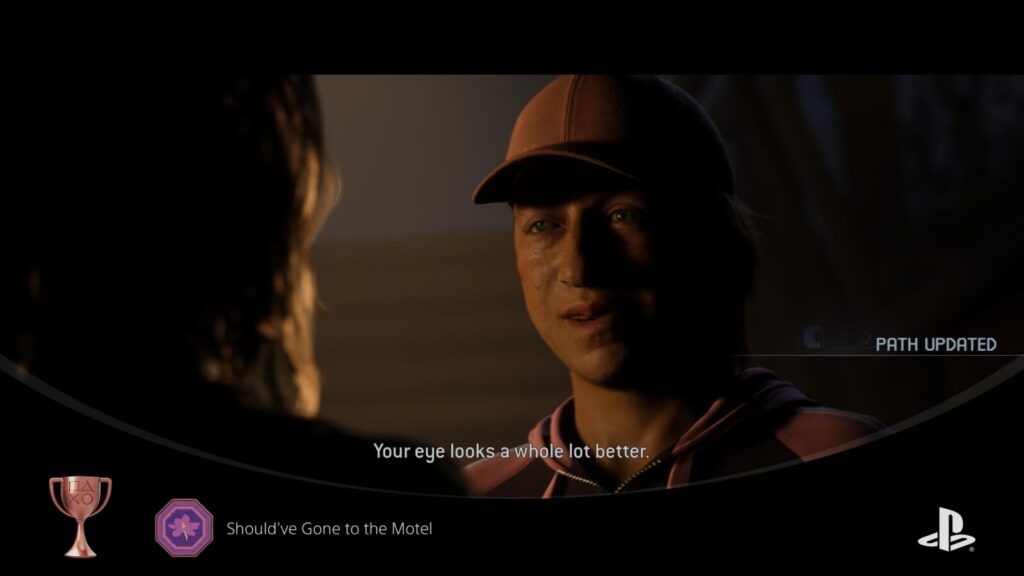 Emma and Jacob Truth
Jacob told Emma the truth
There are three criteria that must be met in order for Jacob and Emma to reunite at the end of the game. Both Jacob and Emma must be alive, Jacob must not be infected, but Emma does need to be infected as early as Chapter 4. If Emma becomes infected any later than this then she will make it to the lodge with everyone else and remain there for the rest of the game. It's worth noting that Ryan should shoot Chris in chapter 9 as Jacob can apparently be killed by Chris in Chapter 10.
To unlock Nobody's Fool, keep Jacob alive and get Emma infected as early as Chapter 4 (see the table below for all of Jacob and Emma's death scenes and how to avoid them). And once they reunite in Chapter 10 you must select HONEST as the third dialogue choice.
| Chapter | Death | How to Avoid |
| --- | --- | --- |
| 3 | Jacob can drown in the lake | Don't dive in, or choose to DETANGLE when Jacob becomes stuck in the barbed wire. |
| 4 | Jacob can be shot by Ryan | Don't shoot the bushes during Ryan's scene (best not to shoot the gun at all). If you have auto-aim on then Ryan never shoots during this section and Jacob is safe. |
| 4 | Emma can be killed by Max | When searching the Island as Emma and you enter the treehouse, choose SEARCH BAGS instead of opening the trapdoor as this will lead to her immediate death. (Survive the QTE section but make sure to get bitten too. See Blood Pact) |
| 6 | Jacob can die after meeting Emma for the 1st time | Pass all the QTEs as Jacob and Emma are chased by the creature |
| 8 | Emma can be shot and killed by Kaitlyn | Choose to shoot Emma with REGULAR SHOT to avoid killing her |
Hard Pass Trophy
Hard Pass
Refused Eliza's help
At the time of writing this guide Hard Pass is glitched and as a result unobtainable except for a few reported cases from people playing the un-upgraded disc 1.00 version. Though, the methods these people have reported seem to be largely convoluted, inaccurate, or irreplicable. Therefore, it is recommended that you wait for the next post-launch patch—2K Games has acknowledged the issue and confirmed that a fix will be available in the next patch.
As of Patch 1.03 this issue should be fixed. Choose MOVE ON at the end of every chapter and Hard Pass should unlock at the end of Chapter 10. If for some reason this doesn't unlock the trophy for you then see the below guide for the pre-patch workaround that should still work.
At the time of publishing this guide there is a way to get this trophy to pop without the patch for both disc version and digital version*.
To force Hard Pass to unlock you must collect a tarot card—use our The Quarry Collectibles Guide to find all tarot cards in each chapter—and during the chapter wrap-up section with the old lady, choose MOVE ON and very quickly just as she begins to speak hit

>

>

>

to quit to the main menu or exit to the dashboard and quit the app. Then reload the game and/or press Continue on the main menu. Do this for every chapter—i.e. find a tarot, choose to MOVE ON, quit, and reload—and Hard Pass will unlock at the end of chapter 5.
It seems like The Quarry requires 11 instances of MOVE ON to be triggered for Hard Pass to unlock**, however, there are only 10 chapters in the game. Quitting out after selecting MOVE ON and reloading forces the game to count it as two instances of MOVE ON being triggered thus Hard Pass will unlock at the end of chapter 5 when 11 total instances have been triggered.
*If this method does not work for you then you might want to wait for the coming patch that fixes this trophy **This is purely speculation on my behalf
Phase Three – Everyone Dies & Misc Endings
For Phase Two of our The Quarry Trophy Guide you will be replaying from chapter 2—or the prologue if you didn't follow our The Quarry Collectibles Guide—but this time you will be grabbing every Tarot card while getting the Jacob and Emma truth ending. This is also a good time to work on any trophies you may have missed in phase one.
Everyone Dies
Lovers' Quarrel
Nick killed Abi
Lovers' Quarrel will unlock by itself while going for Hackett Quarry Massacre. To have Nick kill Abi simply don't shoot when Abi is attacked in the pool house. Put your controller down and watch as Nick transforms and rips poor Abi's head off—litterally.
Mutually Assured
Laura and Travis killed each other
Laura and Travis can't kill each other until right at the end of Chapter 9. The easiest way to achieve this is to not shoot Chris when playing as Ryan in Chapter 9 so that Laura is not freed from the curse and she kills Travis as he stabs her repeatedly with the silver-backed mirror shard.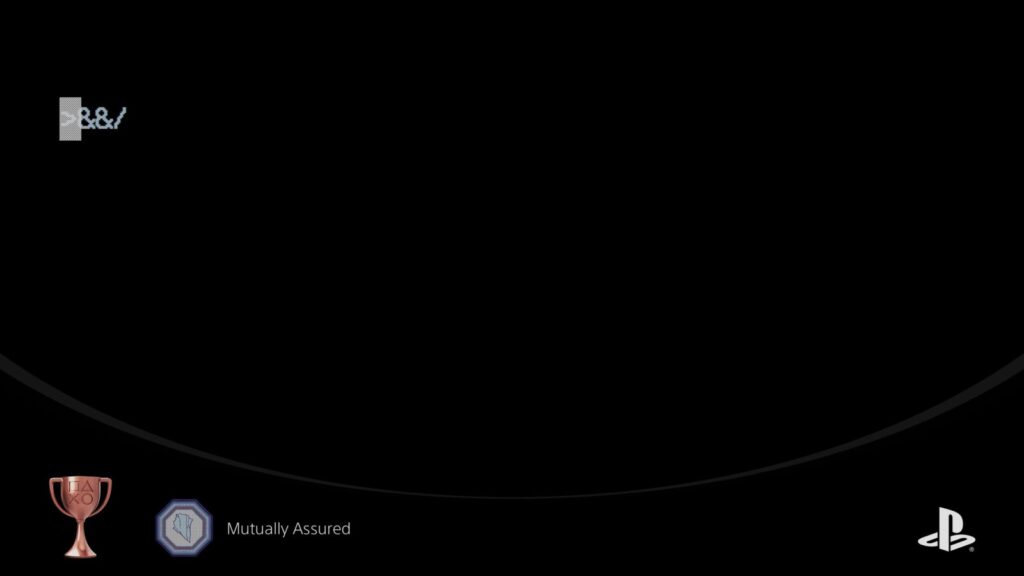 Hackett's Quarry Massacre
Killed everyone
Make sure you disable any auto-complete settings you have turned on—especially Auto-Aim—as this will help keep characters alive rather than killing them.
Chapter
Method
Outcome
4
Shoot the bushes as Ryan
Open the trapdoor as Emma
Jacob gets shot and dies
Emma is attacked by Max and killed
5
Cut off Dylan's arm when bitten
Dylan won't be infected and can be killed later
6
Don't shoot Nick as Abi
Nick will attack and kill Abi
7
Don't sedate Travis. Instead go straight to sleep and fail the QTEs when Laura makes her escape later.
Travis will get shot and kill Laura later
8
Don't stop Laura from shooting werewolf Nick in cage
Nick dies
9
Don't accept Laura's bite and then shoot Chris
Ryan kills Chris, Travis kills Laura when she reverts back to human, and Ryan dies either by bleeding out or by Travis
10
Swim to shore as Max
Choose to WAIT as Kaitlyn
Max dies when he gets to shore
Kaitlyn is killed by Caleb
Lone Survivors

Last Man Standing
Ryan survived alone
To unlock Last Man Standing reload Chapter 9 and make sure Ryan survives alone—i.e. make sure Laura and Travis kill each other. In chapter 10 make sure Kaitlyn waits so that Caleb kills her making Ryan the last person alive at the end of the night.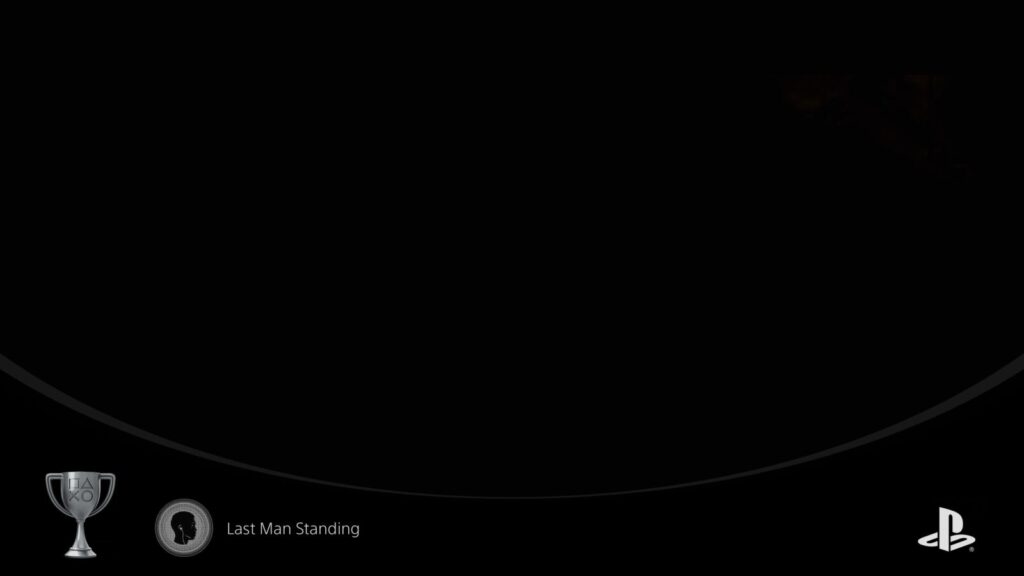 The Final Girl
Kaitlyn survived the night alone
Just like Last Man Standing, restart from chapter 9 but make sure Ryan and Laura die by the end. Then in chapter 10 you need to RUN>BEAM>tap

>RUN>Don't Breathe – Hold

>FREEZER>USE DECOY. This will trap Caleb in the freezer so that Kaitlyn is safe from him.
Misc Trophies
Creature Feature
Started a movie mode playthrough
At any time in The Quarry you can start a Movie Mode playthrough from the Main Menu. You don't have to finished the playthrough and Creature Feature will unlock as soon as you start so you can immediately quit out.
Plat Get!
What Doesn't Kill You…
Achieved all Trophies!
Once you have acquired every other trophy in this The Quarry Trophy Guide, the "What Doesn't Kill You…" Platinum Trophy will unlock. Congratulations, Counsellor.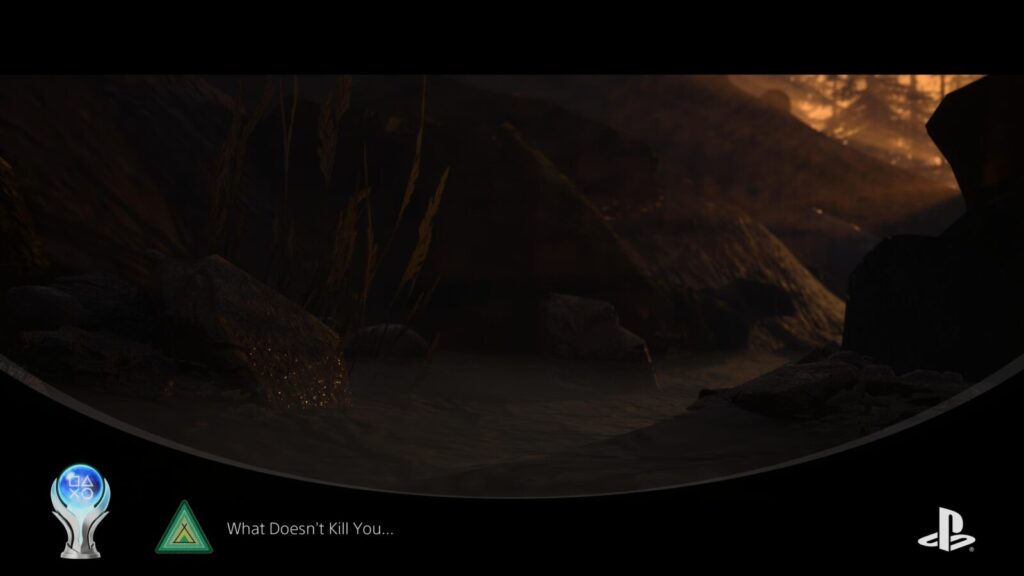 Thank you for choosing PlatGet as your source for an The Quarry Trophy Guide. Consider checking out our other guides!
Follow us on Twitter @GetPlat or Instagram @platget for updates on new reviews and guides, as well as small anecdotes about our platinum journeys.
We've Partnered with NordVPN
You may see links to NordVPN products and services on our site. Purchasing a NordVPN Subscription via one of these links is a great way to support us! You would be helping us continue releasing quality guides—as we'll receive a small commission—but you'll also get a great deal on the world's leading VPN!
Grab the Special Deal!