PlayStation 4
Terror of Hemasaurus
Trophies
1
5
12
13
FAQ
How long does it take to beat Terror of Hemasaurus and unlock all trophies?
How difficult is it to beat Terror of Hemasaurus and unlock all trophies?
Does Terror of Hemasaurus have online trophies?
Does Terror of Hemasaurus have difficulty-specific trophies?
Does Terror of Hemasaurus have missable trophies?
Does Terror of Hemasaurus have glitched trophies?
What is the minimum number of playthroughs required to unlock all trophies in Terror of Hemasaurus?
Does Terror of Hemasaurus have a Platinum Trophy?
Terror of Hemasaurus Trophy Guide and Road Map for PlayStation 4
Welcome to our Terror of Hemasaurus Trophy Guide. Terror of Hemasaurus is a fantastic Arcade-style indie game that is very much an homage to one of my favorite retro games; Rampage: Total Destruction. A lot of fun, albeit a little repetitive, the Trophy Journey will have you toppling buildings in Arcade Mode and Endless Mode with just a bit of cleanup in the final phase.
The overall journey will take you around 6 to 8 hours and nothing is particularly too challenging. All in all, it's a pretty smooth ride as long as you actually enjoy the rather repetitive but addictive gameplay as it is.
Phase One | Complete all 32 Arcade Mode Levels
We start out this first phase of our Terror of the Hemasaurus Trophy Guide & Road Map with a simple playthrough of Arcade Mode. There are just 32 stages to complete across three chapters.
If you die, you will be taken back to the title screen, but you can just pick up wherever you left off via Arcade Mode's chapter/stage select.
Throughout this phase, you could try to collect all of the Arcade Mode Trophies to save you having to mop them up later, but nothing is missable ultimately, and you can just sit back, relax, and enjoy the short campaign.
Unmissable Arcade Mode Trophies
Phase Two | Endless Mode
Your main objective during this second phase of our Terror of the Hemasaurus Trophy Guide is to complete a cumulative total of 100 Endless Mode stages. Yes, you can quit or die in between and any stages that you have completed will be added to the total. Additionally, there are cheats (including invincibility) that you can access via the

menu to make this phase a total breeze.
Use

/

to browse the full array of options for Endless Mode. Depending on how many trophies you've unlocked (thus in-game challenges you've completed), you will have a range of options to select from which can help to really tailor your experience and ensure maximum enjoyment.
Just keep enjoying Endless Mode and, if you fancy it, try and unlock some of the trophies in the next phase of our guide while you're at it.
Unmissable Story Trophies
Demolition Ambition
Complete 10 stages on Endless Mode.
Once you complete 10 of the 100 Endless Mode stages required for the Demolition Exhibition trophy, the Demolition Ambition trophy will unlock.
Demolition Tactician
Complete 40 stages on Endless Mode.
Once you complete 40 of the 100 Endless Mode stages required for the Demolition Exhibition trophy, the Demolition Tactician trophy will unlock.
Demolition Exhibition
Complete 100 stages on Endless Mode.
The Demolition Exhibition trophy will unlock once you have completed a cumulative total of 100 Stages on Endless Mode. You can die or quit in between without the counter resetting.
The easiest way to blast through this trophy is to turn on the "Super Punch" and "Invincibility" cheats via the

menu and then just hold

+

. Your characters will slowly make their way from west to east, toppling every building as they go. By the time you reach the exit on the far-right side, you will have destroyed around 90% of the town and will be able to proceed. You can complete each stage in around 35 seconds this way.
Although that's a good strategy for getting through this phase quickly, I wouldn't particularly recommend it because you won't destroy many vehicles. As many of the trophies in the next phase require you to destroy a specific number of specific vehicles, you might save yourself a lot of time by taking the opportunity to destroy any vehicles that you come across, especially on higher threat levels.
Phase Three | Cleanup
One last hurdle to go! In this final phase of our Terror of the Hemasaurus Trophy Guide, it's time to mop up any trophies that you still need. You may actually be surprised to find that you've unlocked a good majority of the trophies in this phase already, so have a quick browse and compare them with the remaining trophies on your console.
All of the trophies can be tracked via the "Challenges" screen, which you can access by pressing

and then using

/

to navigate to it.
When farming kills against different enemy types, Endless Mode isn't always the best option. I found that the UFO stage at the end of the Arcade campaign (see Kill All Humans!) was actually a really good farming spot for many enemy types too.
Additionally, in Endless Mode, you can manipulate the spawn rates of different types of enemies via the

menu. Use

/

to browse the full selection of Endless Mode Options. There's even a range of cheats you can use to make the game easier, as noted in the previous phase.
Arcade Mode Trophy Cleanup
Kill All Humans!
100% the UFO stage.
During the Arcade campaign, there is a mission called "Video Game Violence Redux" (the final level) where you get to control a UFO and destroy a human city. While controlling the UFO, you can switch between a selection of weapons by pressing

. I recommend you stick to the rockets as they do the most damage in the least amount of time with the least amount of effort.
To unlock the "Kill All Humans!" trophy, you need to destroy 100% of the city structures, toppling every building and ensuring that not even an apartment cube remains. This is very easy to do if you're just vigilant about meticulously destroying every building until the trophy unlocks.
Try not to finish the level before you reach 100% destruction. The level ends when you destroy all the enemies and the majority of them don't spawn until you go all the way to the far-right edge of the screen. So try to avoid that area until you're done.
Simulation 8e7d28c1
Complete the simulation in under 1 minute.
To unlock the "Simulation 8e7d28c" trophy, you need to complete the Arcade Chapter 3 Stage titled "Video Game Violence" in less than a minute.
This is one of the game's most difficult trophies without a doubt, but you can essentially pull it off by getting very lucky.
The first thing you should do though is load the mission and then pause the game with

. Navigate to the "Game Settings" option and then turn "Speedrun Clock" to "On." This way, you can see how long you have spent on the stage so far, and if the timer goes past 01:00:000, you can pause the game and select "Restart Stage" to reload and try again.
Then, holding

and

the whole time, move from the left of the screen to the right while mashing

to fire rockets. Sometimes these rockets will cause you to flip, just keep trying to move to the right while flying wildly through the level. To avoid going too out of control, release

while flipping across the skyline.
Note that when you are upside-down, the thruster is flipped, so you will need to hold

+

to continue going right.
Cause enough destruction and reach the far-right side of the stage in less than 60 seconds and the trophy is all yours!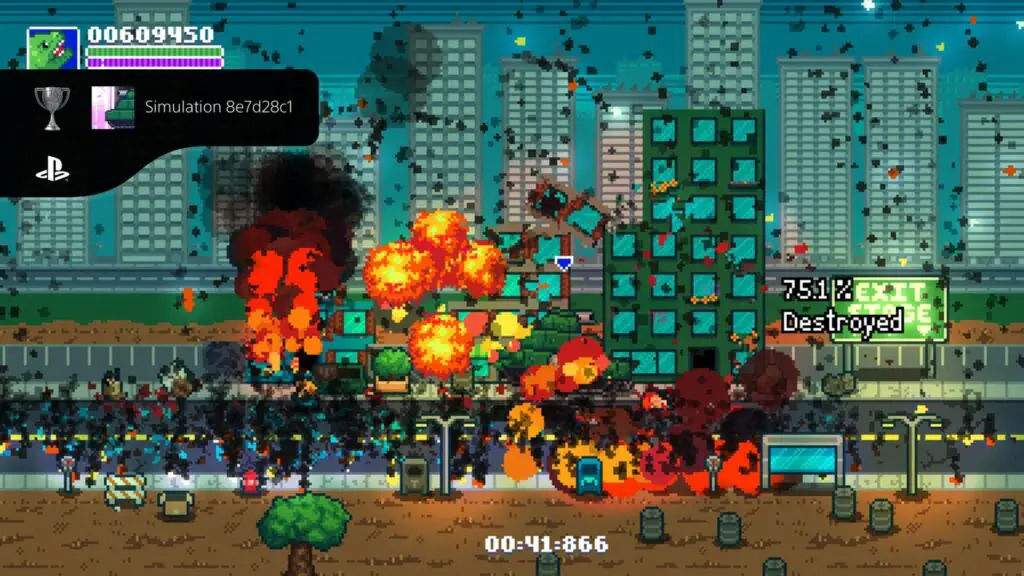 Miscellaneous Trophy Cleanup
PlatGet!
Extinction Inevitable
All trophies earned and yet nothing has changed.
After collecting every trophy in this Terror of Hemasaurus Trophy Guide, the "Extinction Inevitable" Platinum Trophy will unlock. Congratulations!
Thanks for Reading
Plat Get!
Thank You!
Thank You for choosing PlatGet as your source for this Terror of Hemasaurus.
Wondering what to complete next? Browse our complete guide selection or check out our friends at PlatPrices.com to filter the PS Store based on price, trophy difficulty, or completion time.
Follow us on Twitter @GetPlat for updates on new guides and occasional anecdotes about our platinum journeys.
We've Partnered with NordVPN
You may see links to NordVPN products and services on our site. Purchasing a NordVPN Subscription via one of these links is a great way to support us! You would be helping us continue releasing quality guides—as we'll receive a small commission—but you'll also get a great deal on the world's leading VPN!
Grab the Special Deal!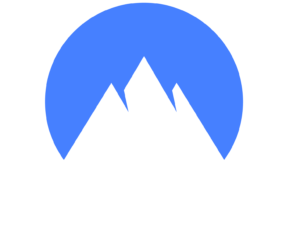 This Guide uses our Trophy Tracking features!
Here on PlatGet, you will sometimes see the new tracker on trophies in certain trophy guides. These tracking tools allow you to manually keep track of your own trophy progress without having to give us any personal details or create an account.
The tool uses localStorage to save and load your changes, allowing you to even leave and return in some cases. However, for best performance and to ensure your tracking details aren't lost, try to keep this tab open until you're done with your trophy journey and avoid refreshing as much as possible.
Close