PlayStation 4, PS Vita
Super Box Land Demake Trophy Guide
Trophies
1
11
FAQ
How long does it take to beat Super Box Land Demake and unlock all trophies?
How difficult is it to beat Super Box Land Demake and unlock all trophies?
Does Super Box Land Demake have online trophies?
Does Super Box Land Demake have difficulty-specific trophies?
Does Super Box Land Demake have missable trophies?
Does Super Box Land Demake have glitched trophies?
What is the minimum number of playthroughs required to unlock all trophies in Super Box Land Demake?
One partial playthrough of two Worlds.
Does Super Box Land Demake have a Platinum Trophy?
Super Box Land Demake Trophy Guide and Road Map
Super Box Land is a simple puzzle game with puzzles just complex enough to get you scratching your head for a moment, but nothing too advanced – at least not in the 40 levels required for the Platinum. Read on into our Super Box Land Demake Trophy Guide for more…
Each puzzle will take around a minute or two to solve and there's a handy feature with which you can hold

to rewind time to a previous point in the puzzle, i.e. before you made a mistake.
This short indie title's platinum trophy will take just under an hour to earn.
Phase One – Play 40 Levels on Easy Difficulty
It's possible to earn every trophy within this stage, provided you take the time to complete some miscellaneous trophies.
Your main goal is to complete just the first 40 levels, which is two whole worlds with 20 levels each, and an additional bonus level in-between.
The additional trophies you'll want to look out for are:
Balloon Kicker – Shoot a Balloon in the Bonus Level Minigame between Worlds 1 and 2
Bomb Defuser – Shoot a Bomb in the Bonus Level Minigame between Worlds 1 and 2
Pushing Together – Complete a level in Single-Player (Two Characters) mode. Press at any time to cycle through to Single-Player (One Character) mode afterwards.
Back in Time – Use the Rewind function by pressing
If you miss any of those, don't worry as we will come back to them in Phase Two for cleanup.
Unmissable Trophies
The following trophies are guaranteed if you just reach and complete World 2 Stage 20, the 40th level. Start your New Game on Easy Difficulty (gives you infinite rewind ability), in any Mode (you can switch modes by pressing

), and using any Character.

Complete your first level.






Phase Two – Cleanup
These trophies may well have been earned during the first phase of the journey. However, if you missed any of them then now is the time to clean up. See the individual trophy instructions below.
Miscellaneous Trophies


After you have completed level 20 and therefore the entirety of World 1, you'll enter into a Bonus Stage in which you pilot a small plane and can shoot using

.
For both trophies above you will need to shoot both a balloon for the first time and a bomb for the first time. You hopefully won't need to worry too much about completing these trophy requirements as you'll have plenty of opportunity to shoot both, but in the rare event that you missed all your chances, replay and complete Level 20 to access this bonus minigame again.

Complete a level using both characters.
To unlock this trophy you need to complete any stage in one of the Two Character modes. Your choices are:
One-Player (Two Characters)
Two-Player (Two Characters)
You can choose one of these modes from the New Game screen, but the easiest way to get this trophy is by simply pressing

. At any point in a level, you can press

to cycle between the three possible modes. My advice (because it is what I did) is to load up the first level, press

until you're in One-Player (Two Characters) mode, and then complete the puzzle. The trophy will then unlock! Easy.

First of all, if you managed to get this far in the journey without once using the rewind feature… Bravo. I know I certainly had to use it in some tricky situations!
Well, if you don't know, you can hold

at any time to rewind the game and undo your previous actions incase you make a mistake.
Doing this for the very first time will unlock the trophy!
Plat Get!

Once you have every other trophy, this Platinum is obviously guaranteed. Congrats!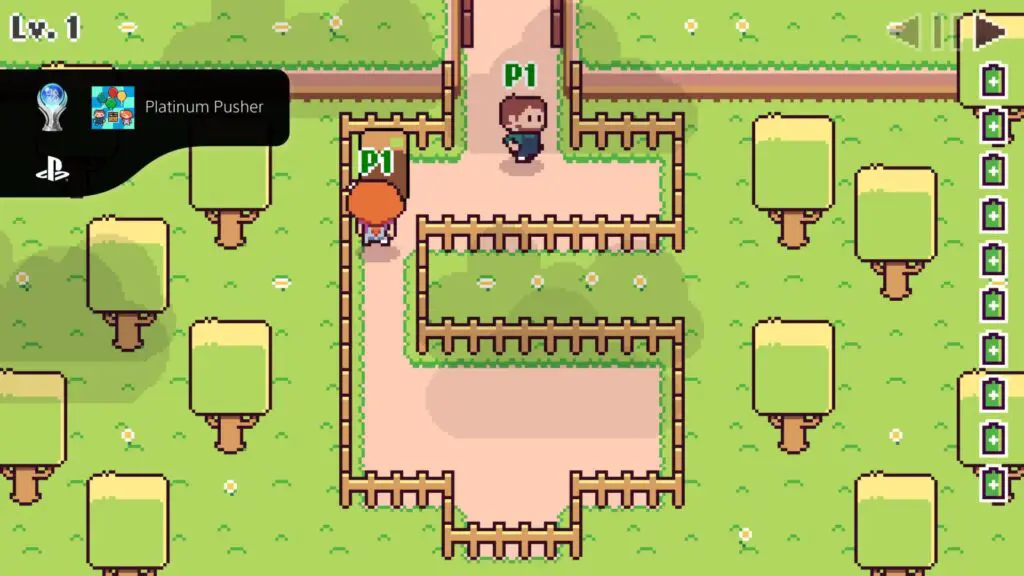 Full Disclosure: You won't find this platinum trophy on my PSN Profile, I used my alt account PlatGet_DblTap, so look there if you're hoping to verify!
If you enjoy collecting quick and easy Platinum Trophies like this one, check out our full list of Quick and Easy Platinum Trophies, all of which can be earned in an hour or less!
Thank you for choosing PlatGet as your source for this Super Box Land Demake Trophy Guide, consider checking out our reviews and other guides!
Follow us on twitter @GetPlat or Instagram @platget for updates on new reviews and guides, as well as small anecdotes about our platinum journeys.
We've Partnered with NordVPN
You may see links to NordVPN products and services on our site. Purchasing a NordVPN Subscription via one of these links is a great way to support us! You would be helping us continue releasing quality guides—as we'll receive a small commission—but you'll also get a great deal on the world's leading VPN!
Grab the Special Deal!