Chickens on the Road Trophy Guide and Road Map
Welcome to our Chickens on the Road Trophy Guide. Chickens on the Road is a lot like another easy Platinum by the same developers; Road Bustle.
This is because all you need to do is avoid obstacles and hit chickens for about 10 minutes to earn a specific score. There are no misc trophies, no other objectives, all you need to do is move with

and avoid obstacles and hit chickens.
Phase One – Earn 1,100 Score
In this one and only phase, you will just need to make enough progress to reach 1,100 score. There's a trophy at each 50-point threshold (except for a 100-point gap between 1,000 and 1,100) and when you get hit by a vehicle your score will not reset, it will instead be reduced down to the nearest 100.
For example, if you get hit at 762 points, your score will reduce to 700. The same will happen at 701 points.
The game will not get any more difficult the more you progress, so there really is no reason why this wouldn't be an easy and straight-forward plat from start to finish.
Simply run over beige-coloured chickens to increase your score. Hitting green ones will decrease your score so try to avoid them, but it doesn't make too much of a difference. Big chickens will give you/take away more score than small chickens.
The hitboxes on the vehicles are way bigger than they should be, so do what you can to avoid going anywhere near them.
Score Trophies
These trophies make up the entire list and will all be earned by the time you reach 1,100 score.
50
Reach 50 score points
100
Reach 100 score points
150
Reach 150 score points
200
Reach 200 score points
250
Reach 250 score points
300
Reach 300 score points
350
Reach 350 score points
400
Reach 400 score points
450
Reach 450 score points
500
Reach 500 score points
550
Reach 550 score points
600
Reach 600 score points
650
Reach 650 score points
700
Reach 700 score points
750
Reach 750 score points
800
Reach 800 score points
850
Reach 850 score points
900
Reach 900 score points
950
Reach 950 score points
1000
Reach 1000 score points
1100
Reach 1100 score points
Plat Get!
Platinum Chicken
Get all trophies
Having reached 1,100 score, thus unlocking every other score-related trophy, you'll have this Platinum trophy.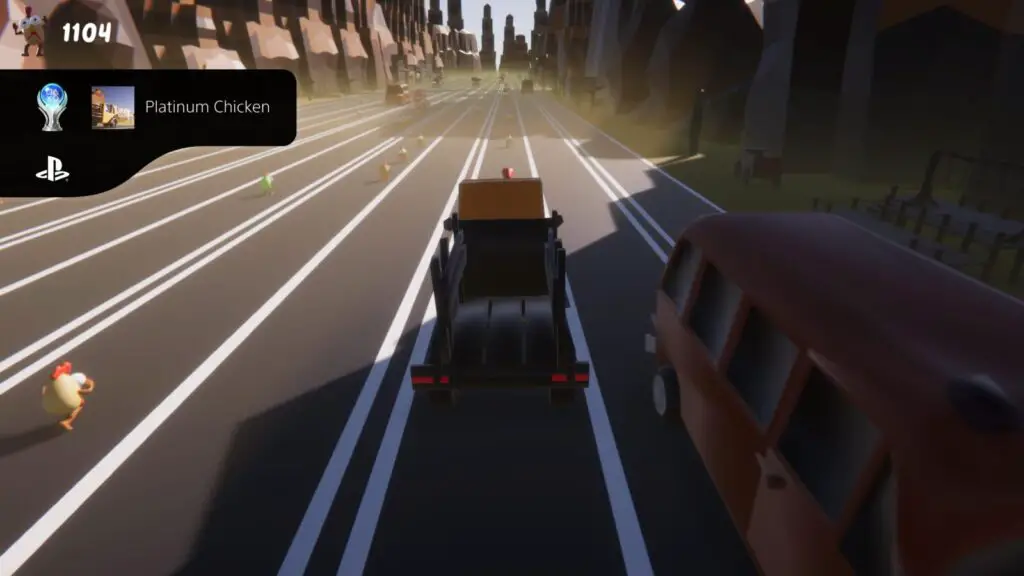 Full Disclosure: You won't find this platinum trophy on my PSN Profile, I used my alt account PlatGet_DblTap, so look there if you're hoping to verify!
If you enjoy collecting quick and easy Platinum Trophies like this one, check out our full list of Quick and Easy Platinum Trophies, all of which can be earned in an hour or less!
Thank you for choosing PlatGet as your source for this Chickens on the Road Trophy Guide, consider checking out our reviews and other guides!
Follow us on twitter @GetPlat or Instagram @platget for updates on new reviews and guides, as well as small anecdotes about our platinum journeys.