PlayStation 4, PlayStation 5
Powerwash Simulator Trophy Guide
Trophies
1
5
5
30
FAQ
How long does it take to beat Powerwash Simulator and unlock all trophies?
How difficult is it to beat Powerwash Simulator and unlock all trophies?
Does Powerwash Simulator have online trophies?
Does Powerwash Simulator have difficulty-specific trophies?
Does Powerwash Simulator have missable trophies?
Does Powerwash Simulator have glitched trophies?
What is the minimum number of playthroughs required to unlock all trophies in Powerwash Simulator?
Does Powerwash Simulator have a Platinum Trophy?
Powerwash Simulator Trophy Guide and Road Map for PS4 & PS5
Welcome to our Powerwash Simulator Trophy Guide. Powerwash Simulator is one of the most satisfying games on the market. Perfect for sticking in the corner of your Zoomer Tiktoks to get people to stick around. Armed with a series of Powerwashers and Nozzles, you'll get jobs of all kinds, from cleaning old Motorbikes and Classic Cars to Jetwashing an entire Playground or House.
The trophy journey is a fairly stress-free endeavor, with the majority of your time on the game spent basically doing a coloring book in reverse. Not until you come toward the end of the trophy journey will you begin to face some more frustrating challenges, though hopefully nothing that'll have you red in the face.
I should warn you, however, that this game is definitely catered toward a certain personality type. You will need to actually find enjoyment in the cathartic cleaning process to enjoy the game, otherwise you're in for 50-60 hours of pure boredom, so find something to watch on the side!
Phase One | Complete the Campaign & Semi-Missable Trophies
In this phase of our Powerwash Simulator Trophy Guide, just load up the Campaign and start working your way through the levels.
As you do so, though, keep a close eye on our list of Semi-Missable Campaign Trophies. Each of these is tied to specific Campaign Level and you will need to try and earn them as you play to reduce your overall playthrough length. The only repercussion of missing one is that you will have to reattempt the level to try and get it again. Later in this Powerwash Simulator Trophy Guide, there will be opportunities to mop up any trophies that you happen to have missed.
The campaign missions themselves are very straightforward. You just need to clean everything! Here are a few tips:
When an object has been completely cleaned, it will "ding" in a very satisfying way, indicating that you can move on.
Press to make the powerwash spray indefinitely, giving your finger a rest.
Press to make any remaining dirt glow orange so you can see it better.
Once you start approaching the end of a job, it can be hard to find the last few specks of dirt. Open the tablet with to see a list of objects that need cleaning as well as how clean they are. Press to highlight any of these objects and they will start flashing, making it easier to locate them.
You will need to 100% clean every job location, but you can actually leave mid-job if you get bored and it will remember where you got to so that you can pick it up again later.
While playing through the campaign, you will be earning a decent amount of in-game money. Be sure to visit the shop often and buy as many Powerwashers and Powerwasher attachments as you can afford. Don't worry about buying outfits or colorways for your pressure washers just yet.
Note that although the game is co-op, there is not much benefit to doing it unless you are the host. Only the host can unlock trophies, and the host always earns more money than any of their guests from the same job. You also cannot crossplay on PS5/PS4 yet, including between the two consoles.
Unmissable Campaign Trophies
Semi-Missable Campaign Trophies
Phase Two | Earn Five Gold Medals in Challenge Mode
If you thought that Career Mode was challenging, well, welcome to Powerwash Simulator's Challenge Mode…
During this phase, you are going to need to not only ace several of the game's Challenges but do so to such a high degree that you earn Gold Medals in at least five of them.
I won't lie, this is one of the trickiest parts of the Powerwash Simulator Trophy Journey, and it's not going to be fun for the most part. However, with enough practice and plenty of patience, this Phase too shall pass.
If you have had a very nice friend helping you earn trophies up to this point, you're now going to have to say your goodbyes as Challenge Mode is single-player only!
Challenge Mode Trophies
Going for Gold
Get one gold medal in Challenge Mode
The Going for Gold Trophy will unlock when you earn a Gold Medal in any Challenge Mode job for the first time. See Gold Standard for more info.
Gold Standard
Get five gold medals in Challenge Mode
To unlock the "Gold Standard" trophy, you will need to master a total of five Challenge Mode jobs and earn five Gold Medals. You can do this in any five Challenges, regardless of whether they are Time Challenges or Water Challenges.
Without a doubt, this is the most challenging trophy in the entire game, but if you can get past this hurdle, you can handle anything else it has to offer!
Here's some general advice that should help with any Challenge:
Never hold or press in a Water Challenge. It wastes a lot of water way faster than you'd think. Instead, clean with quick and precise bursts by tapping . In time challenges, the opposite is true, and you should press immediately.
During Time Challenges, make sure you're using the right Nozzle for the job at all times. Don't waste time making multiple passes with the Green Nozzle if the Red Nozzle would clean it in one sweep.
Also During Time Challenges, don't be shy about using the task list on the Tablet to highlight objects that need to be cleaned. There's really no need to waste time looking for things.
The threshold for Gold Medals on "Location" jobs are a lot more lenient and you could easily complete the jobs with many minutes to spare, but you would need to be willing to spend 20-25 minutes on them. Vehicle jobs are much faster but have consistently strict Gold Medal thresholds.
In both types of Challenge, press frequently so that you can always see the dirt highlighted clearly and ensure you're cleaning efficiently.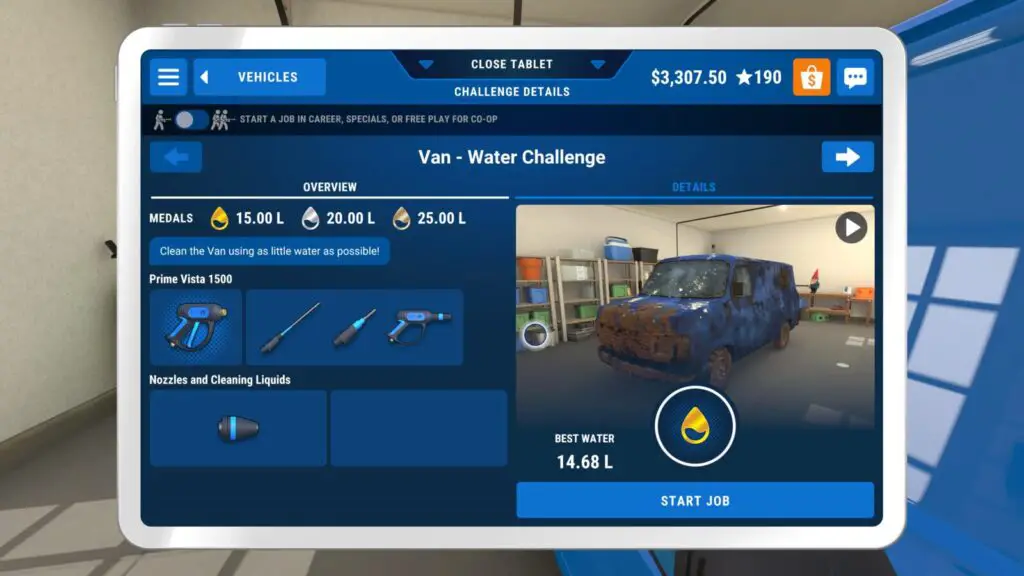 And to hopefully provide even further aid, here are tips for completing the five that I completed:
Van – Time Challenge | Start by equipping the Soap Nozzle and the Glass Cleaner and blast the windows clean as fast as you can. Switch to Metal Cleaner and give the entire vehicle a quick once-over with it until it runs out. Then use the Yellow Nozzle for the rest of the job. You can also switch to the Red Nozzle for tricky to stubborn stains.
Van – Water Challenge | Use the Yellow Nozzle for the majority of the job. Switch to the Red Nozzle as needed for tricky spots and stubborn stains around/on the Windows.
Dirt Bike – Water Challenge | Use the Green Nozzle for the entire job. Stand back from the bike and tap in quick bursts while frequently changing perspective. Make sure to hit the bike from low and high angles too, to really get into those nooks and crannies. It'll take a lot of practice but you will get there with patience.
Golf Cart – Water Challenge | Same as the Dirt Bike. Stick to the Green Nozzle and use it in quick bursts from various angles/distances to complete the job.
Vintage Car – Water Challenge | This one really wasn't very easy to pull off, honestly. If you can do any of the other Time Challenges, that might be the better route to pursue.
Regardless, start by using the Green Nozzle and around 6 Litres of water to take the top layer of dirt off the whole car. Quick bursts again and plenty of different angles for maximum coverage.
Next, switch to the Soap Nozzle and the Metal Cleaner. Hit the more rusted metal parts of the car; Canopy Hinges, Door Handles, Headlights, the Grill, the Bonnet, the Wing Mirrors, etc.
You should be at around 9-10 Litres used with around 25% of the car left to clean. Switch to the Red Nozzle and very meticulously and patiently start chipping away at any remaining dirt. Use to help you hunt it down and hopefully reach 100% before that 15L mark. Best of luck!
Phase Three | Missed Trophies, Misc Trophies, and Cleanup!
Sure, you have the majority of the biggest Powerwashing hurdles out of the way, but don't let your guard down yet. Before we get to that, though, now is a good time to go back and unlock any of the Semi-Missable Campaign Trophies you missed during the first phase of this Powerwash Simulator Trophy Guide.
When you're ready, focus on Good Dings to Come and Specialist. Good Dings to Come is a bit of a finicky trophy, and Specialist will take a good while to work through.
Aside from that, there's a handful of store-specific trophies that require you to spend in-game currency, but you should have plenty of that by now!
Don't give up yet, you're almost over the finish line, and that extra-shiny Platinum Trophy is well within your reach now!
Miscellaneous Powerwash Simulator Trophies
PlatGet!
Pressure's Off
Obtain all trophies
After collecting every trophy in this Powerwash Simulator Trophy Guide, the "Pressure's Off" Platinum Trophy will unlock. Congratulations!
Thanks for Reading
Plat Get!
Thank You!
Thank You for choosing PlatGet as your source for this Powerwash Simulator Trophy Guide.
Wondering what to complete next? Browse our complete guide selection or check out our friends at PlatPrices.com to filter the PS Store based on price, trophy difficulty, or completion time.
Got a question, some feedback, or just want to say thanks? Drop a comment in the discussion section below, we'd love to hear from you! No account required!!
We've Partnered with NordVPN
You may see links to NordVPN products and services on our site. Purchasing a NordVPN Subscription via one of these links is a great way to support us! You would be helping us continue releasing quality guides—as we'll receive a small commission—but you'll also get a great deal on the world's leading VPN!
Grab the Special Deal!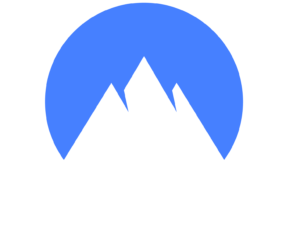 This Guide uses our Trophy Tracking features!
Here on PlatGet, you will sometimes see the new tracker on trophies in certain trophy guides. These tracking tools allow you to manually keep track of your own trophy progress without having to give us any personal details or create an account.
The tool uses localStorage to save and load your changes, allowing you to even leave and return in some cases. However, for best performance and to ensure your tracking details aren't lost, try to keep this tab open until you're done with your trophy journey and avoid refreshing as much as possible.
Close