Deep Space Rush Trophy Guide and Road Map
Deep Space Rush is a fast-paced platformer which can be platted in just 30 minutes, especially with the road map in this Deep Space Rush Trophy Guide.
Each level is very short but randomly generated. You can purchase items from the shop which will improve your chances of survival, and will not lose those purchases when you die.
Phase One – Complete 100 Zones and Kill 100 Enemies
There are two main objectives we have here in Deep Space Rush.
Firstly, you need to survive for 100 zones. Going from one zone to another is indicated by a change in background colour, and a door closing behind you. For example, going from a portion of the ship with green walls to a room with blue walls indicates that you are now in another zone.
You will need to pass through 100 of these zones. This total is actually cumulative, so you can do this over time across many lives rather than trying to do it in a single run.
Additionally, you will need to kill 100 monsters by shooting them. Most enemies take just 1 bullet to die, but tougher enemies can take a maximum of two bullets.
This total, too, is cumulative, meaning you can die as many times as you like without the counter resetting.
Watch out for opportunities to buy upgrades as you progress, however, as there are a few specific items you will need to buy from the shop. You'll also need to die at least once.
Once you've done all of that, which won't take long at all, the platinum will be yours!
Zone Survival Trophies
The following trophies will be awarded to you if you can survive for a cumulative total of 100 zones. There's a trophy at the 10, 20, 30, 40, 50, and 100 thresholds.

Walker
Complete 10 Zones in total

Runner
Complete 20 Zones in total

Hiker
Complete 30 Zones in total

Explorer
Complete 40 Zones in total

Trapper
Complete 50 Zones in total

Extreme Trapper
Complete 100 Zones in total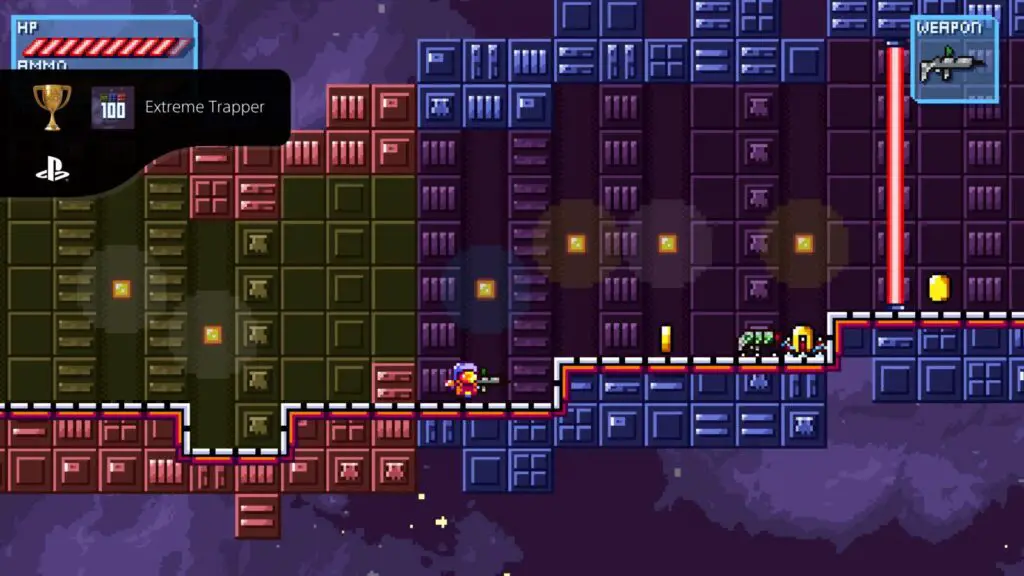 Enemy Kill Trophies
The following trophies will be awarded to you if you can kill a cumulative total of 100 enemies. There's a trophy at the 10, 20, 30, 40, 50, and 100 thresholds.

Trainee
Kill 10 Monsters in total

Novice
Kill 20 Monsters in total

Hunter
Kill 30 Monsters in total

Assasin
Kill 40 Monsters in total

Killing-Machine
Kill 50 Monsters in total

Super Killing-Machine
Kill 100 Monsters in total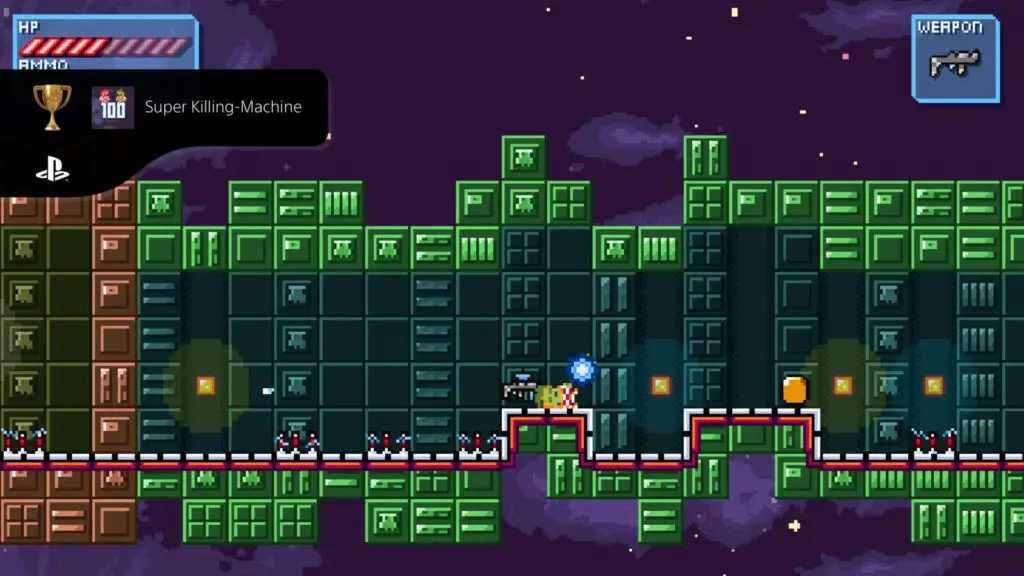 Miscellaneous Trophies
These last few trophies require you to purchase a few things in the store and die just one time.

Spender
Buy anything on the store
For this trophy, simply purchase any one item in the store. For 20 coins you can buy a heart and get the "Healer" trophy at the same time.

Healer
Buy a heart on the store
For this trophy you'll need to spend 20 coins to buy a Heart from the store. If this is your first purchase, you'll get the "Spender" trophy simultaneously.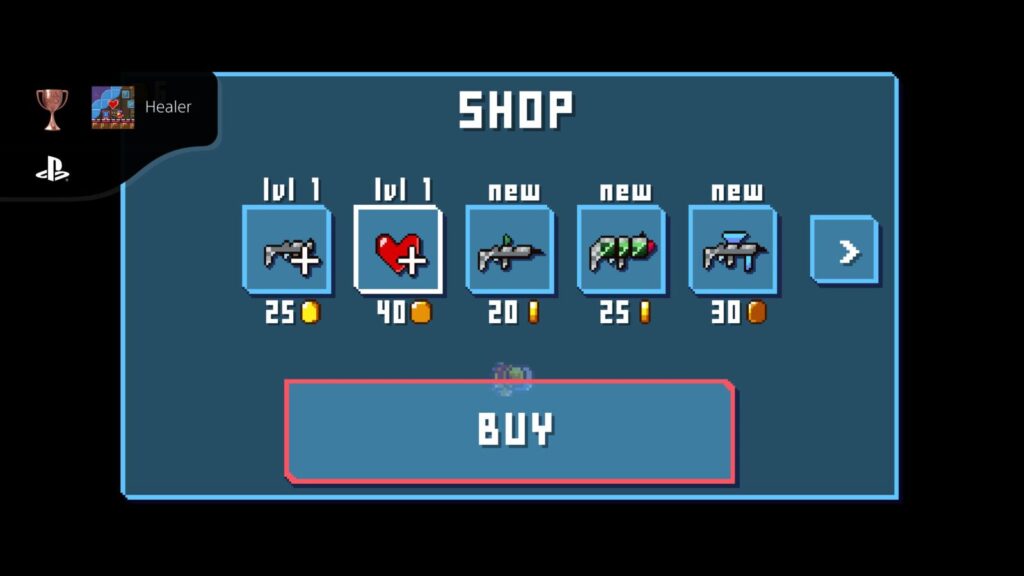 Super Spender
MAX an item on the store
For this trophy, you will need to buy upgrades for a single item five times in the store for that particular item to be maxed out.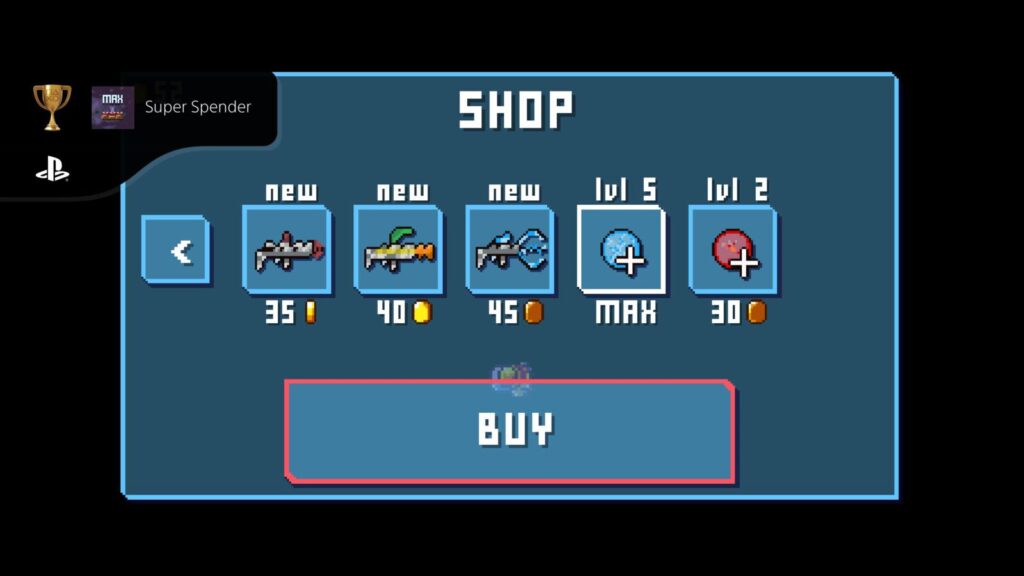 The most beneficial items to upgrade in this way would either be your health or your weapon. However, the cheapest and therefore quickest way to achieve this trophy is by upgrading the red and blue spheres.
It is up to you how you choose to do this, as long as an item gets maxed out.

Corpse
Get killed by a monster
Despite the trophy description specifying that you must be killed "by a monster", you actually just need to die once in any way to unlock this trophy.
Plat Get!

Platinum DeTeam
Get all other trophies
Once you've made enough purchases from the store, survived 100 zones, and killed 100 enemies, this platinum trophy is all yours.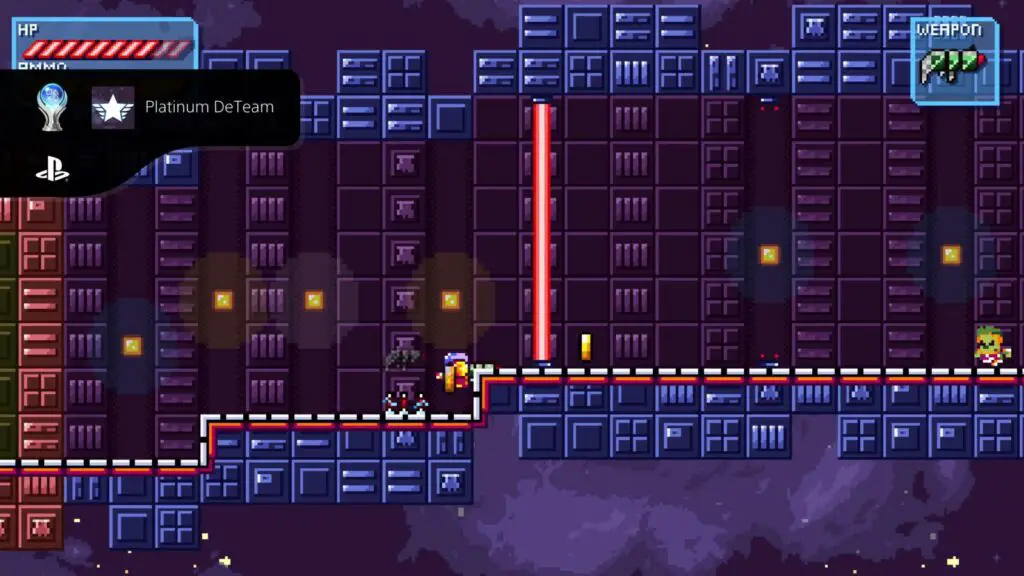 Full Disclosure: You won't find this platinum trophy on my PSN Profile, I used my alt account PlatGet_DblTap, so look there if you're hoping to verify!
If you enjoy collecting quick and easy Platinum Trophies like this one, check out our full list of Quick and Easy Platinum Trophies, all of which can be earned in an hour or less!
Thank you for choosing PlatGet as your source for this Deep Space Rush Trophy Guide, consider checking out our reviews and other guides!
Follow us on twitter @GetPlat or Instagram @platget for updates on new reviews and guides, as well as small anecdotes about our platinum journeys.