A Winter's Daydream Trophy Guide and Road Map
This game's trophy list consists of 11 Gold trophies and a Platinum. It's the easiest platinum I've ever earned and this A Winter's Daydream Trophy Guide doesn't really need to exist…
I'll level with you here. Just press

. Just press it and keep pressing it and within about 20-30 minutes you'll have a new Platinum in your collection. Nothing is missable, there are no important choices… You can read the story if you want. It might make that £4.99 feel like it was better spent.
The only thing to really note here is that the Credits are not the end of the game. You need to keep hitting

for a few more minutes once the Credits roll to get the last few trophies and the Platinum.
Phase One – "Read" the Story
Like I said already, just hit

until the platinum drops. Whether you read the story or not is up to you.
Unmissable Story Trophies
Start of a journey
Return home
Present for you
Receive a gift from your little sister
Magical transformation
Witness something incredible
Sweet treat
Watch your grandmother sample a cute dessert
Frozen tears
When things don't go according to plan…
Two hearts beating
Preside over a tearful reunion
Fit for a princess
Repair your relationship with your little sister
Bus ride
Take a bus ride
Antiques shop
Visit antiques shop
Credits
Got to the credits
End of the story
Finish reading
Plat Get!
A Winter's Daydream Platinum
Good job! Completed all tasks!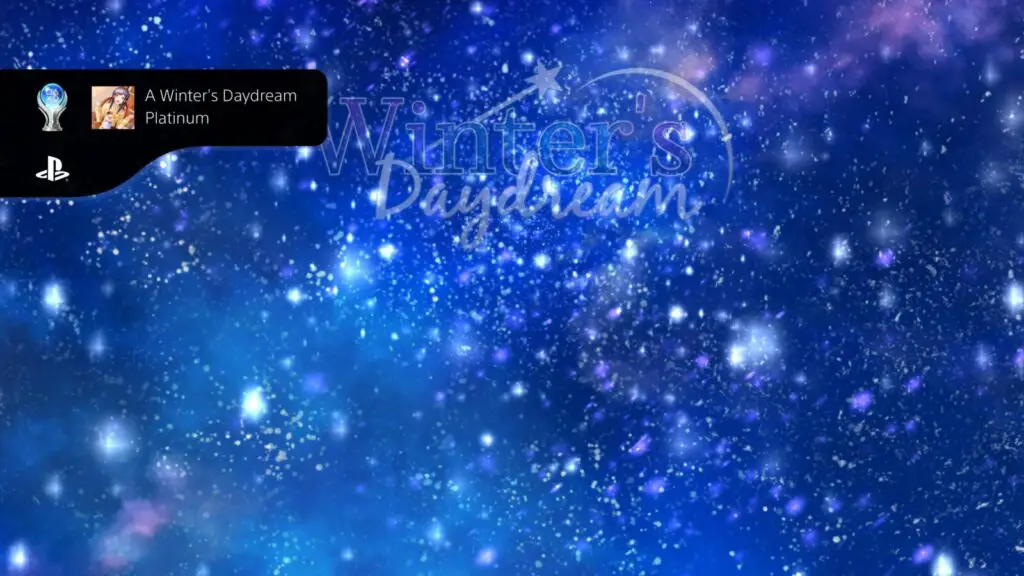 Full Disclosure: You won't find this platinum trophy on my PSN Profile, I used my alt account PlatGet_DblTap, so look there if you're hoping to verify!
If you enjoy collecting quick and easy Platinum Trophies like this one, check out our full list of Quick and Easy Platinum Trophies, all of which can be earned in an hour or less!
Thank you for choosing PlatGet as your source for this A Winter's Daydream Trophy Guide, consider checking out our reviews and other guides!
Follow us on twitter @GetPlat or Instagram @platget for updates on new reviews and guides, as well as small anecdotes about our platinum journeys.