112th Seed Trophy Guide and Road Map
Welcome to our 112th Seed Trophy Guide. 112th Seed is a short platforming puzzle game with retro graphics. It has a platinum you can earn in as little as 15-30 minutes.
By pushing blocks around and using water with soil to plant yourself and grow additional platforms, you need to make your way to the receptacle at the end of each stage.
Phase One – Complete Level 30
Similar to the game Clash Force, there's only one thing you will need to do to guarantee you earn every trophy, including the platinum, and that is to just complete level 30. There are no misc trophies or alternative objectives, you just need to make it to the end of the 30th Stage.
Progress Trophies
For certain levels – seemingly at random – you will be awarded a trophy. Those levels are 1, 2, 3, 4, 5, 7, 9, 11, 13, 15, 20, 25, and 30. By simply reaching and completing level 30, you're guaranteeing every other trophy, including the platinum.
Level 1
Complete level 1
Level 2
Complete level 2
Level 3
Complete level 3
Level 4
Complete level 4
Level 5
Complete level 5
Level 7
Complete level 7
Level 9
Complete level 9
Level 11
Complete level 11
Level 13
Complete level 13
Level 15
Complete level 15
Level 20
Complete level 20
Level 25
Complete level 25
Level 30
Complete level 30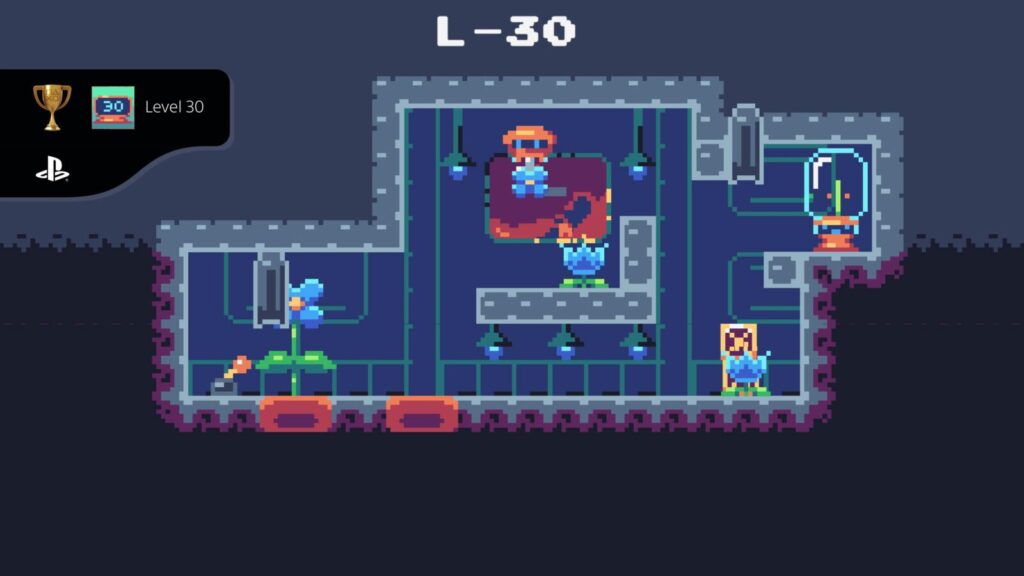 Plat Get!
Puzzle Master
Unlock all other trophies
With Level 30 beat, and all other trophies naturally earned, this Platinum is all yours.
Full Disclosure: You won't find this platinum trophy on my PSN Profile, I used my alt account PlatGet_DblTap, so look there if you're hoping to verify!
If you enjoy collecting quick and easy Platinum Trophies like this one, check out our full list of Quick and Easy Platinum Trophies, all of which can be earned in an hour or less!
Thank you for choosing PlatGet as your source for this 112th Seed Trophy Guide, consider checking out our reviews and other guides!
Follow us on twitter @GetPlat or Instagram @platget for updates on new reviews and guides, as well as small anecdotes about our platinum journeys.