PlayStation 5
Sable Trophy Guide
Trophies
1
1
9
46
FAQ
How long does it take to beat Sable and unlock all trophies?
How difficult is it to beat Sable and unlock all trophies?
Does Sable have online trophies?
Does Sable have difficulty-specific trophies?
Does Sable have missable trophies?
Does Sable have glitched trophies?
What is the minimum number of playthroughs required to unlock all trophies in Sable?
Does Sable have a Platinum Trophy?
Sable Trophy Guide and Road Map for PlayStation 5
Welcome to our Sable Trophy Guide. Sable is a tranquil and enjoyable Indie Open-World RPG that is unfortunately riddled with bugs. The game has a tendency to freeze up, glitch out, or just straight up stop loading things in. Fortunately, not one of these myriad bugs I was impacted by had any effect on the trophies or my ability to earn them!
Despite these bugs which I'd face about once per hour, the game is still very enjoyable. The deserted post-apocalyptic basin that we get to explore is teeming with curiosities. There's no death or difficulty, simply exploration and reward! The art style, too—which reminds me of Rollerdrome—helps to elevate this game's endless charm.
If you do find yourself glitched out, stuck in an object, or frozen, you can usually either Fast Travel elsewhere or save the game and restart it to fix the issue. It's a small price to pay for the opportunity to enjoy this game, however, it is still a price that we shouldn't be paying at all in 2023.
Phase One | Uncover the Map, Find NPCs, Complete Quests, and earn Masks
During this first phase of our Sable Trophy Guide, you should simply focus on enjoying yourself.
Sure, there are things you can do here to make your trophy journey less of a hassle—which are listed below—but, ultimately, nothing is missable in this small open-world indie adventure. Enjoy exploring, allow yourself to get distracted and lost in the desert, and interact with everything that piques your curiosity. However, along the way, you should speak to every NPC you can, as this is how you'll get Quests as well as Badges. Badges are how you'll create Masks and eventually collect them all.
The main questline is called "The Gliding" and there are many other quests that will be automatically completed along the way as you make your way further and further out into the open deserts. You should uncover the map as you go, making sure to explore the unexplored and purchase maps from Cartographers as you find them. The game ends when you return to the Ibexii Camp and choose your final mask from the selection you've gathered. Obviously, don't do this until you're ready to end your trophy journey.
While doing so, it would be wise to also do the following throughout this phase:
Allow me to reiterate; speak with all NPCs you encounter, even those without speech bubbles. Press to initiate a conversation, as they might offer a quest.
Capture Butterflies/Dragonflies in the desert by approaching them and pressing . Aim to collect one of each type for the Vivarium, and sell any extras.
Drive through rings protruding from the sand on your bike to activate them. Unlocking all rings in an area reveals a nearby ruin with a "Chum" at the top and a Hicaric Ring inside. If you find a locked ruin, search the sand nearby for rings to drive through.
Investigate greyed-out areas on the map after purchasing one. These locations often feature fast-travel points and numerous NPCs to interact with. Also, follow pillars of smoke on the horizon, as they may lead to points of interest.
Gather "Chum" worms by pressing on them when you see them. They will plant themselves into the ground and produce an egg. You will need to collect at least 100 of these, but there are far more available (165) throughout the game. The controller vibrates quite violently when one is nearby, so check every nook and cranny whenever you feel a consistent rumble.
Complete every quest you receive. While they may not always provide a badge needed for a mask, they often lead to locations with a high chance of containing a "Chum" for you to collect.
Although we're getting the majority of Masks in this phase, we're leaving some annoying ones like The Angler Mask until later.
Unmissable Story Trophies

Got Your Nose
Collect an elephant beetle
You will need to catch Beetles for Saima quite early in the story for the Quest "Beetle Detour." The Beetles in the nearby nest, where the compass waypoint leads you, are Elephant Beetles. The quest requires you to catch three, but actually the "Got Your Nose" trophy will unlock when you catch the first one.
To catch one, climb up the nearby upside-down teardrop-shaped rock formations with big green patches on their sides. These patches have a round brown seed at the center and fall off the rock when you climb into them.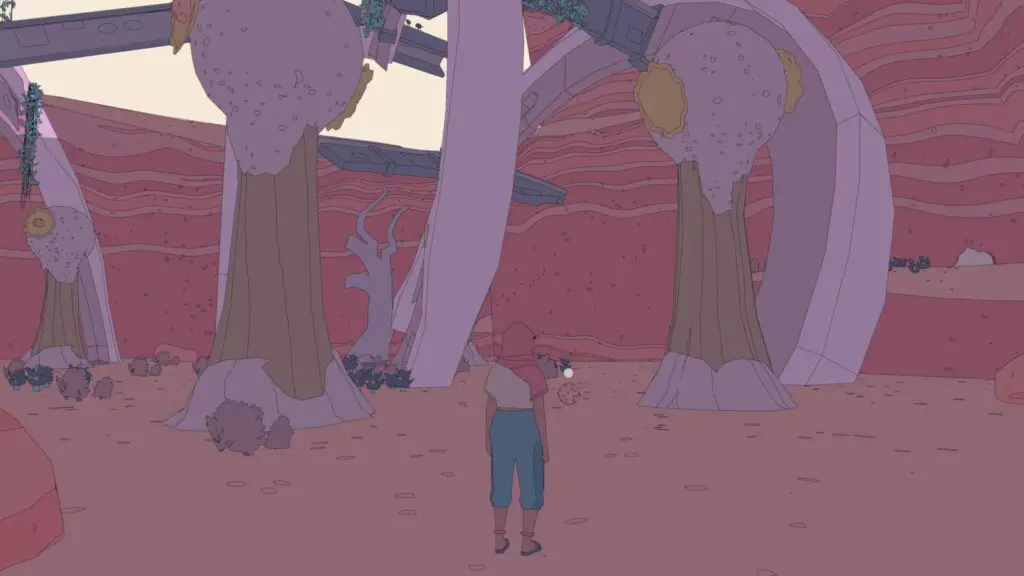 Back on the ground, pick the seed up, and throw it to a nearby Beetle. It will begin eating the seed and you can walk right up and grab the beetle with

while it is distracted!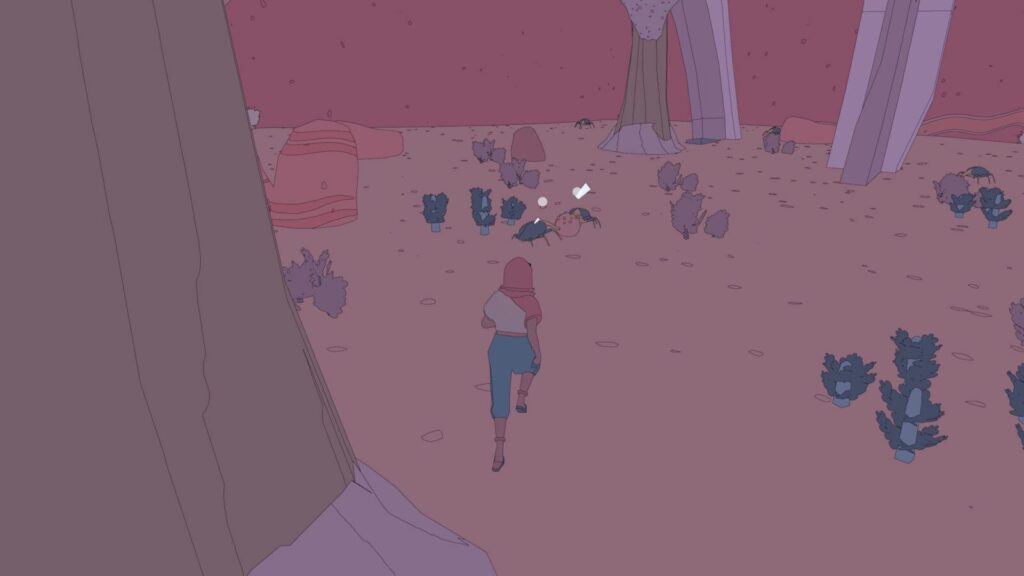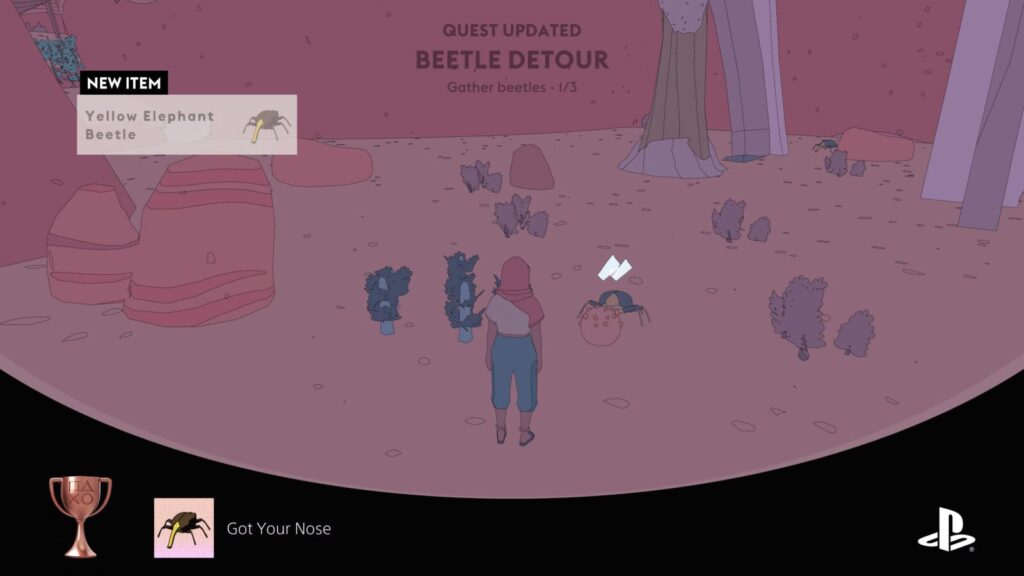 Simoon
Build your hoverbike
As part of the story, you will build your hoverbike with Sizo before leaving Ibex Camp. This whole chain of quests acts as something of a tutorial and gets you into the swing of the game's mechanics before setting you loose on the open world.
It's a totally unavoidable part of the story and so the "Simoon" trophy will unlock naturally.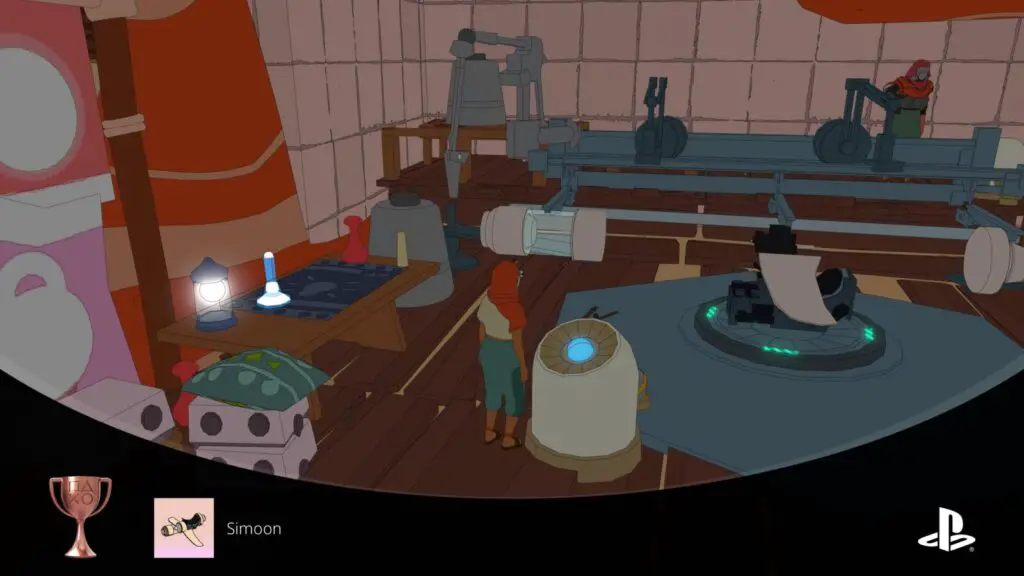 Just The Two of Us
Leave the Ewer
As part of the story, you will eventually leave "The Ewer," which is the small region where Ibex Camp is on the map. Upon doing so for the first time, the "Just the Two of Us" trophy will unlock naturally.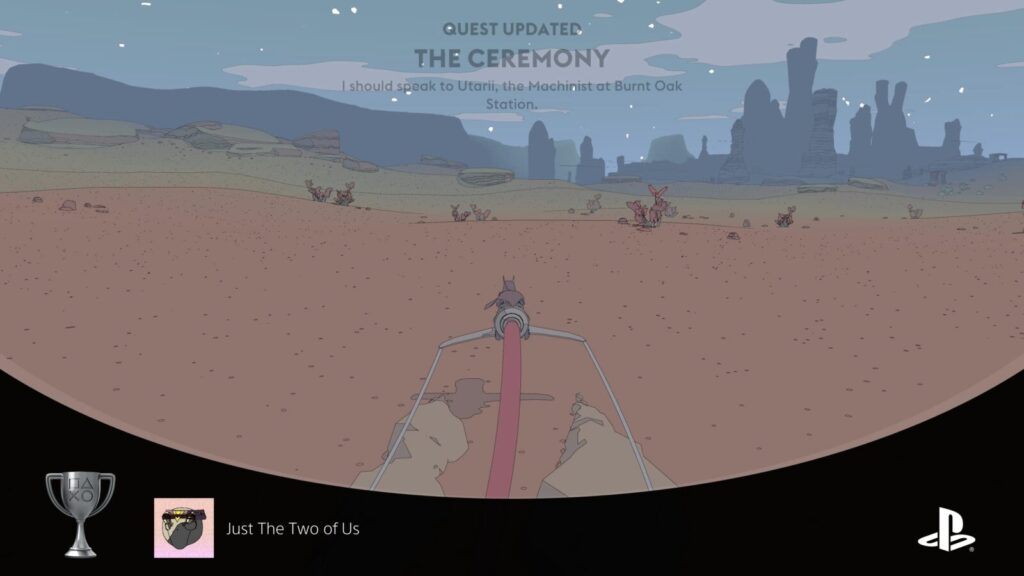 NPC/Quest Trophies
Mask Trophies
Phase Two | Misc Cleanup
At this point in your trophy journey, you should hopefully know your way around the map a bit better, and have access to lots of Fast Travel Locations. The first thing you should do, if you haven't already, is finish buying Cartographer's Maps. These will be extremely useful in expediting the remainder of your trophy journey.
Once you're ready, there are three main focuses here:
Besides the above, there are a handful of misc trophies which will require some vigilant exploration of the map, nothing to extraneous though!
Phase Three | Choose Your Mask
With everything else done, it's time to return to the Ibexii Camp at the Ewer and make your final decision on the mask Sable will wear for the rest of her life. It's the final step of our Sable Trophy Guide so you can expect to have your Platinum real soon!
Choose Your Mask
The Gliding
Choose your mask
This should be your final action in the game, so save this one for when you're ready to unlock the Platinum and set your controller down. Once you have at least one mask from the Mask Caster, you will receive a new message from Jadi at the Postbox. You can find Postboxes at any major settlement/camp.
Once you've heard her message, the Ibexii will return to the Ibex Camp and you can now return there to finish off the story by selecting the mask you think best suits Sable's future. Upon doing so, the game will end and the "The Gliding" trophy will unlock after the credits!
PlatGet!

Glider
Unlock all other trophies
After collecting every trophy in this Sable Trophy Guide, the "Glider " Platinum Trophy will unlock. Congratulations!
Thanks for Reading
Plat Get!
Thank You!
Thank You for choosing PlatGet as your source for this Sable Trophy Guide.
Wondering what to complete next? Browse our complete guide selection or check out our friends at PlatPrices.com to filter the PS Store based on price, trophy difficulty, or completion time.
Follow us on Twitter @GetPlat for updates on new guides and occasional anecdotes about our platinum journeys.
We've Partnered with NordVPN
You may see links to NordVPN products and services on our site. Purchasing a NordVPN Subscription via one of these links is a great way to support us! You would be helping us continue releasing quality guides—as we'll receive a small commission—but you'll also get a great deal on the world's leading VPN!
Grab the Special Deal!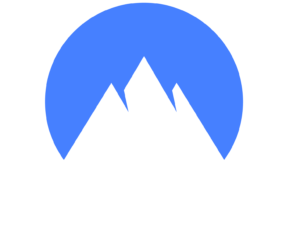 This Guide uses our Trophy Tracking features!
Here on PlatGet, you will sometimes see the new tracker on trophies in certain trophy guides. These tracking tools allow you to manually keep track of your own trophy progress without having to give us any personal details or create an account.
The tool uses localStorage to save and load your changes, allowing you to even leave and return in some cases. However, for best performance and to ensure your tracking details aren't lost, try to keep this tab open until you're done with your trophy journey and avoid refreshing as much as possible.
Close