PlayStation 4
Of Tanks and Demons III Trophy Guide
Trophies
1
9
8
FAQ
How long does it take to beat Of Tanks and Demons III and unlock all trophies?
How difficult is it to beat Of Tanks and Demons III and unlock all trophies?
Does Of Tanks and Demons III have online trophies?
Does Of Tanks and Demons III have difficulty-specific trophies?
Does Of Tanks and Demons III have missable trophies?
Does Of Tanks and Demons III have glitched trophies?
What is the minimum number of playthroughs required to unlock all trophies in Of Tanks and Demons III?
Does Of Tanks and Demons III have a Platinum Trophy?
Of Tanks and Demons III Trophy Guide and Road Map
Of Tanks and Demons III is presumably the third title in a series of games but I've not been able to find any information about the other two being on PlayStation consoles, so I suppose this is the first one we get. The platinum for this game is very easy with the use of a cheat code, but can prove a little more challenging without it. So, bear that in mind going forth with our Of Tanks and Demons Trophy Guide.
In the interest of offering the quickest way to the platinum, I will be using the cheat code throughout the guide, but you should be able to arrive at the platinum legitimately using the information provided too.
Phase One – Play Until Level 23
Reaching Level 23 could be quite difficult, it depends how good you are at the game. However, those of us using the cheat code will have a blast.
We're going to use the cheats to enable god mode and give ourselves a whole lot of money (Photons).
With God Mode enabled, reaching level 23 will take no time at all.
God Mode and Photon Cheat Codes
At the main menu, select "New Game" and then immediately press

to return to the main menu. Here, you'll see there is now a "Continue" option. Now you'll need to enter the full cheat code. You may recognise this cheat code if you have used our Dark Sauce guide as it is the exact same:

,

,

,

,

,

,

,

,

,

,

Once you've entered the above button combination, a new menu will open up, within which you can activate "God Mode" and also give yourself Photons. Select "Continue" when you're done to head to the level selection screen.
At this point, feel free to enter the shop by pressing

and purchase all tanks and tank upgrades with your illegitimately acquired Photons. However, for the sake of those hoping to play the game legitimately, I'll leave that until the next phase of the journey.
If you are playing legitimately, please purchase any new tanks and upgrades as and when you can between stages. This will improve your chances of survival but also put you on the path to earning some of the trophies listed in Phase 2.
Level-Specific Trophies
Here are the level-specific trophies you'll be looking to earn for each stage.
This trophy will unlock once you beat the first boss of the game, found in Level 3. You will need to shoot it 5 times.
Once you have beat your fifth level, this trophy will unlock.
The second boss, who you will need to beat for this trophy, can be found in Level 8. You will need to shoot it 8 times.
Upon completion of the tenth stage, you'll receive this trophy.
Just 2 stages later on your twelfth stage completion, you'll unlock this trophy.
The final boss is found all the way on level 23. Even with God Mode active, this boss fight can take a while to complete, but once you do you will earn this trophy.
Photon Trophies
Whether via illegitimate means or not, by the time you've reached and completed level 23, you should have the following Photon trophies for collecting 50, 100, and 150 photons respectively.
There are around 100 photons in each level, so even legitimately these should all unlock very early on.
Miscellaneous Trophies
These trophies will be pretty hard to avoid unlocking during your playthrough of all 23 stages, unless you're literally avoiding killing enemies or boosting.
You just need to kill a cumulative total of 72 enemies for this trophy. Which, throughout 23 whole stages is going to be pretty hard to avoid, but you can always grind this out in the first few stages if there's somehow a need to do so.
You can boost with nitro by pressing

or

. To unlock this trophy you'll need to do it a cumulative total of 60 times throughout the whole game. You'll get 5 boosts at the start of each stage but these can be refilled via supply drops.
I don't see you missing this trophy across 23 whole stages, but you can always just farm them out in the first few levels if you need to.
Phase Two – Miscellaneous Trophy Cleanup and Tank Purchase
You may well have earned many of these trophies naturally. Those playing legitimately should already have many of the tank upgrades and purchases, and those using the cheat code most certainly will.
Tank Purchase Trophies
Access the store from the level select screen by pushing

and then purchase all 5 additional tanks. In total, you will need 28,500 Photons to buy them all.
Iron Beast 1,000 Photons
Thunder 2,500 Photons
Hell Buster 5,000 Photons
Air Doom 8,000 Photons
Red Shadow 12,000 Photons
Glitch Warning: If you do not purchase the tanks in the correct order (left-to-right) and – for example – purchase Red Shadow from the beginning, you will lock yourself out of purchasing the lower-tier tanks and therefore void the trophy. Ensure you purchase them in the correct order, otherwise you must start a new game.
Tank Upgrade Trophies
When you select a stage from the Level Select screen, you'll be taken to a screen where you can purchase upgrades for your currently equipped tank. There are a total of four upgrades per tank as listed below:
Speed 1,200 Photons
Weapon 2,800 Photons
Armor 1,200 Photons
Nitro 2,800 Photons
The upgrade costs do not differ between the tanks and you only need to purchase all upgrades for one tank. Each upgrade must be purchased 5 times. Each time an upgrade is purchased, a red light will turn on underneath it. All 5 lights must be turned on for all 4 upgrades on one tank for the "Fully Stuffed" trophy to unlock.
Purchase your first upgrade
Purchase all upgrades for one tank
I Like This Music! Trophy
This is probably the only trophy you'll really need to look out for and go out of your way to unlock.
Don't leave a level after it ends
At the end of any stage, once you have collected every Photon, a shuttle will come to collect you. Don't enter the shuttle. In fact, don't move at all.
After around 50 seconds, the music will restart, and you'll be awarded this trophy. At which point it is, of course, safe to enter the shuttle and finish the stage.
Plat Get!
Once you've collected every other trophy in this Of Tanks and Demons Trophy Guide, you'll find this platinum added to your collection!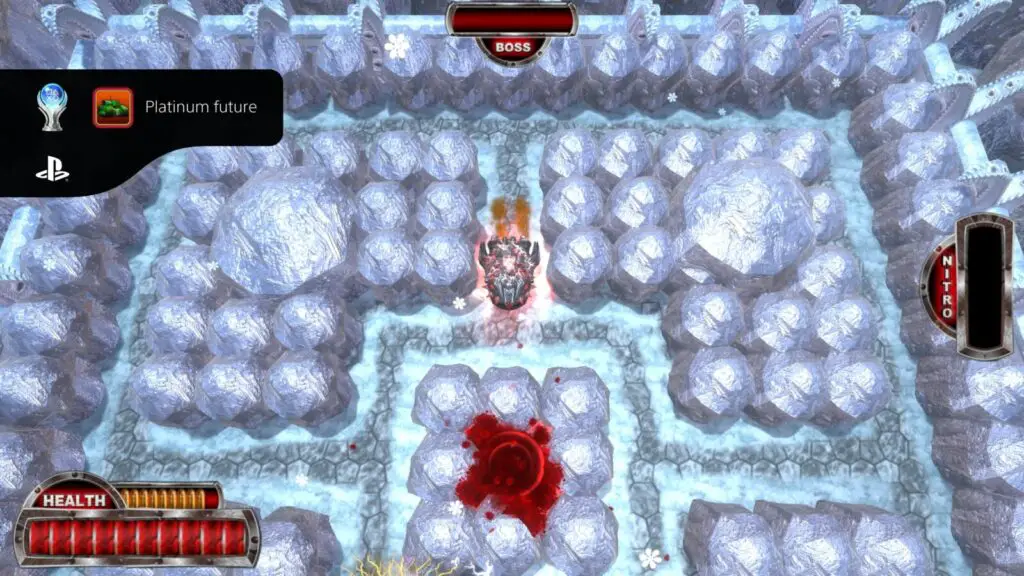 Full Disclosure: You won't find this platinum trophy on my PSN Profile, I used my alt account PlatGet_DblTap, so look there if you're hoping to verify!
If you enjoy collecting quick and easy Platinum Trophies like this one, check out our full list of Quick and Easy Platinum Trophies, all of which can be earned in an hour or less!
Thank you for choosing PlatGet as your source for this Of Tanks and Demons Trophy Guide, consider checking out our reviews and other guides!
Follow us on twitter @GetPlat or Instagram @platget for updates on new reviews and guides, as well as small anecdotes about our platinum journeys.
We've Partnered with NordVPN
You may see links to NordVPN products and services on our site. Purchasing a NordVPN Subscription via one of these links is a great way to support us! You would be helping us continue releasing quality guides—as we'll receive a small commission—but you'll also get a great deal on the world's leading VPN!
Grab the Special Deal!