PlayStation 4, PlayStation 5
Night Lights Trophy Guide
Trophies
1
11
FAQ
How long does it take to beat Night Lights and unlock all trophies?
How difficult is it to beat Night Lights and unlock all trophies?
Does Night Lights have online trophies?
Does Night Lights have difficulty-specific trophies?
Does Night Lights have missable trophies?
Does Night Lights have glitched trophies?
What is the minimum number of playthroughs required to unlock all trophies in Night Lights?
Does Night Lights have a Platinum Trophy?
Night Lights Trophy Guide and Road Map for PS4 & PS5
Welcome to our Night Lights Trophy Guide. Night Lights is an indie platformer that uses light and shadows in interesting ways to create puzzles for you to solve. You play as a small robot that can find up to four skill upgrades that make traversing the night a little bit easier. Night Lights is available on PS4 & PS5.
Phase One – Collect all Four Upgrades
In this phase of our Night Lights Trophy Guide, you will be playing through the levels available to you and unlocking the four upgrades along the way. The goal of Night Lights is to use light and shadows in intelligent ways to solve environment puzzles while collecting lightning bolts and diamonds.
Diamonds are needed to power cubes that unlock portals for your bot to travel through, while lightning bolts will give you extra energy for your upgrades. You will need to collect 150 total lightning bolts to unlock Shockwave, Ride The Lightning, High Voltage, and Thunderstruck; however, you start with 100 lightning bolts already, so you only need to collect an additional 50.
The Desert is the third and largest area in Night Lights and is the location of all four upgrades. The upgrades are hidden in pits which require you to solve puzzles on the surface to get to them. You will need diamonds to complete these puzzles, so it's recommended that you explore some of the sub-levels to collect as many as you can.
Keep in mind that you don't have to complete all the 45 levels in Night Lights to get the platinum; you only need to complete enough to get you the necessary diamonds to help solve the four upgrade puzzles in the Desert area. Below is a screenshot of the levels I had finished by the time the platinum popped for me.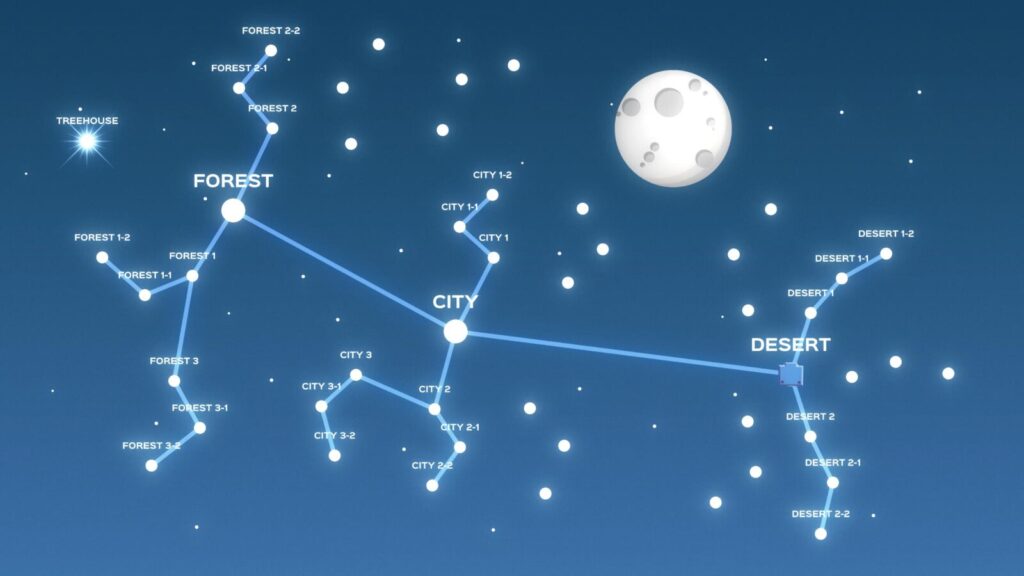 Phase One Trophies
City Lights
Discover the city location.
City Lights will unlock after clearing the Forest area and upon reaching the City area for the first time.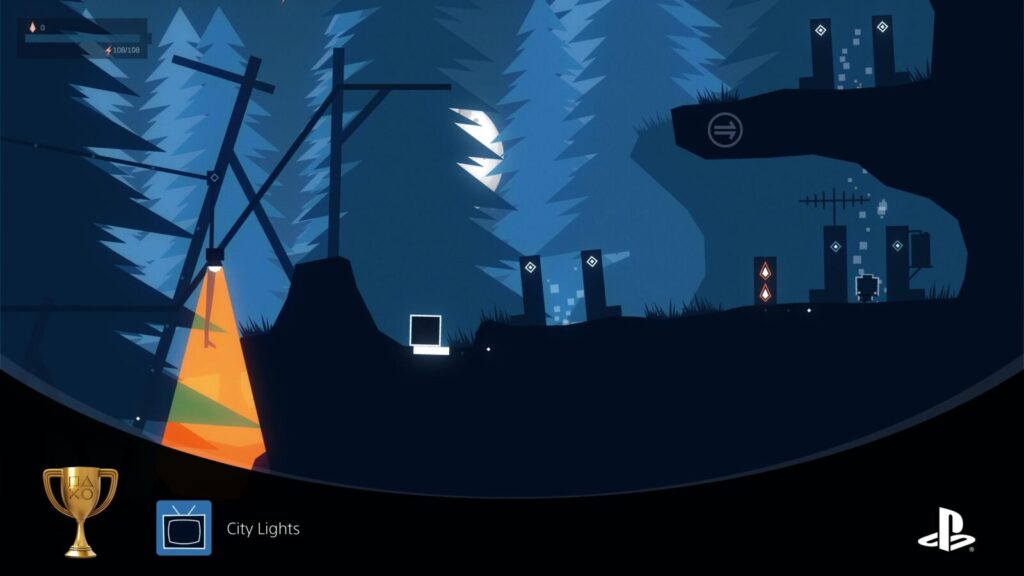 Cut!
Witness the longest tracking shot in video game history.
Cut! will unlock upon reaching the Desert area, which is the largest area of the three locations.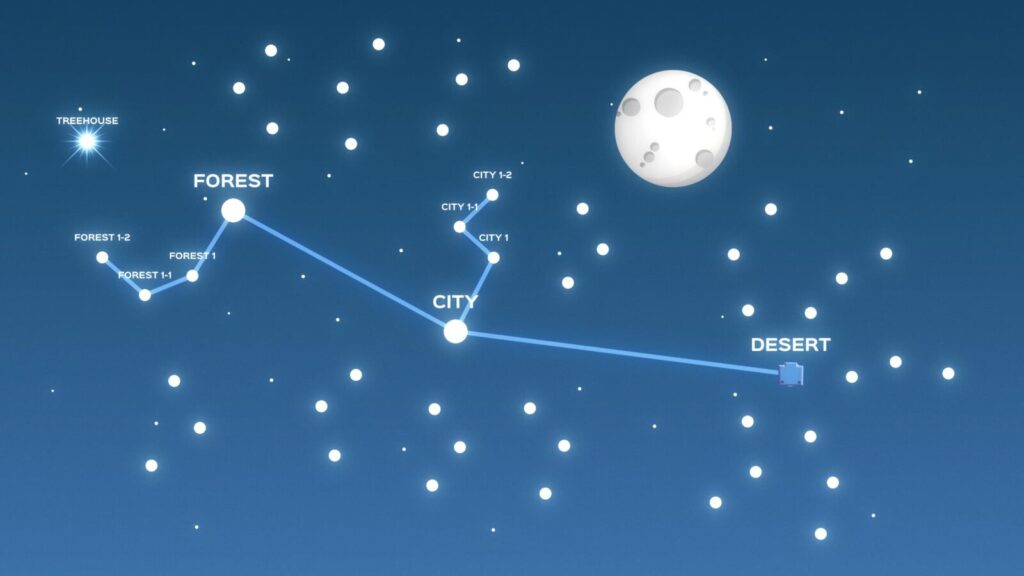 Run Bot Run
Obtain the run upgrade.
You can find all four upgrades with the Desert area. To unlock Run Bot Run, you must solve the first puzzle to lower the platform down into the pit that holds the run upgrade. The upgrade puzzles will appear as two large black towers with a platform and switch suspended at the top. There will also be an icon of the available upgrade that is hiding below.
The run upgrade will give you a slight speed boost when you press and hold

. This also gives you the extra distance to your jump.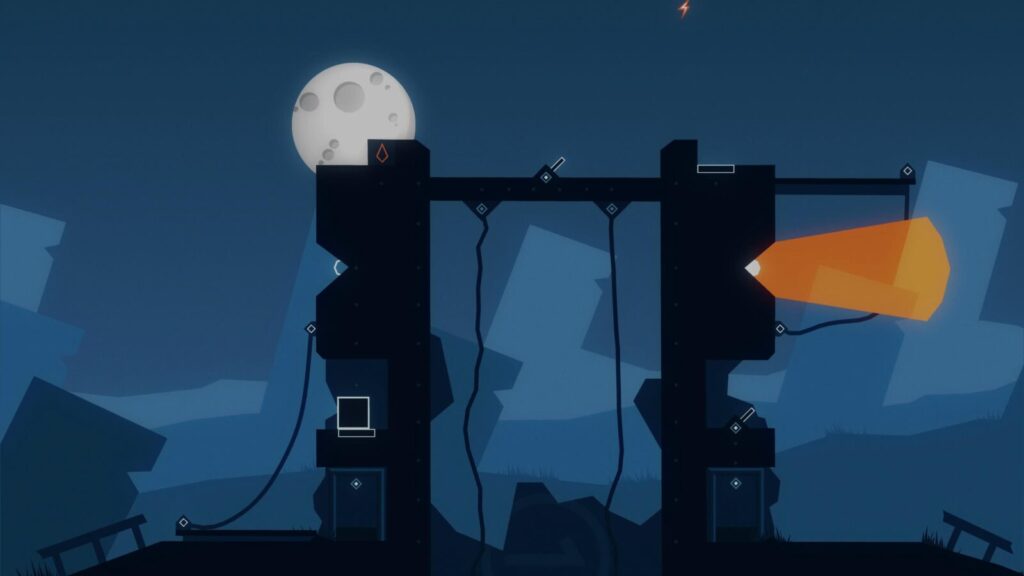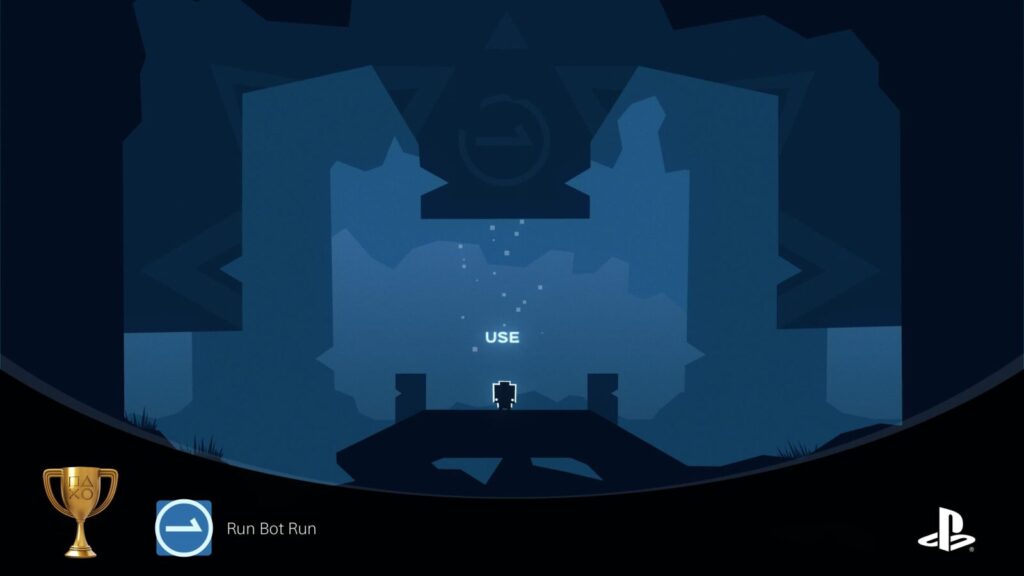 Double-jump
Obtain the double-jump upgrade.
Double-jump will unlock as soon as you solve the second upgrade puzzle in the Desert. Double-jump will let you jump a second time in mid-air (by pressing

a second time) which helps you reach taller platforms or get a bit more distance to your jump.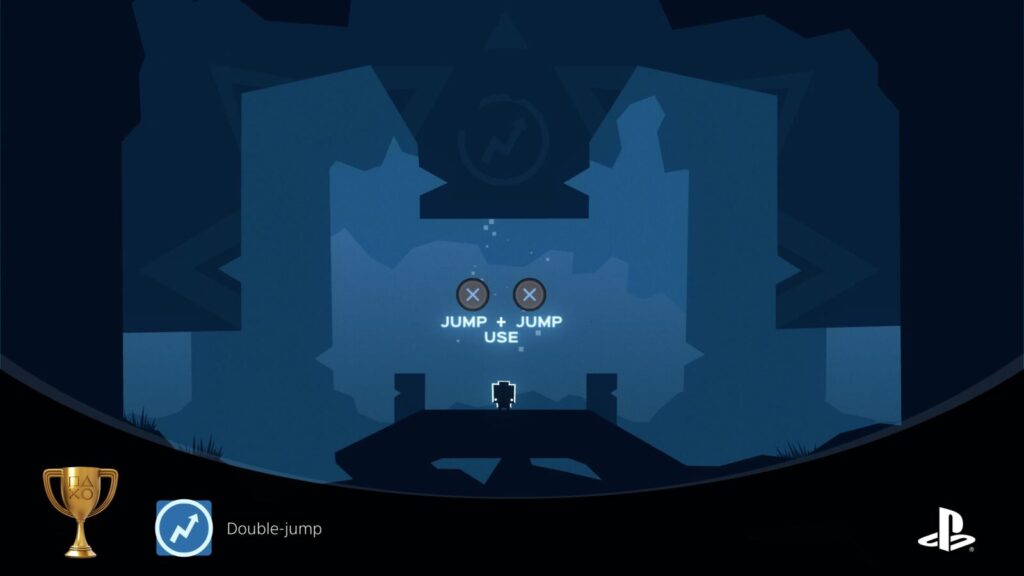 Let There Be Light
Obtain the head bulb upgrade.
Let There Be Light will unlock upon completing the third upgrade puzzle in the Desert. You can activate the head bulb upgrade by pressing

and it will light up, revealing hidden paths in the black platforms.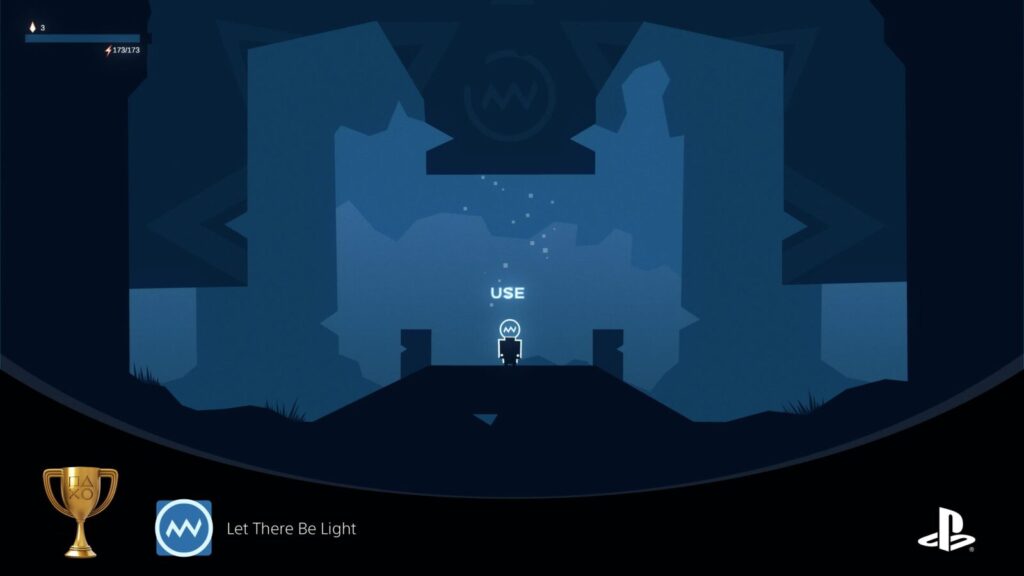 Dashing
Obtain the dash upgrade.
Dashing will upgrade after solving the final upgrade puzzle in the Desert. You can use the dash upgrade by pressing

either on the ground or in mid-air. Dashing lets you cover a lot of distance in a single quick burst which is excellent for making long jumps across significant gaps.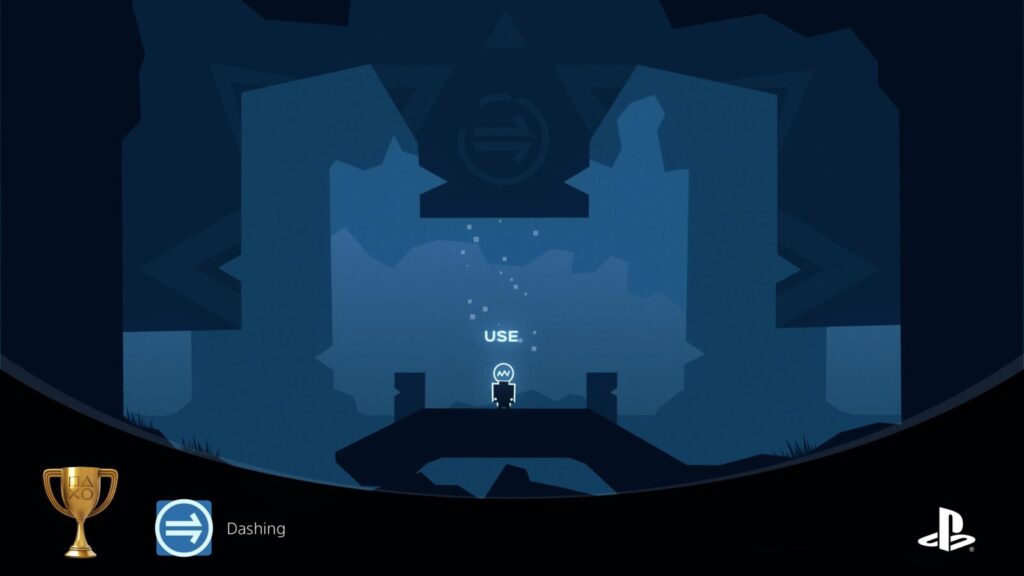 Star Light, Star Bright
Reach the crash site.
To unlock Star Light, Star Bright, continue heading to the right after unlocking the final upgrade for your bot, and you will eventually come to a large circular shape in the ground. In the very center of this circle is a star. This is the crash site the trophy is referring to.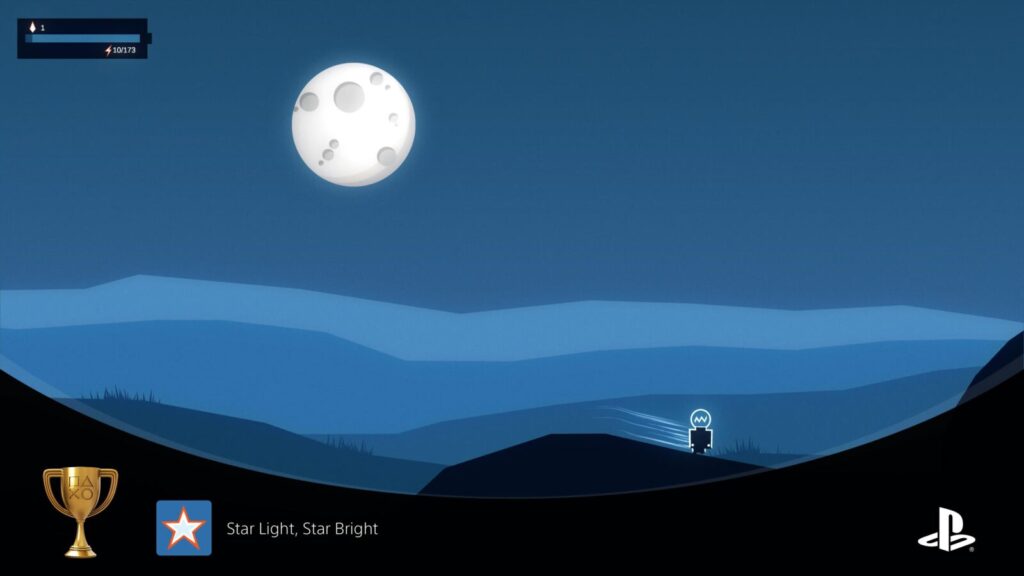 Phase Two – Clean Up (optional)
This phase of our Night Lights Trophy Guide is only for those who didn't collect enough lighting bolts in phase one.
Press

and travel back to the earliest levels. Now that you have all four upgrades traversing the levels and collecting those hard-to-reach lightning bolts you likely saw and had to leave behind during your first visit will now be easy to get to. There are plenty of lightning bolts in every level that you might find yourself only revisiting a few before you end up collecting a total of 150.
Phase Two Trophies
Shockwave
Reach 110 lightning bolts.
See Thunderstruck
Ride The Lightning
Reach 120 lightning bolts.
See Thunderstruck
High Voltage
Reach 130 lightning bolts.
See Thunderstruck
Thunderstruck
Reach 150 lightning bolts.
The bot in Night Lights requires energy to perform any of the four upgrades. You will automatically start with 100 but will need to collect 50 more to bring the total up to 150. Lightning bolts appear as white bolts with a thick orange outline and will often be floating in both easy and hard-to-reach places. You will likely have to abandon many of them at the start of the game as you will not have the upgrades necessary to reach a certain height or jump a certain gap.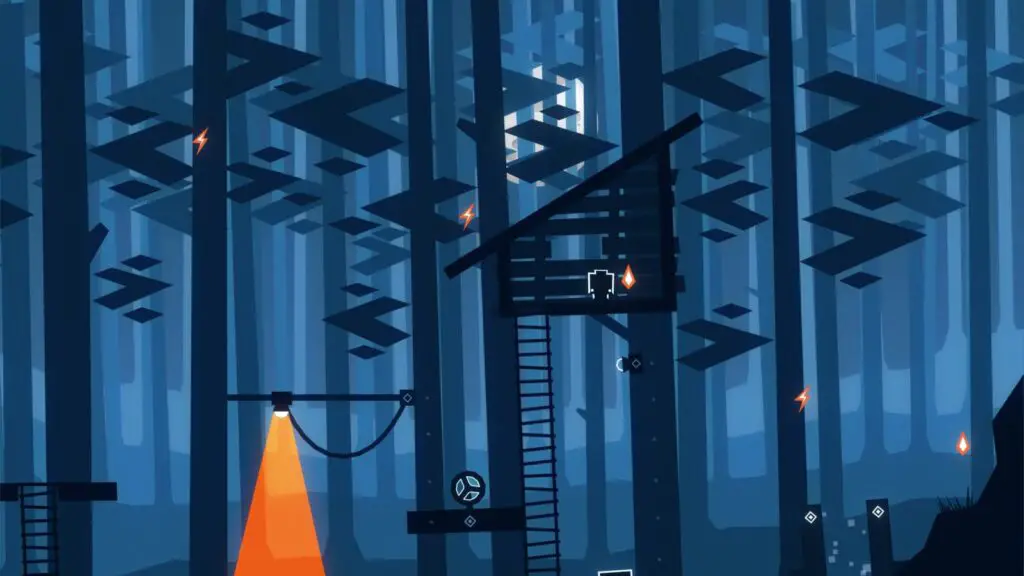 To unlock Thunderstruck, it's recommended that you revisit earlier areas every time you acquire a new upgrade and collect any lightning bolts you had to leave behind previously.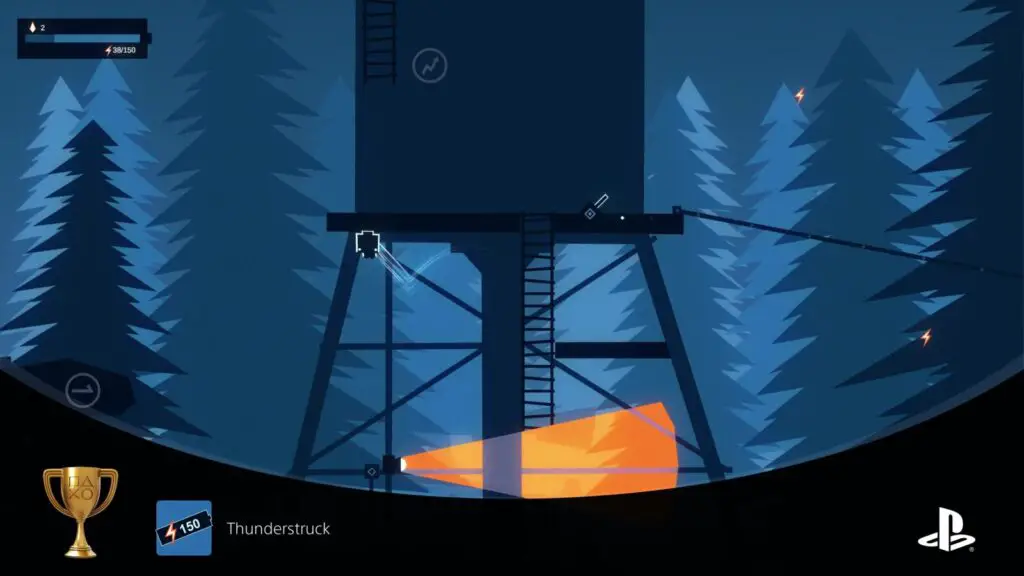 Plat Get!
Platinum Night
Get all other trophies.
Once you have acquired every other trophy in this Night Lights Trophy Guide, the Platinum Trophy will unlock.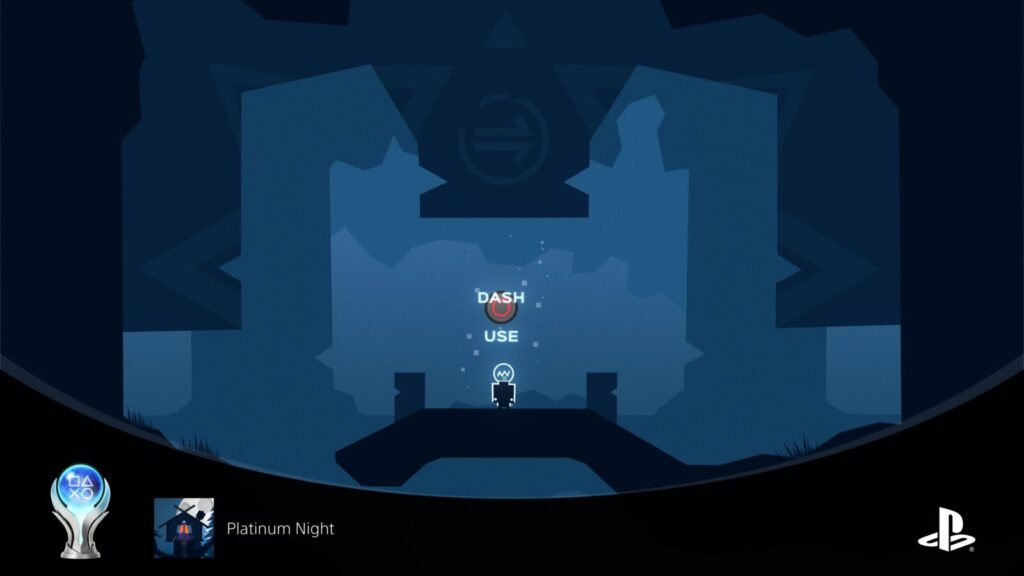 Thank you for choosing PlatGet as your source for Night Lights Trophy Guide. Consider checking out our other guides!
If you enjoy collecting quick and easy Platinum Trophies like this one, check out our full list of Quick and Easy Platinum Trophies, all of which can be earned in an hour or less!
Follow us on Twitter @GetPlat or Instagram @platget for updates on new reviews and guides, as well as small anecdotes about our platinum journeys.
We've Partnered with NordVPN
You may see links to NordVPN products and services on our site. Purchasing a NordVPN Subscription via one of these links is a great way to support us! You would be helping us continue releasing quality guides—as we'll receive a small commission—but you'll also get a great deal on the world's leading VPN!
Grab the Special Deal!