Legends of Talia: Arcadia Trophy Guide and Road Map
Welcome to our Legends of Talia: Arcadia Trophy Guide. In this guide, you will find strategies and tips for unlocking every trophy on your way to the platinum. We have broken the journey up into easily digestible phases with expert information packed into each one. With this, anyone should be able to conquer this game and its challenges.
Phase One – Press X
During this phase of our Legends of Talia: Arcadia Trophy Guide, you can sit back and relax with a cup of your favorite beverage and just press

to progress the story.
There are no choices to be made, no diverging paths, no collectibles. Nothing that requires any effort except pressing

to load up the following line of text for you to read.
Phase One Trophies
Painful Memories
Memories you can't forget
Ensnared
Find a girl in need
Meet Cecily
Meet the bubbly Cecily
Fairside Village
Welcome to Fairside Village
Imprisoned
Wake up in the prison
Revenge
Feycross' past haunts you
The Dragon
Meet an old foe
Fighting fire with fire
Let Cecily distract the dragon
Victory
Successfully kill the dragon
The morning after
Rise and shine
A happy ending
Experience a happy ending
Moving on
Head for new goals
Sudden Kiss
It pays off to stay after the credits
Phase Two (optional) – Don't Press X
If you'd prefer to skip the first phase of our Legends of Talia: Arcadia Trophy Guide, you can go into the "preferences" and change a few settings so that you don't have to read any text at all, and the platinum will pop within 30-60 seconds, give or take.
Select "Unseen Text", "After Choices", and "Transitions" from the Skip portion of the menu. Lastly, make sure "Text Speed", and "Auto-Forward Time" are set to the highest they go. Back out to the main menu and press Start. As soon as the game starts, press

to skip absolutely everything and go straight to your new platinum trophy.
PlatGet!
The Hero of Talia
Discover everything about Arcadia's past and kill the dragon.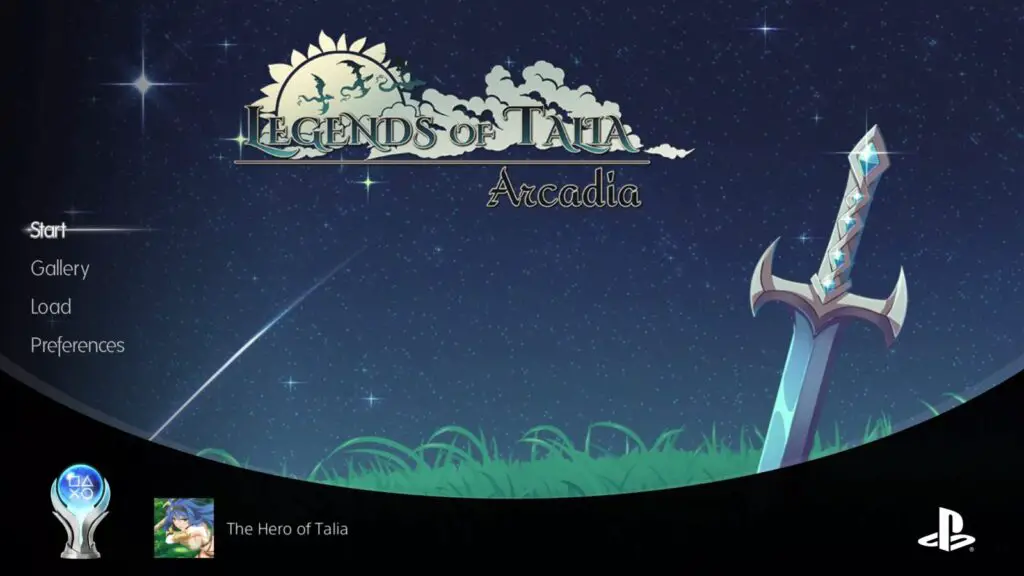 The platinum will unlock once you have acquired every other trophy in our Legends of Talia: Arcadia Trophy Guide.
Thank you for choosing PlatGet as your source for Legends of Talia: Arcadia Trophy Guide; consider checking out our other guides!
If you enjoy collecting quick and easy Platinum Trophies like this one, check out our full list of Quick and Easy Platinum Trophies, all of which can be earned in an hour or less!
Follow us on Twitter @GetPlat or Instagram @platget for updates on new reviews and guides, as well as small anecdotes about our platinum journeys.