Last Stop Guide and Road Map for PS4 & PS5
Welcome to our Last Stop Trophy Guide. Last Stop is a narrative-driven game featuring three unique protagonists dealing with their own family lives and problems. You will control Donna, a teenager who managed to get herself wrapped up in kidnapping but not all is as it seems. John, who magically becomes trapped in a younger body. And lastly, Meena, whose family life is slowly crumbling away as her demanding job begins to become too much. Last Stop is available on PS4 & PS5.
Phase One – Play Through the Story & Get All Chapter-Specific Trophies
Phase one of our Last Stop Trophy Guide Is likely the only phase you'll need as most trophies are semi-missable thanks to a chapter select feature. However, you can avoid using it all together if you follow the guide below, so you're prepared for each of the chapter-specific trophies.
In Last Stop, you will have to play through chapter 1 of each of the three stories before you can play chapter 2. You can do them in any order you wish. The order that I chose was Stranger Danger, Domestic Affairs, and Paper Dolls, and the guide will reflect this.
Prologue

Prologue
Finish the opening chapter
The prologue is a concise intro sequence with a small number of interactions. Prologue will unlock once you get to the chapter screen.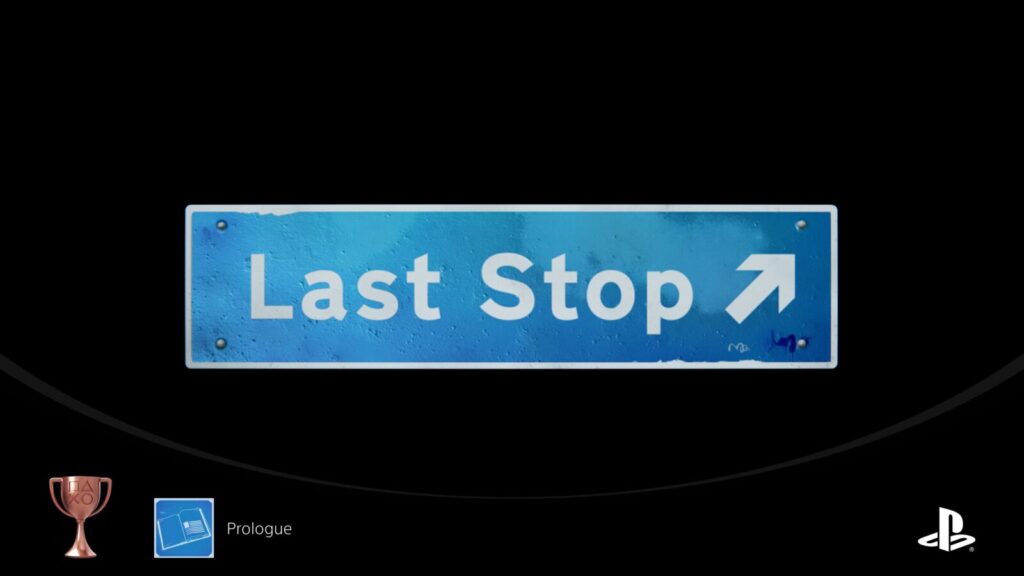 Chapter One

Baller
As Donna, successfully smash a bottle against every target, using only one bottle per target
At the beginning of Stanger Danger, Donna will meet up with her friends, Vivek and Becky. After Vivek talks about his shady neighbor, you will enter a first-person view, and you will have some bottles that you can throw at particular objects. To unlock Baller, you must hit all eight objects—they will be highlighted in yellow when you look at them—with a single bottle each. If you miss, you will have to reload the chapter.
Below is a list of all the objects.
Bin by the roadside in front of you
Parked car on the road in front of you
Bottles on the ledge below and to your left
CCTV Camera above you to the left
Cardboard box on the floor in front and below you
Ball on the roof to your left
Fast food cup on the railing behind you to the left
Sign on the ground directly behind you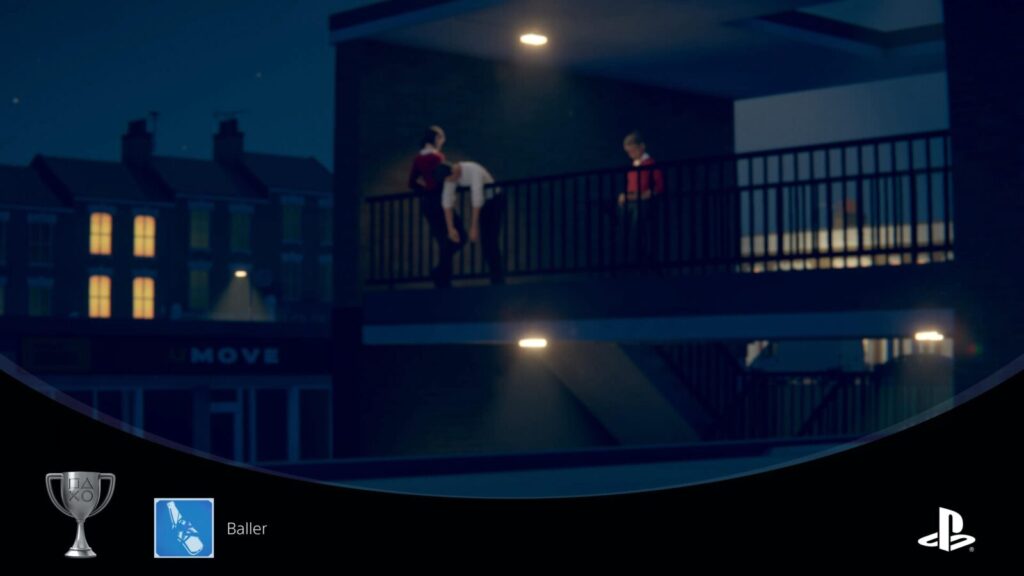 The Handsome Man
Finish 'Stranger Danger' – Chapter 1
The Handsome Man will unlock once you wrap up Donna's first chapter in Stranger Danger.

Teetotal
As Meena, pick water as your beverage of choice
After Meena returns home, there will be three bottles placed on a counter in front of her. Approach them, and you will be given a choice as to which bottles she pours. To unlock Teetotal, press

to select the bottled water (green bottle).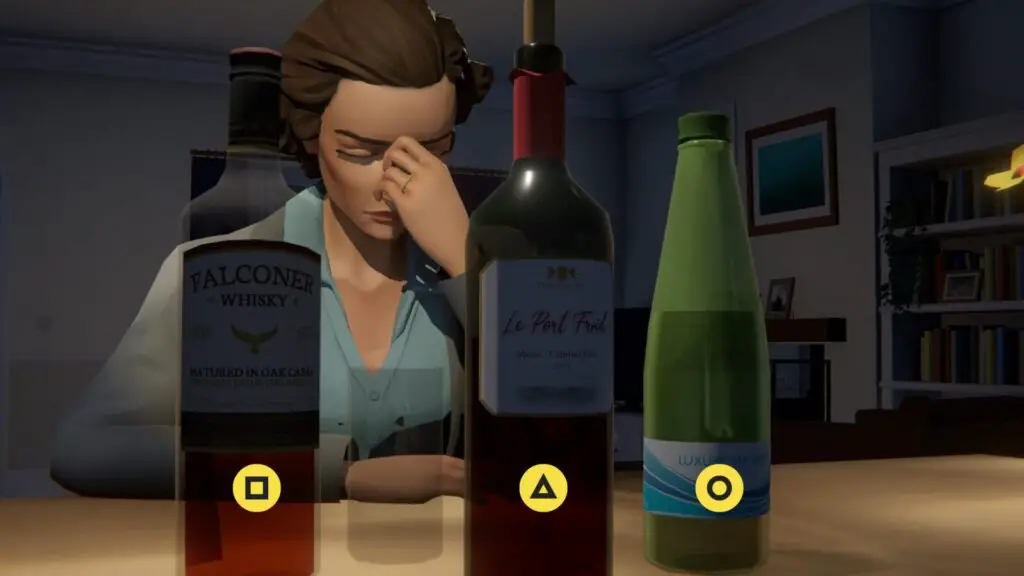 The Candidate
Finish 'Domestic Affairs' – Chapter 1
The Candidate will unlock after Meena talks to her son and goes to sleep in the first chapter of Domestic Affairs.

Shots fired
As John, slip into conversation that you're a member of a gym
While walking Molly to school, she will mention that you need some cooler friends. When you reply, choose "What about Shazia" followed by "Dime a dozen", and Shots Fired will unlock.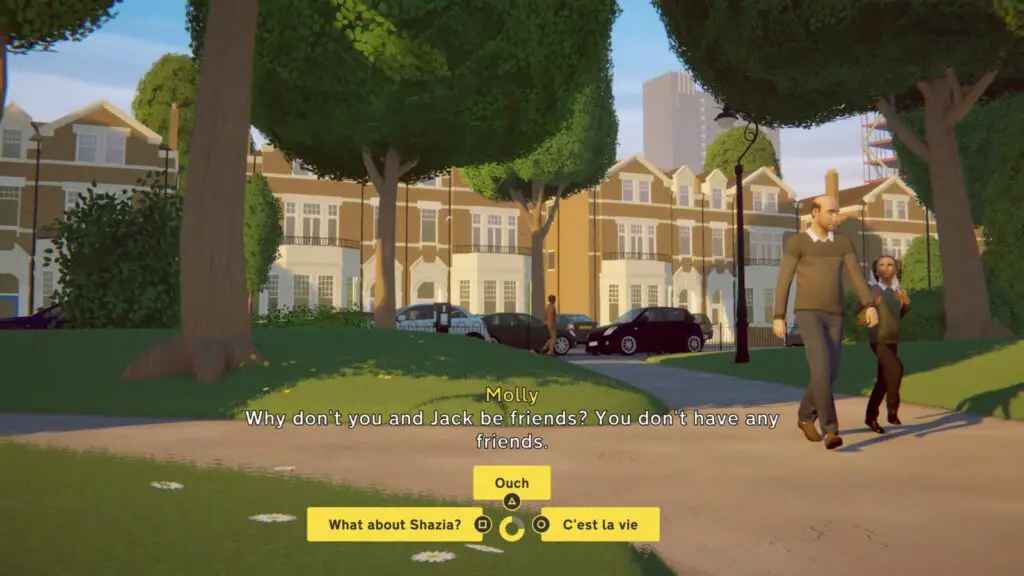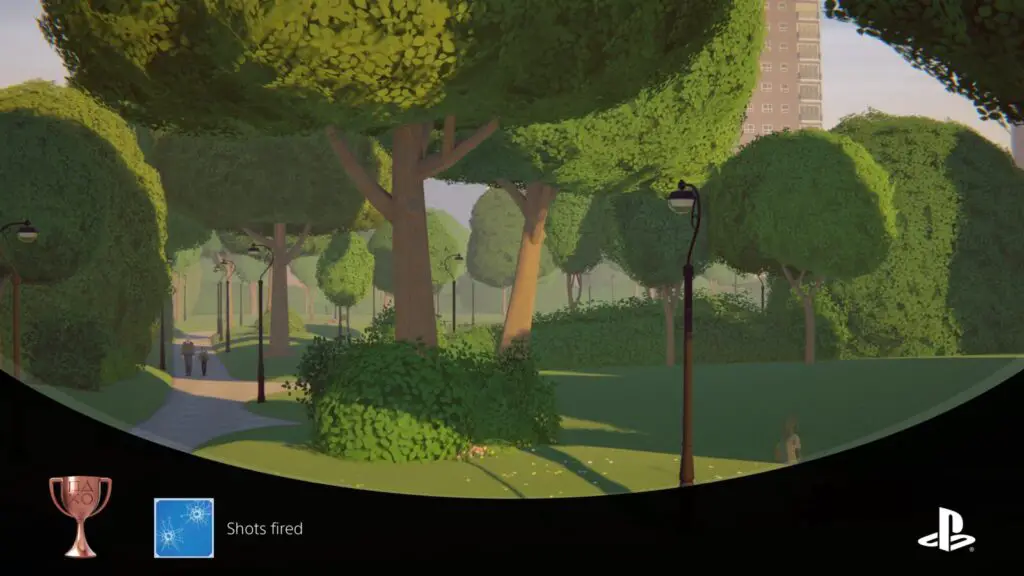 Commuter Rage
Finish 'Paper Dolls' – Chapter 1
Commuter Rage will unlock after John returns home and "rests his eyes for five minutes" in chapter one of Paper Dolls.
Chapter Two

Roast Becky
As Donna, give Becky a hard time when chatting to her
Donna will be spending most of her time with Becky in this chapter, and you will have a few chances to be a bit rude to her. You will need to take those chances for Roast Becky to unlock; however, according to various reports online, the only reply that matters for this trophy is the "Be Fierce" response. You will get to choose this response shortly after returning from a trip on the bus. Though t's better to be safe than sorry, make sure you select any response mapped to

when Becky is around.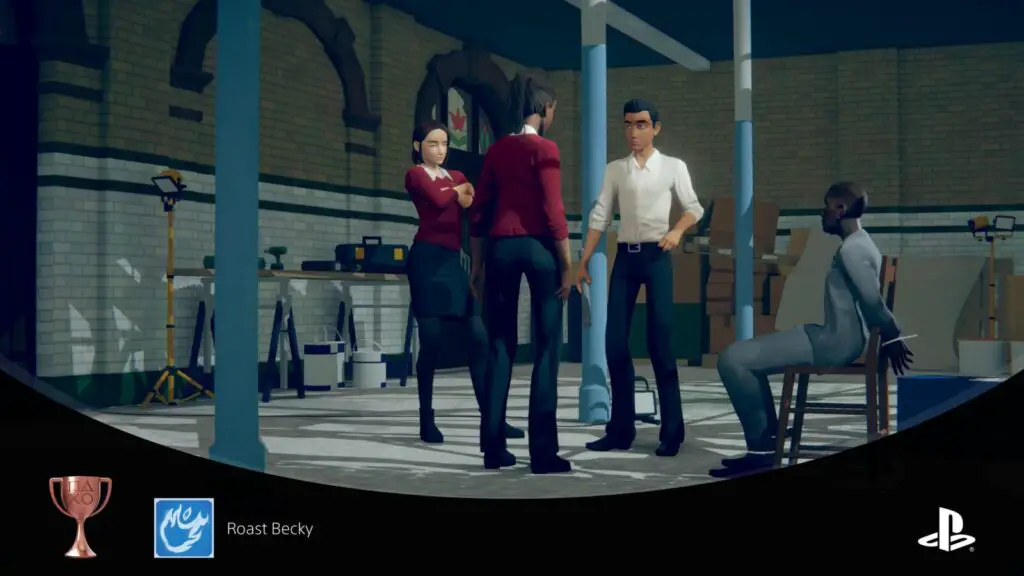 The Prisoner
Finish 'Stranger Danger' – Chapter 2
The Prisoner will unlock after Donna returns to the old building and learns more about what she saw in Chapter 1.

Dan Honnold
As Meena, sing your husband's praises when given the chance
After meeting with "Spider", Meena will return home and have dinner with her husband and child. When Meena's husband says she's the best, you will have the option to reply with "He was the best". Choosing this option will cause Meena to "sing her husband's praises", and Dan Hannold will unlock.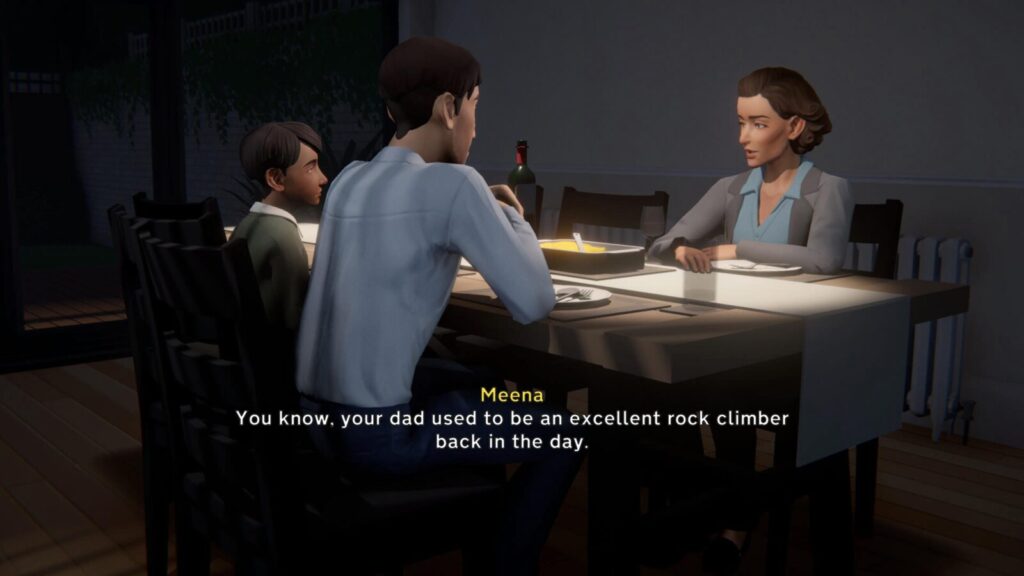 Unfaithful
Finish 'Domestic Affairs' – Chapter 2
Unfaithful will unlock after Meena returns to work and talks with her boss about another job interview in chapter two of Domestic Affairs.

Sidonglobophobia
As John, admit to an unusual phobia when asked
At the start of chapter two of Paper Dolls, Jack (who is John) will take Molly to school and bump into Shazia. Shazia will ask Jack who he is, and you can choose to tell her you're John's nephew. She will then ask for proof by asking him what John's phobia is. Choose "Cotton wool", and Sidonglophobia will unlock.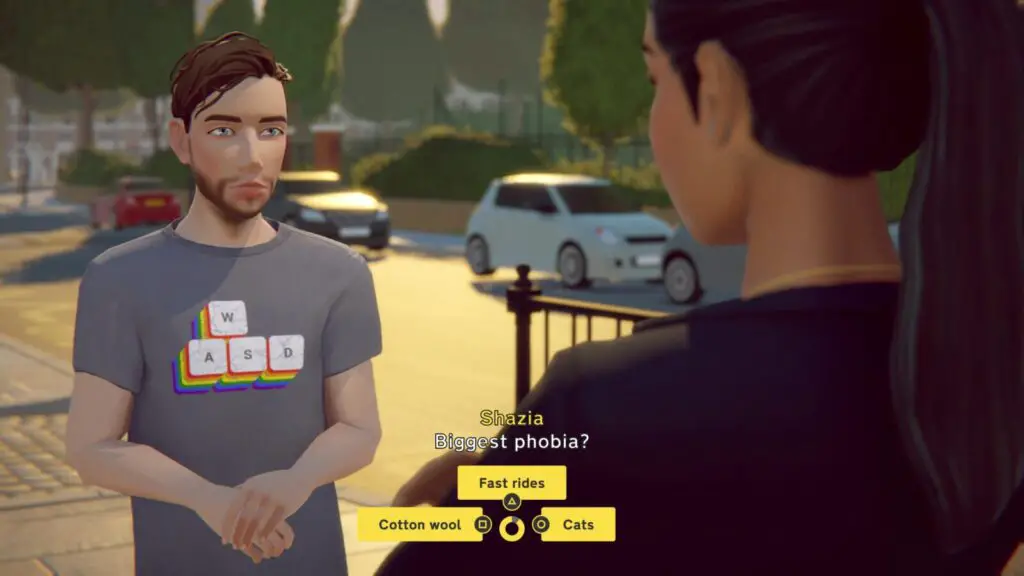 Split Personality
Finish 'Paper Dolls' – Chapter 2
Split Personality will unlock when Jack and John plan to pretend to be each other to avoid suspicion in chapter two of Paper Dolls.
Chapter Three

Everyone needs a name
As Donna, come up with a creative name when invited to
As Donna lets the Stranger stretch his legs, the two will sit down and chat a little bit. Eventually, Donna can ask the Stranger three questions. To unlock Everyone Needs a Name, make sure you choose "What do I call you?" when Donna tries to get to know the Stranger a bit more. He will respond by asking why she assumes he has one, at which point Donna will have three options to select. Choose Starey McStareFace, and the trophy will unlock.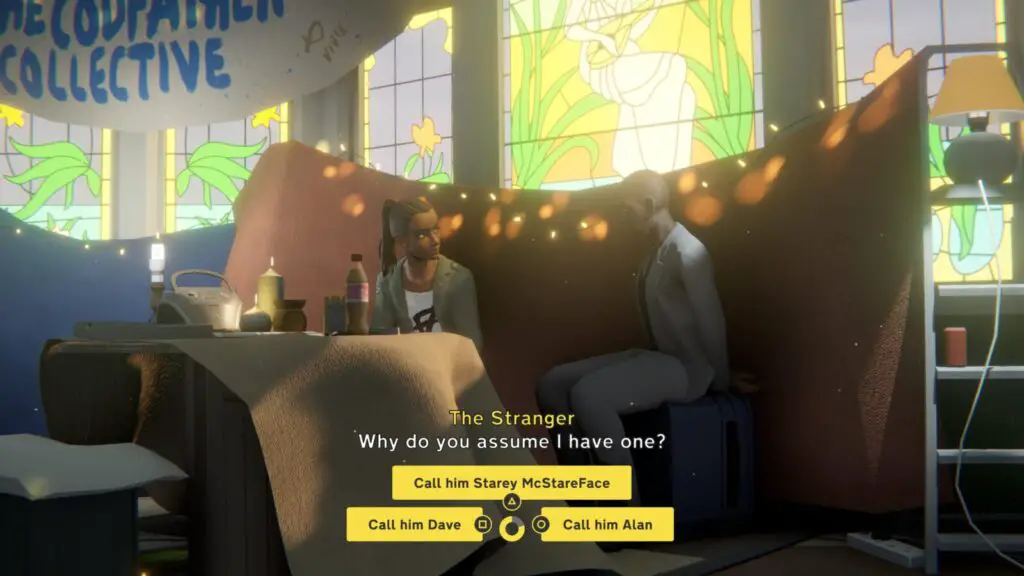 Friend or Foe
Finish 'Stranger Danger' – Chapter 3
Friend or Foe will unlock after Donna and Vivek chat in chapter three of Stranger Danger.

Blocker
As Meena, block an annoying instant messenger chat
At the start of chapter three of Meena's story, you will have the option to respond to a text while taking a ride in a black cab. To unlock Blocker, choose the "Block" option to block the person attempting to message you.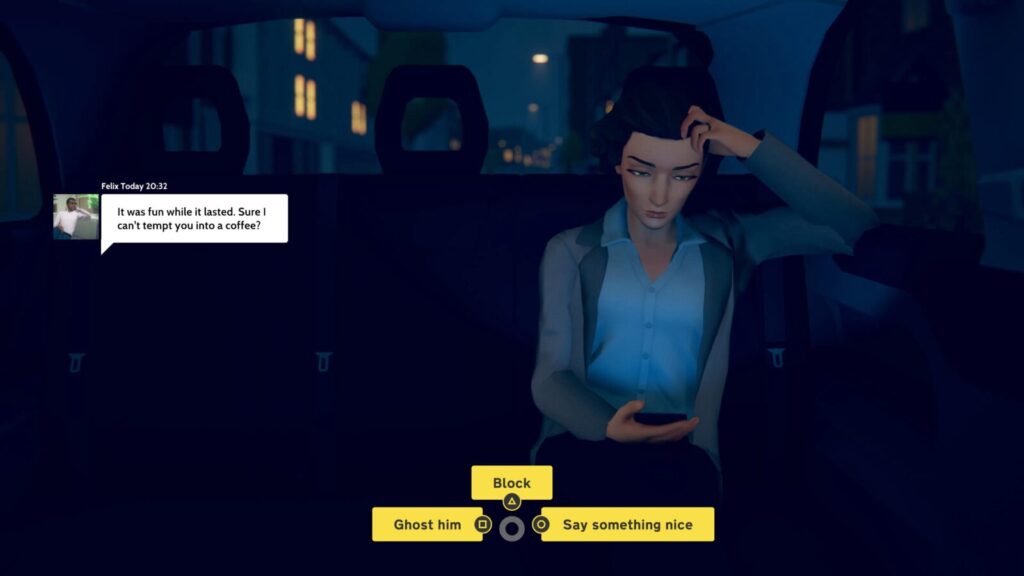 Secrets and Lies
Finish 'Domestic Affairs' – Chapter 3
Secrets and Lies will unlock after Meena returns home from the park in chapter three of Domestic Affairs.
A good imposter
As John, be a good manager and remember everybody's tasks
John and Jack will be guiding each other through their daily lives, and as John (in Jack's body), you will have to attend work and manage Jack's team correctly. Jack will tell you what each team member is working on, and you will have to relay what he says to his team shortly after. To unlock A Good Imposter, you must correctly tell Jonah, Letisha, Tobias, and Maja their tasks. See below for the correct answers.
Jonah is working on modelling the cream cakes for the tea shop
Letisha is working on the AI for the retirement home scene
Tobias is working on writing up the design for the funeral procession scene
Maja is working on rumble support

Imposter Syndrome
Finish 'Paper Dolls' – Chapter 3
Imposter Syndrome will unlock when Jack and John reveal their respective bad news situations to each other at the end of chapter 3 of Paper Dolls.
Chapter Four

Can't keep a secret
As Donna, choose to be honest when your friend asks a difficult question
At the start of the chapter, Donna will meet up with Becky outside her apartment. The two will talk about recent events at a party. In the last chapter, the conversation will gravitate towards what Donna and Vivek got up to. To unlock Can't Keep a Secret, choose to "Tell Her" when Becky asks you about it.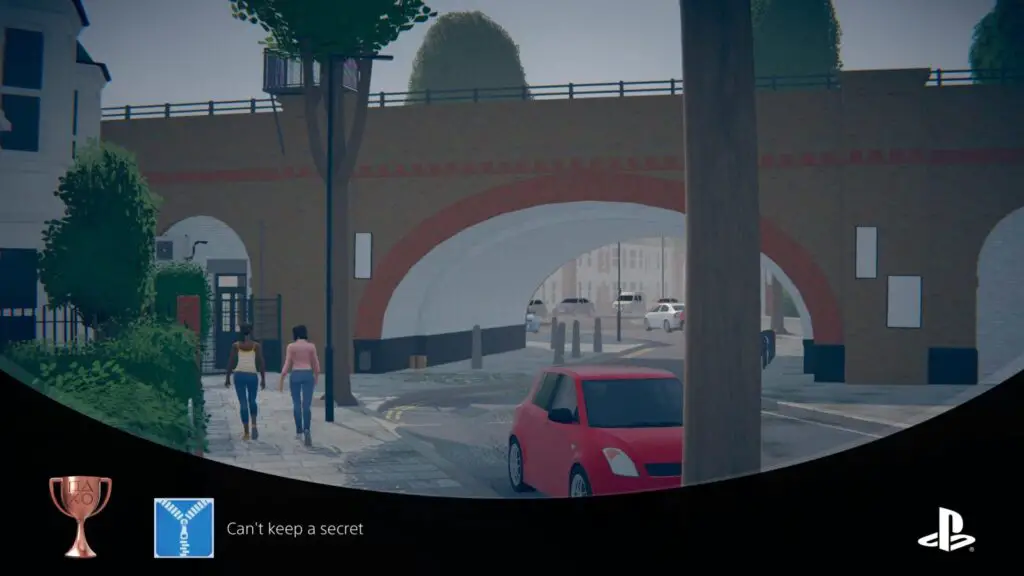 A Change of Heart
Finish 'Stranger Danger' – Chapter 4
A Change of Heart will unlock when Donna goes home and answers the phone in the kitchen during chapter four of Stranger Danger.

In This All the Way
Finish 'Domestic Affairs' – Chapter 4
In This All the Way will unlock as Meena arrives home to a rather annoyed Dan in chapter four of Domestic Affairs.

Maestro
As John, don't play a bad note when demonstrating your piano skills
Jack and John will spend the day figuring out how to correct their problem before retiring to the pub. One of them will spot a piano and begin playing while convincing the other to play something too. To unlock Maestro, you will have to hit the button prompts that appear on-screen when they enter their respective sweet spots. If you've played Guitar Hero before then, you'll know what to expect. From the top line the buttons are:

,

,

, and

.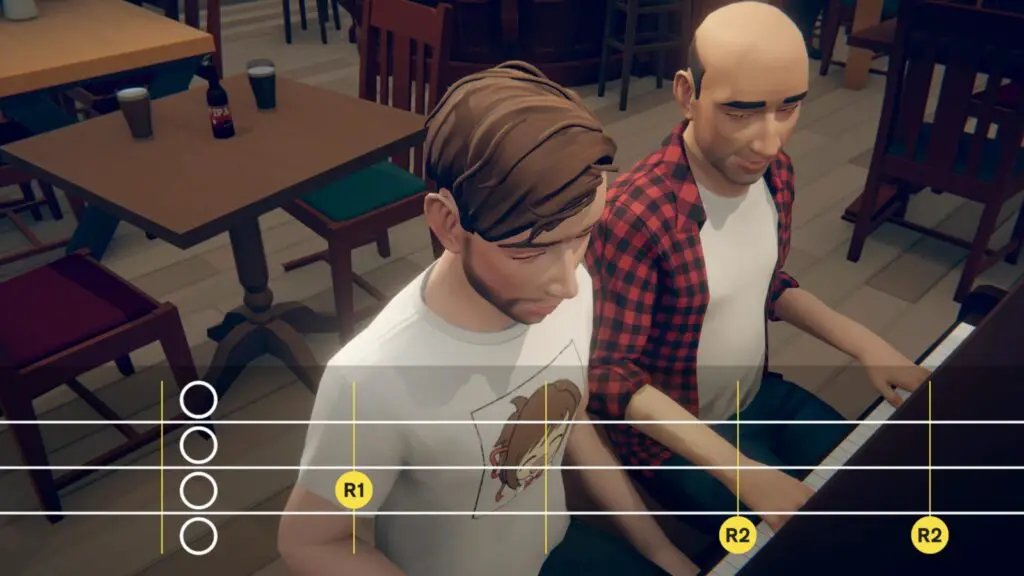 A Fool's Errand
Finish 'Papaer Dolls' – Chapter 4
A Fool's Errand will unlock as Jack and John settle down in chapter four of Paper Dolls after the days' events.
Chapter Five

Strong as an ox
As Donna, break free of your restraints the first chance you get
Donna will be handcuffed to a railing outside of the building she's been keeping the Stranger tied up. She will quickly notice that the bar is quite loose and that she could probably break it. The

button will appear in the bottom right with a small circle above it and a small line orbiting the

. To unlock Strong as an Ox, you must hit

when the small line points at the small circle. A second circle will appear at the bottom left of the

, and one last circle will appear at the bottom right. You must hit all three circles on the first try for the trophy to unlock.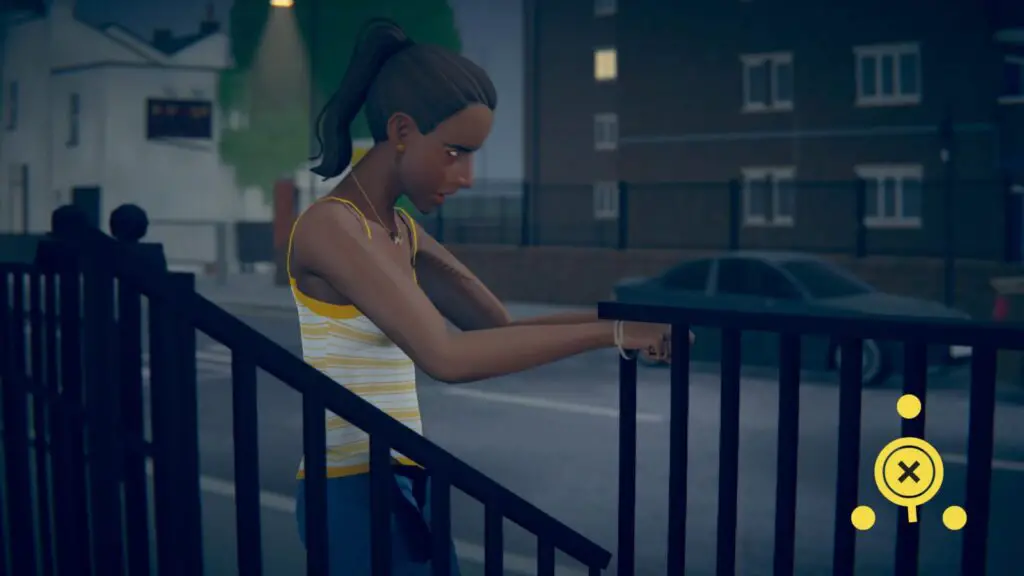 Confessions of a Kidnapper
Finish 'Stranger Danger' – Chapter 5
Confessions of a Kidnapper will unlock after Emma leaves Donna outside the building where the Stranger is being held hostage in chapter five of Stranger Danger.

Librarian
As Meena, place every book on the correct shelf when helping your Dad
When Meena arrives at her father's apartment, she will notice the door is broken, and the place is a mess. After a brief chat with her father, Meena will begin cleaning up his book collection. To unlock Librarian, you must correctly place all the books on the shelves they belong. Samir will tell Meena that the bottom shelf is for Travel, the middle shelf is for Politics and History, and the top is for Art and Entertainment. See the table below for the correct placement of each book.
| Book Title | Correct Button Choice |
| --- | --- |
| 19th Century Europe | – Middle shelf |
| The Highlands: Paintings | – Top shelf |
| A Footpath Guide to Sweden | – Bottom shelf |
| 1001 Film Facts | – Top shelf |
| The Adventurer's Guide to Iceland | – Bottom shelf |
| Left to Right: A Guide to UK Politics | – Middle shelf |
| The Lost Photos of Lucas Fairfax | – Top shelf |
| Hawaii: A Ticket to Paradise | – Bottom shelf |
| A Lover's Guide to the Karma Sutra | – Top shelf |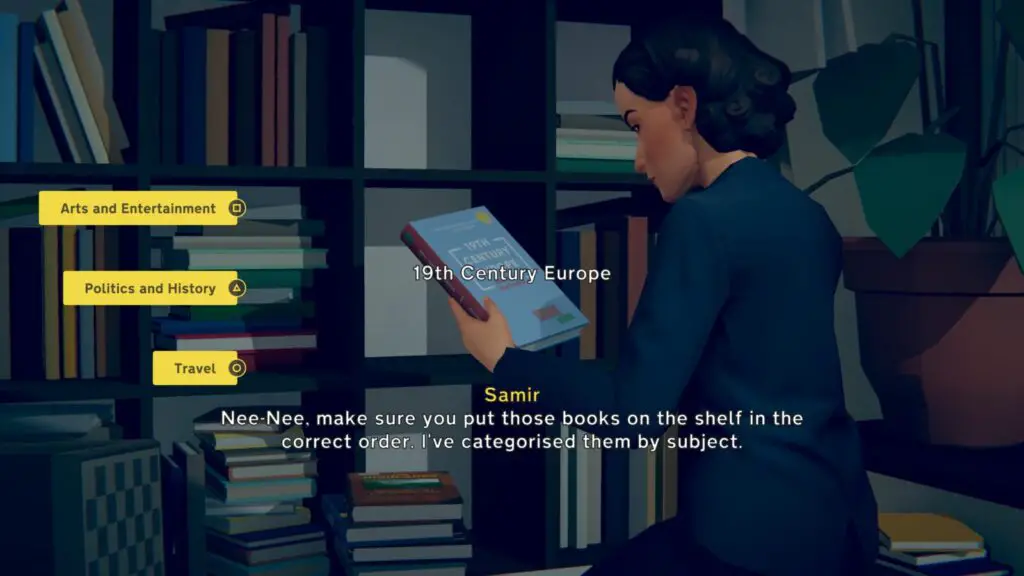 Unfinished Business
Finish 'Domestic Affairs' – Chapter 5
Unfinished Business will unlock after Meena confronts Spider in chapter five of Domestic Affairs for the second time.

Making Do
Finish 'Paper Dolls' – Chapter 5
Making Do will unlock after Jack and John have a little argument in the apartment in chapter five of Paper Dolls.
Chapter Six

Role Reversals
Finish 'Stranger Danger' – Chapter 6
Role Reversals will unlock after a short walk to the Strangers house in chapter six of Stranger Danger.

You were never here
As Meena, leave no traces when breaking and entering
Meena will have to search Amy's apartment for evidence (see True Detective for the complete list), and she must do so without leaving any traces of her being there. This is as simple as closing any doors, cupboards, or drawers you open. If you are successful in making sure you left no traces, You Were Never Here will unlock after finding the final piece of evidence.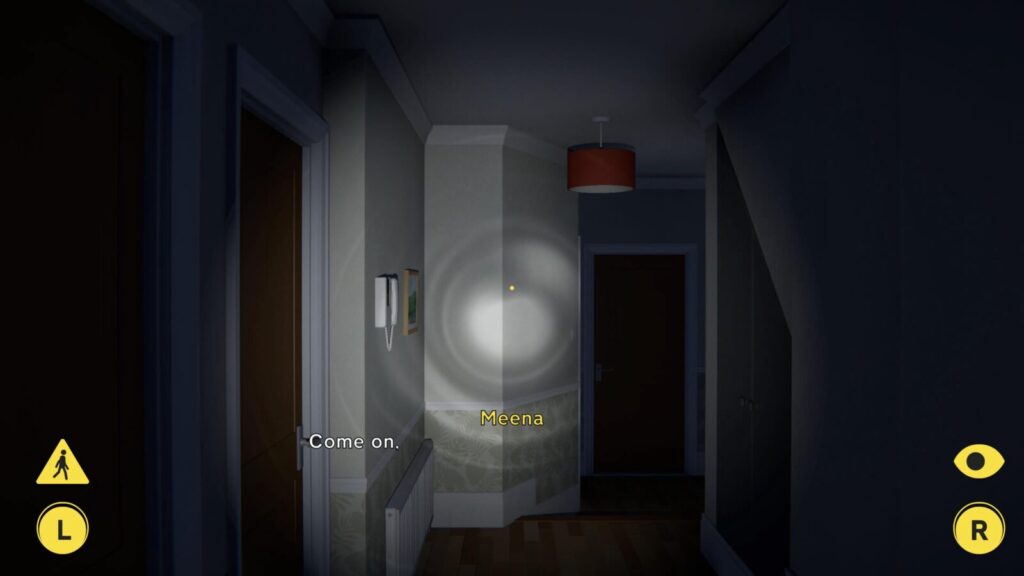 True detective
As Meena, collect every scrap of evidence when looking for clues
As soon as Meena enter's Amy's apartment, the game will switch to first-person, and you will search the house for evidence. To unlock True Detective, you will have to find all the evidence. Be sure to close any cupboard and door you open whilst searching for You Were Never Here. See the complete list below for the location of all the evidence.
Bedroom
Pink book in the bottom drawer of the nightstand by the bed
Confidential File in the bottom drawer of the TV stand opposite the bed
Laptop on the chair by the bed (you can only read it)
Living Room/Kitchen
Brown File on the stand next to the plant to your immediate left
Brown File on the kitchen table
Locked Room
Once you've collected all the evidence, make sure to close any doors, drawers, or cupboards you may have opened.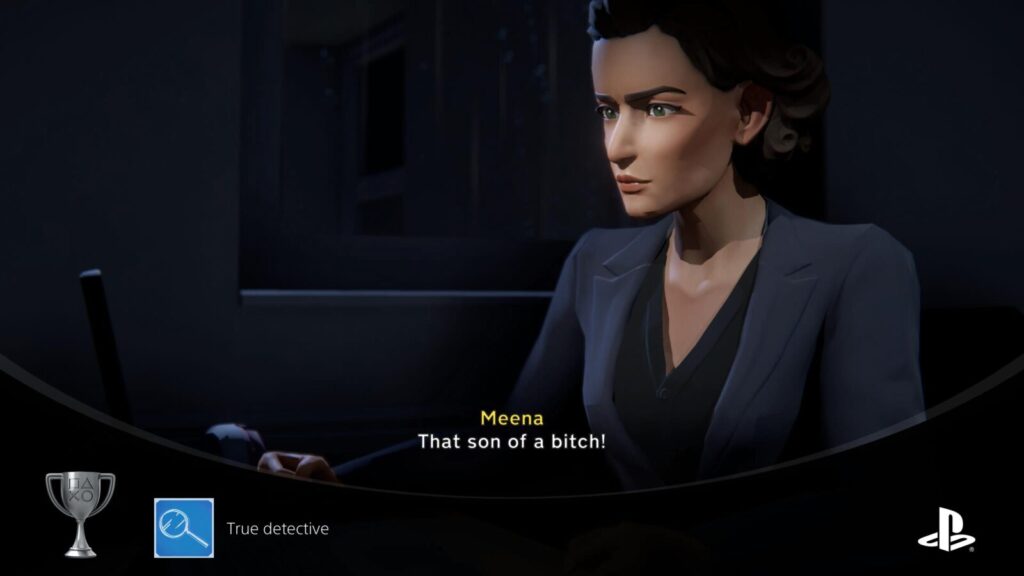 Revelations
Finish 'Domestic Affairs' – Chapter 6
Revelations will unlock as Meena embarks on a new mission in chapter six of Domestic Affairs.

A Friend in Need
Finish 'Paper Dolls' – Chapter 6
A friend in Need will unlock as John (in Jack's body, of course) goes to the Vape Shop to meet Frank in chapter six of Paper Dolls.

Last Stop
Finish the adventure
At the end of chapter six, a final 7th chapter will play out for each protagonist's own stories that connect Donna, Jack, and Meena. Chapter 7 is longer than the other chapters were, and you will be controlling all three characters as they try to get back home. There are no particular actions to take or important decisions except for one last A or B option to determine the ending for each character.
Phase Two – Mop Up via Chapter Select
Finally, in this phase of our Last Stop Trophy Guide, you will mop up any missed trophies using the chapter select feature, which becomes available once you have seen the story through for the first time.
Plat Get!

All Done
Unlock all trophies
Once you have acquired every other trophy in this Last Stop Trophy Guide, you will unlock the sweet Platinum Trophy. Congratulations!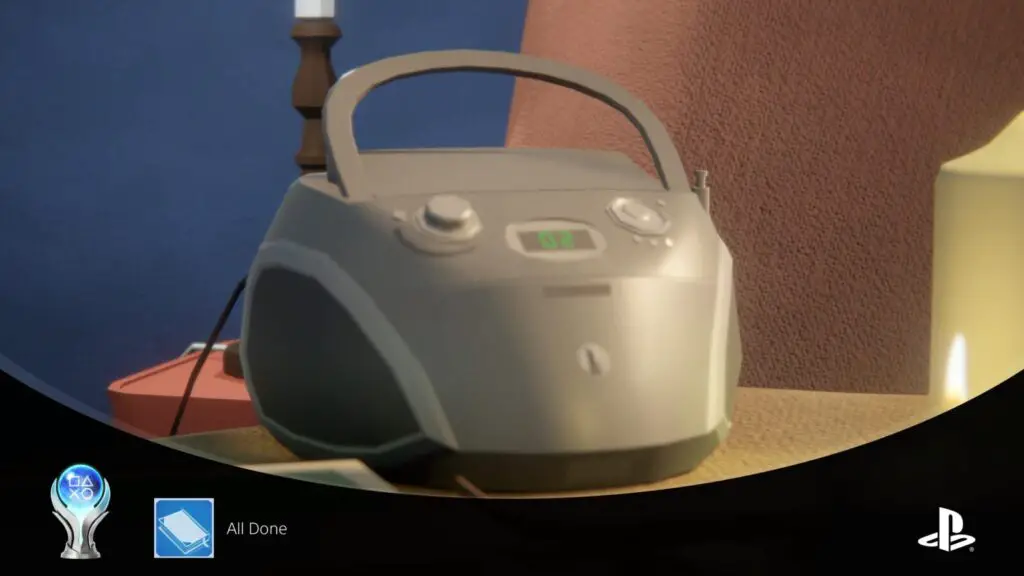 Thank you for choosing PlatGet as your source for Last Stop Trophy Guide. Consider checking out our other guides!
Follow us on Twitter @GetPlat or Instagram @platget for updates on new reviews and guides, as well as small anecdotes about our platinum journeys.