It's Showtime!
Burnout Paradise is a game which was originally released way back in 2008 for the PlayStation 3 (and Xbox 360, etc). At the time I excitedly went over to a friend's house to try it out and was pretty disappointed for one reason only.
This particular friend and I had played previous burnout games before, Burnout Revenge being our favourite of the series simply due to the Crash mode. All you had to do in that game mode was fire your vehicle into traffic via the use of a ramp or other such air-getting tool and then see how many cars you could cause to crash. The more damage you caused, the more score you got.
We'd been disappointed by Burnout Dominator which released without the Crash mode, after all if we just wanted a racing game we'd be playing Need for Speed Underground 2 back then. Nonetheless, my friend bought Burnout Paradise and I was hoping the Crash mode was in the game. Long story short it didn't seem like it.
The events available in Burnout Paradise are: "Burning Routes" (a time trial specific to each car), Races, Marked Man (a point-to-point event where every other racer is doing their darndest to run you off the road), Stunt Runs and Road Rage (Marked man but the other way around), so clearly there was no "Crash mode" to be seen.
Bringing things back to present time, I picked Burnout Paradise: Remastered up in a sale on the Playstation store and figured I'd just play it through for the quick 15-hour plat. Very shortly into the game, I was introduced to 2 events I'd never heard of, which – unlike the other 4 types of event – don't need to be started at a set of traffic lights but instead can be triggered at any point. These are called "Road Rules", something I was already familiar with because Need for Speed Rivals totally ripped it off and I'd already platted that.
Basically, each named street has two high scores set by your friends online, although by default EA threw in some basic high scores to beat if – like me – you'd rather avoid the online aspect of the game. The first of these high scores is determined by how fast you can get from one end of the street to the other and the other is a "showtime" score.
"Showtime" is what I was looking for all along. At any point in the game (except the tutorial) you can simply press 
 + 
 together and trigger Showtime mode, which sends your car hurtling down the road, impacting various vehicles along the way and racking up a score based on the amount of damage you do. Crash Mode!
They made a slight adjustment however which I wasn't too impressed by, but understand it's a necessity if you're to have drivers set a showtime score on any road in the game. Hitting cars also fills your boost meter, but pressing the boost button 
 performs something called a "Ground Break" allowing you to defy physics and leap through the air, even controlling the direction your vehicle travels in, so as to be able to rack up as much score as possible.
In terms of story in this game, I daresay there isn't one. The player appears to be a new arrival in "Paradise City" (yeah, like the song – which is in the game, but they kill it by playing it every damn time you load into the game until you're sick of hearing it.), a place where there doesn't appear to be any pedestrians and even the cars are totally un-manned. In fact the only people you can see in the game are those riding the motorcycles, which I suppose makes sense. There's also a radio presenter who indirectly teaches you how to play the game and often berates you live on the air.
This presenter led me to interpret that Paradise City (where the grass is green and the girls are pretty) is some sort of lawless hell-scape where cars are constantly flying over ramps, colliding into each other, destroying public property and nobody gives a flying f***. So clearly, if you were hoping for a game with immersion, you're looking in the wrong place.
Playing the Game
The main goal is simply to work up to your "burnout" license, which comes after earning your D, C, B, and A rank licenses. To earn the next license you simply complete a set number of events out of the 120 total events available. Upon earning a new license all of your previously completed events will be reset, meaning you can complete them again and it will count towards your new target license rank. The difficulty also increases but with any newly unlocked cars, the hope is that your stats will have increased to match the upped difficulty.
Unlocking vehicles can be a bit of a chore, as even when you've completed the constraints required for a new vehicle to become available, you need to then drive aimlessly around Paradise City for as long as it takes for the new vehicle to drive by. Once you've found that vehicle you need to wreck it for it to appear in the Scrapyard where our intangible protagonist likes to get all their new vehicles. And why wouldn't you when they're free? Not only that, but repairing them from the state you've put them in is free too!
The problem with this is that these vehicles rarely ever seem to show up, and when they do occasionally show up within events, wrecking them there doesn't count. The wrecking has to happen totally outside of an event, leaving everything up to pure, undetermined, chance.
As well as completing events, if you're going for the plat, you're going to be wanting to find various pseudo-collectables, such as the large red "Burnout Paradise: Remastered" billboards dotted around the game. Smashing through these will give you a nice score boost during Stunt events but also contribute towards a trophy wherein you need to destroy at least half of them.
Stunt runs can be quite fun, typically you're given a high score to aim for within a time limit and then you need to simply drive anywhere you like, looking for ramps so you can get airtime and perform tricks such as "flat spins" (a horizontal rotation) or "barrel rolls" to rack up the points needed. Eventually, though, you'll have figured out a good road to follow where you can rack up a good amount of score and just drive there every single time you start a Stunt Run. For me, it was the long road which goes from north to south on the west side of the map.
Races are as expected, you just have to drive from point A to point B (no lap races) and finish in first. In true Burnout fashion, though, you can drive aggressively to wreck the other racers and take them out of the race temporarily making things a lot easier for you in the long-run.
Road Rages are the easiest of all the event types. You'll be given a target number of racers to take out in the event and then all you have to do is reach that target. I was pretty consistently taking out around 12-16 racers from the start of the game but there's a trick to that which I will explain later.
Burning Routes are the events I did least, just doing the bare minimum to achieve the trophy. The reason for this was simply because I didn't change vehicle much and these events are limited to one per each specific vehicle. All you really need to do is put pedal to the metal and reach the finish line within a time limit, carefully curated to each vehicle so that you'd need to make a near-perfect run in order to make it in time.
Marked Man events are simple A-to-B events also, except instead of racing anybody, your aim is just to make it in one piece. Get wrecked by the enemy racers too much and you'll fail the event. You can extend your "life" in these events – and any other to be fair – by driving through repair shops which use space-age technology to repair your car in a split second without so much as slowing you down.
There are also Petrol Stations or "Gas Stations", if you prefer, which will instantly refill your boost, presumably using the same otherworldly technology as the repair shops.
My least favourite thing about this game is what they refer to as a "compass" at the top of the screen. All it really amounts to is up to 3 road signs, one in the center to tell you which road you're on, and one either side of the "compass" to indicate which road you'll be on if you turn off in that direction.
During events, these left-most and right-most signs will flash to indicate which way you should go to reach the finish line in the quickest time possible. While this makes sense as a concept, it's actually totally frustrating.
It's not clear enough when you'll be arriving at that turning, and sometimes at complex or weirdly-shaped junctions, it's impossible to tell what the game is telling you to do. You'll often miss a turning or crash completely as you're speeding along trying to determine what the compass is trying to communicate. The only true way to know where to go is to study the map as a race starts, map out a route for yourself and then try to keep that in mind using the mini-map to navigate.
The road rules serve no purpose unless you're being competitive with friends online and want to be the guy who rules the entire map, but there's no real reward for it except for the few trophies you can earn for completing a very small portion of the road rules. Saying that, though, the Showtime road rule is heck as heck, bro.
Often I'd be speeding down the road just looking for a new collectable or event and accidentally collide with another car, totalling myself, and just wrap my fingers around those 
 And 
 buttons to turn an unfortunate accident into absolute carnage – just for the fun of it!
And it certainly was fun, barreling down the road becoming more and more of a crumpled mess as I search for buses to hit because they award score multipliers. Honestly, if you were to buy the game just for this one mechanic – it'd be worth it!
Platting the Game
This platinum isn't difficult by any means, and I completed it in pretty much  15 hours exactly. But I attribute most of this ease to one vehicle in the game, the Carson GT Nighthawk.
As with most Remasters, this game ships with all past DLC as part of the game, including a selection of "Legendary Cars" which include the "Hunter Cavalry Bootlegger" based on the General Lee from "Dukes of Hazzard" (which apparently originally even had the Confederate flag on the roof, but this was removed for obvious reasons) and the "Manhattan Spirit" which is a clear reference to the Ghostbuster's vehicle of choice. The Carson GT Nighthawk was one of these Legendary vehicles and it's available right from the start of the game.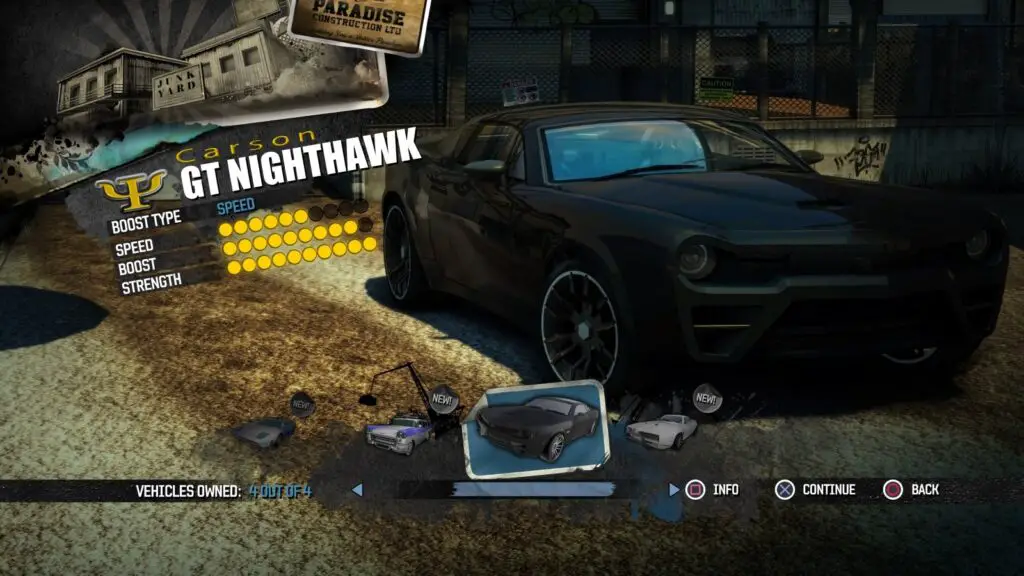 The Nighthawk is clearly based on KITT from the Knight Rider TV series and has some of the highest stats in the game. With 6 out of 10 in the speed stat, 9 out of 10 in the boost stat and a whopping 10 out of 10 in the strength stat, it's an absolute force to be reckoned with. Using this car I breezed through all events right up until I had my A-rank license, where things started to get a little tougher and a few vehicles took more than one hit to take out.
My approach to platting this game was just to aim for the burnout license while taking every shortcut I could and wiping out any Burnout signs I spotted as I went along to ensure I had at least half of each for the associated trophies.
Occasionally I'd take a break from events to drive around the map for a little while, discovering as many events as I could to make the trophy for finding them all a little less of a grind, and completing road rules at leisure for their associated trophies too.
Once I had my burnout license and all license-related trophies I then went for the more miscellaneous trophies such as Power-parking my car by drifting into a parking spot between two other vehicles or finding secret hidden locations dotted around.
For the most part, the trophies were fun and rewarding but, as with most games, there were some troublesome trophies which required a little more effort. Here are those trophies:
Complete a Freeburn Challenge
Awarded when you complete your 1st Freeburn Challenge.
Jump Over Another Player's Car
Awarded for jumping over another player's car in an online game.
Complete 10 Freeburn Challenges
Awarded when you complete your 10th Freeburn Challenge.
These trophies are incredibly easy to complete but are online-specific. Meaning if you want to complete them you're going to need another PS4, an internet connection, another copy of the game (unless you game-share) and ideally a friend to help out, though that's not completely necessary if you can man two controllers at once.
Luckily MrZhangetsu and I share our game libraries and so he could hop online to help out.
If you're unable to complete these trophies in this way, you could try checking the Gaming Sessions section on PSNProfiles to see if there are any available, or set one up yourself.
Shutdown the Carson Inferno Van
Awarded when you "Shutdown" the Carson Inferno Van.
As explained earlier, to unlock a vehicle you first need to complete a constraint which causes it to begin appearing in Paradise City, then hunt it down and wreck it. The problem with that is that this happens totally at random.
I had managed to get the van to appear in Paradise City quite early on, but didn't see it in the game until long after I'd received my Burnout License, as I was driving around Paradise City waiting for MrZhangetsu to complete the tutorial and unlock the online modes.
8 Players Meet in the Wildcats' Baseball Stadium
Awarded for meeting up with 7 other players inside the Wildcats' Baseball Stadium in an online game.
In order to get this trophy the way it was intended, you'd need to start a game lobby with 7 other friends who all have the same console and a copy of the game. This, I find, is a fairly ludicrous ask and is one of many examples of developers not future-proofing their online trophies.
Luckily, though, there is a mighty fine exploit for doing this offline, which I'll detail for you now. Firstly, you'll need your Burnout license, because you want to have access to the higher-tier events. Next, you'll want a good car. Many people online recommend using some sort of NASCAR parody vehicle for the event, but the trusty Nighthawk does the trick just fine.
Next, you need to complete some Road Rage events. Each time you complete Road Rage, the target number of cars you need to destroy increases by one. The higher this is, the more cars will appear in an event. Complete Road Rage events until your goal is 15.
I read online that people were suggesting you try this with a target of 14 cars, this didn't work for me and I attempted it somewhere around 20 times before I gave up and increased the target by one – after which I managed to complete the trophy in only 4 more attempts…
So once you have a target of 15, go and start any Road Rage event (even a completed one) near the Baseball Stadium in the bottom right corner of the map and then start taking out cars on your way to the baseball stadium. As you destroy cars around you, more and more cars will start spawning at once. You want to match or exceed your target of 15 cars and then get to the Baseball stadium as soon as you can.
I say this because Road Rage events are timed, and you want as much time as possible for the last part of this method. You'll need to run rings around the baseball stadium as vehicles spawn and drive straight at you. Try not to get wrecked during this time, too, as it'll spawn you outside of the stadium and waste a good deal of time.
You're essentially just waiting to be lucky enough that 7 cars all spawn and enter the Baseball stadium around the same time. It's okay if a couple of cars have already left by the time the last few enter, as the game is fairly lenient with this, as long as 7 cars have passed through the stadium within a short amount of time of each other.
And that's it. Give it a few goes, as it likely won't happen the first time unless you're very lucky. In total, I spent about forty minutes to an hour attempting this one trophy.
Side-note; I've never been to a Baseball stadium so don't really have a first-person perspective on how big they are, but surely they can fit more than 6 cars down the length of the field? This baseball stadium is minuscule!
In summary…
I do enjoy a good racing game every now and then, particularly the ones that don't make racing feel like a chore by piling thousands of true-to-life driving mechanics into the game and Burnout Paradise is a good, silly, but fun racing game and I'm glad I took the time to finally play it again after 11 years.
It came with a few frustrations, however, and towards the end of the game, my car – which originally felt like a solid lead block with a jet engine on the back – began to feel more and more like paper, crumpling up and flying off into the wind at the slightest tap from any other vehicle. There was some strange mechanic in the game where if I was hit from behind, the game took control of the car off me and automatically drove me into the nearest wall, void of any realistic physics.
Despite those frustrations which were reserved until the end of the game, I had a serious amount of fun. I only wish the map was slightly larger as once I was familiar with it every event felt like I was doing the exact same thing in the exact same place over and over and over again, although somehow never becoming so stale I had to switch the game off.